When I first visited Graham, North Carolina, in late June, I did not expect much. With Confederate monuments coming down at an accelerated clip—most momentously, the large one next to the State Capitol in Raleigh over the weekend of June 19th—I figured that, if I wanted to see those that remained, it was now or never.
I knew there was a Rebel statue in Graham, a small city of 15,000 roughly halfway between Durham and Greensboro, and seat of Alamance county. I had read about protests against it, but hadn't heard of anything scheduled for that particular day. I knew the mayor had declared a state of emergency on June 20, in direct response to what had happened in Raleigh the day before. Still, I wasn't expecting anything more than what I had seen in other area towns: a White man with a rifle and a mustache, made out of stone or bronze, standing atop a tall pedestal, with gushy Lost Cause half-truths carved into the base, in front of a Jim Crow-era courthouse at the center of a pandemic-depressed downtown, surrounded by hot air. It was summer in the South, after all.
I was wrong. The city was practically under martial law. Cop cars were parked two deep and fender to fender around the historical Alamance County Courthouse, in front of which the 1914 Confederate Soldiers statue stands. Officers wearing bullet-proof vests stood behind the cars all the way around the building, doubled up at its entrance and around the statue, and on every street corner facing the courthouse. A few were also positioned on the roof, including, potentially, a sniper. Security from Elon University were also on hand; they have a "mutual aids agreement" with local police, which they have since tried to break. I asked one Elon cop—a Latinx woman—what was going on. "Ummm," she replied, "I don't know, nothing," clearly not wanting to be part of whatever it was that was not happening. I walked over to take a photo of the monument. "Get out of the street!" a city cop yelled at me. I had paused for maybe five seconds on a brick-paved median that was clearly separated from where cars drove. He was White, as more than probably ninety percent of the police force in Graham is. You could hardly ask for a clearer picture of institutionalized White power: armed White law officers guarding a statue of an armed White soldier in front of a courthouse that has enforced White supremacy since its opening in 1924. "Historical preservation," indeed!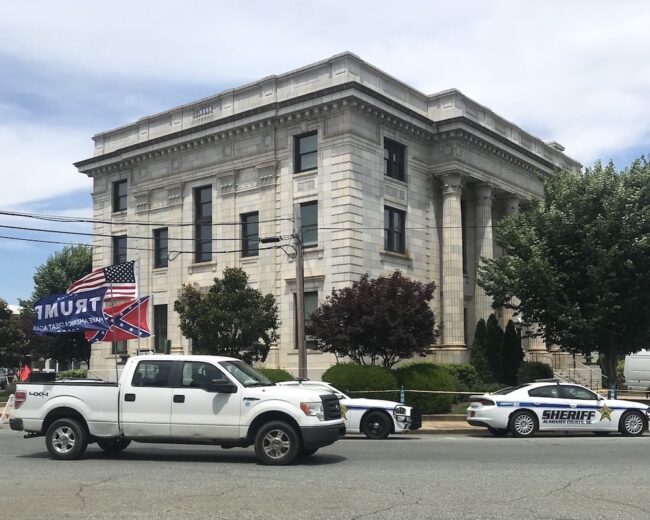 The police presence had been strong many days running, I learned. But today it was thicker due to rumors that a "violent" group would be protesting, following the denial of a permit to a "peaceful" one in line with the emergency order banning parades and demonstrations. Trump's executive order the previous day—criminalizing the defacement of government monuments with ten-year prison sentences—was presumably also a factor in this overwhelming show of force. A few BLM organizers stood on one corner. A group of rednecks with Trump and Second Amendment t-shirts on another. White Ford and Chevy pickups (ubiquitous in these parts) with Confederate and Trump flags drove around the circle that goes around the courthouse. A car with tinted windows loudly playing "F* Tha Police" passed by. But the rioters—Black looters and their White Antifa brethren, to put it in the proper Fox News perspective—ultimately failed to show.
After leisurely taking snapshots of a parked truck with Trump signage on it—HONK FOR TRUMP / MAKE A LIBERAL CRY, was scrawled in white on the tailgate—I turned to find a White guy in a Captain America t-shirt videoing me with his phone. "Why are you photographing me?" I asked. "Because you're taking photographs," he shot back. Besides, he added, he had the legal right to photograph anything or anyone in public, citing some federal law by name and number. He also announced that he was sharing the video live with 500 followers—which I suppose was meant as a threat. I asked him what was going on, why there were so many police about. "My guess is as good as yours," he replied, clearly lying.
Later I learned that Captain America's name is Jay "West" Thaxton. He associates with the Proud Boys and is a member of ACTBAC (Alamance County Takes Back Alamance County), a fixture in clashes over Confederate monuments in the area. They are a small group; they can't number more than a dozen, and the youngest look to be middle-aged. Until recently they were labeled a hate group by the Southern Poverty Law Center, due mainly to their involvement in the pitted protests in 2018 against the Silent Sam statue at University of North Carolina, Chapel Hill, located next door 25 miles away in Orange county. They were also front and center opposing the removal of the Confederate Monument in Pittsboro, seat of Chatham county, about the same distance south, last fall. Having lost both of those battles while witnessing Confederate monuments disappear in nearby Guilford and Durham counties without a fight, local ragtag neo-Confederates are making a last stand here in Alamance. During a protest a couple of weeks later, Jay would video me again, introducing me to his livestream audience (the footage was available on Facebook) with, "Oh, this guy's been here before. Welcome to the opposition guys! Antifa, we caught some of your photographers!" In the comments, his followers warn him that my backpack looks suspicious. "I call a backpack the Antifa starter kit," replies Jay, "so I know exactly what you mean."
But on this initial foray into Graham, I was not yet aware of the role I was being cast into. Up the street, a friendly, but clearly nervous, older White man informed me that the police had received "intel" that Antifa was going to "blow up the courthouse and local businesses." They, the counter-protestors (as they are called in more judicious parlance), were in town to make sure that didn't happen. They were going around telling businesses to be careful. "We're just here to help the cops," another patriot explained. But then I heard a different discourse while squatting in the shade and eavesdropping on the good old boys sitting next to me. "Hi, racist!" shouted one young man jokingly to his friend upon stepping out of his white pickup truck, with Trump and DON'T TREAD ON ME flags mounted to the tailgate. To these people, if you're not beating or cursing Black people as Black people, then you're not racist, and anyone who thinks otherwise is a libtard. But then, lo and behold, a hoary, septuagenarian embodiment of the Solid South came stumbling down the street. "My gran'daddy would feed 'em to the hogs, chop 'em up in pieces," he muttered to anyone listening. "You wouldn't have a rope on you, would you?" he asked a young lib-looking couple, before clarifying, "You ain't planning on tearing that statue down, are you?" I saw them a few minutes later non-aggressively drinking coffee.
That was on June 27. Nothing happened that day. The planned protests decided not to challenge the police ban on demonstrations. Instead, they regrouped for a bigger protest on July 11. Organized by Alamance Alliance for Justice, a Black church group who mix BLM and anti-Confederate messages with prayers for strength and justice, some 700 people took to the streets despite a new state of emergency order issued the previous day. Among the protest signs: CONFEDS=LOSERS / DOWN WITH CONFED STATUES, MOVE THE MONUMENT, WYATT OUTLAW 1870 (I will explain this below), and, of course, BLACK LIVES MATTER as far as the eye can see. On the counter-protestor side, boasting well under a hundred strong: SAVE OUR MONUMENTS / PRESERVE OUR HISTORY, t-shirts with a photo of the Graham monument and the declaration I AIN'T COMING DOWN, big Dixie flags everywhere, including ones inscribed with messages like THE SOUTH WILL RISE AGAIN and LEARN THE TRUTH AND YOU WILL NOT BE OFFENDED. WE LOVE YOU TERRY, read another, referring to the local sheriff, who is openly chummy with the neo-Confederates and has reportedly referred to Latinx immigrants as "taco-eaters" with different moral values "than what we have here." To this day, he refuses to wear a mask, like the vast majority of his supporters.
Imagine "All lives matter!" shouted against every cry of "Black lives matter!" Imagine "Dixie" from a Bluetooth speaker against gospel music from the stage. Imagine some jackass incessantly ringing the town's old courthouse bell, installed on a pedestal in Sesquicentennial Square in 1999 to mark the city's 150th anniversary, while Reverend Greg Drumwright, the march's leader, spoke truth to power. "Though they're ringing that bell, we're here to sound the alarm," he said. "That statue will come down." Imagine nasty verbal taunts across the police line that separated the two sides. Homophobic slurs flowed freely from the historical preservationist side. I personally did not hear the n* word spoken, but anti-black racism was expressed clearly enough through shitty comments like, "If y'all would stop killing each other, we wouldn't need so many police," or "Start handing out job applications, that'll make 'em run!" Note the Freudian misspelling of one girl's anti-looter sign here: NO FREE COLORED TV's TODAY.
Ironically, the only thing of real value damaged during the July 11 protest was the old courthouse bell, which was cast in Troy, New York, in 1859. Two days after the protest, the city had the knocker removed. When asked why by a citizen during a City Council meeting later that week, Mayor Jerry Peterman explained, "The bell does not belong to the city of Graham, it's on loan, and we were really concerned with it being damaged. As we looked at it, went up there to look at the bell ringer, it had been painted the day before and it was just beat all to pieces. So, yes, we did take that out. It was no reflection on anybody, or to cause anybody any problems." The men who damaged it have been documented doing so on camera, including video of my own. "Get out of here before I bash your face in!" howled a red-faced neo-Confederate when he saw me taking the video. The police, including the sheriff, intervened to tell me to leave, while doing nothing to stop the clanging. To this day, no one has been arrested or fined for the damage. Meanwhile, a BLM protestor that day was handcuffed for crossing a police line and cussing. Talk about double standards.
Since the watershed July 11 protest, the situation in Graham continues to simmer. Graham subsequently issued an ordinance banning two or more people from protesting, even lone individuals from carrying signs, and the public vocal expression of practically all political opinions without a permit. In response, on July 2, the ACLU and the NAACP sued the city for violating First Amendment rights. After rescinding the ordinance, the city created "free speech zones," marked with orange traffic cones on the sidewalk directly in front of the courthouse, where people were allowed to protest. These too were challenged and removed. "Is any protest a threat to public safety?" asked the title of a Washington Post article on July 29. "Yes, said this small North Carolina city." Graham's repressiveness had become national news.
On August 17, a People's Referendum was held on removing the statue and repealing the sheriff's agreement with ICE to identify undocumented immigrants and hold them in local jails. Over seventy percent who cast a ballot voted in favor of both. On August 17, a member of Down Home NC was arrested during the weekly county commissioners' meeting for breaking rules of protocol by directly addressing a member of the audience—a representative of UPS—and asking them to insist that a public forum on the statue be held as a stipulation for the construction of a distribution facility in nearby Mebane. UPS issued a statement requesting the same a few days later.
On the streets of Graham, protestors continue to be harassed by rednecks and the police. On the night of September 4, I saw a notorious neo-Confederate charge a Black woman protesting her child almost being hit by a car driven on another day by a different neo-Confederate, and then a Black photographer arrested for slapping the hands of a White cop away, the red dot of a taser's targeting laser on his chest before he was handcuffed in a dark alley. With 99 cases of COVID-19 confirmed at the Alamance County Detention Center at the time, protestors complained that arresting him amounted to a "death sentence." A few days later, on September 8, four people were arrested for protesting poor health safety conditions at the detention center, located just a block from the courthouse and statue. Their crimes: "trespassing" for standing on public property, "rioting" for dancing with balloons with political messages related to BLM and COVID-19 on them, and cursing at the police—which, as the protestors have pointed out, is not only unconstitutional, but is never applied to the neo-Confederates or the foul-mouthed sheriff himself. So, though the detention center has reportedly not enforced mask-wearing or hand-washing rules, they see fit to drag people in to wash their mouths out with soap.
As with most vibrant protest movements run by younger people, that in Graham has become more creative as it has gotten more pitted. At the same time that a variety of groups are collaborating to physically root out the worst of the old—by having the statue removed, by having repressive laws repealed, by getting progressives elected to local office—they are also working to create a new, more welcoming and more plural culture in Graham. When neo-Confederate types—who are, at the end of the day, few in number and old in age—complain that the city is being taken away from them, their fears are justified even if the sentiments behind them are unjustifiable. It is only they who want to maintain Graham as everyone's worst stereotype of a bigoted, Whites-only Southern town.
While new cafes, a record shop, a brewery, a craft beer store, and chic clothing shops have begun attracting a broader range of visitors to Graham in recent years, the rising cultural vibrancy is also reflected in the range of political interventions. On the morning of July 25, Alamance Agents 4 Change quietly organized a "caravan for justice," a car parade that had participants drive slowly around the courthouse while honking in rhythm to "Black Lives Matter" and displaying messages of the same. During a "free speech event," simultaneously utilizing and protesting the restrictive "free speech zone" around the courthouse, a member of Forward Motion Alamance dressed up as sheriff Terry Johnson, wearing an oversize papier-mâché head, and danced around while singing and shouting.
In the early evening of August 25, a small BLM vigil was held in Sesquicentennial Square. Meanwhile, members of Forward Motion Alamance set up a video projector in the bed of a pick-up truck, BLM messages scrawled on the makeshift wood fencing installed inside the truck's bed. Once the sun went down, RACIST and MELT IT DOWN were projected vertically in giant letters onto the tall pedestal of the Confederate monument, with background images of a Black Power fist, the faces of Black victims of police brutality, and curling flames spilling onto the old courthouse behind. Though the organizers were unsure if they would get away with this stunt—in a town where people have been arrested for cussing at the police, who knows if photons count as vandalism—the evening passed with only the mildest barking from local neo-Confederates. For the duration of August, Southern Arts Movement, a group based in Orange county, organized the installation of paintings and other types of artwork by local artists in downtown storefronts, ranging in subject from Black portraiture and pan-African imagery to the Rebel statue haunted by ghosts.
As someone who writes mainly about art, I have naturally gravitated to the activities of one group in particular: Forward Motion Alamance. "FMA is uplifting the voices of BIPOC while supporting the liberation of Alamance county from its own systemic injustices," reads the group's mission statement. Though, as noted above, FMA's activities have ranged widely, both in their individual actions and collaborations with other groups, they caught my attention specifically because of their comics. When protests exploded after George Floyd's murder in May, I kept my eyes open for comics and comics-related graphics produced locally in North Carolina. Readers might be interested in the interviews I conducted with Black artists involved in the mural project on boarded-up shops in downtown Durham, focusing on their use of comics, manga, and anime influences for protest purposes, to be published in issue 8 of Bubbles in November. I was having less luck finding work related to Confederate monuments, until I was handed a zine and then a pamphlet comic at the July 11 protest in Graham, both of which were by Forward Motion Alamance. Who knew that you have to "get out of your house and into the streets" even to be a comics critic?
There are, of course, many editorial cartoons on the topic of Confederate monuments. Judging from a quick online search, they tend to split evenly for and against the statues' removal. Reading the pro-monument ones, you really get a sense of how narrow-minded, if not downright nasty, American political cartoonists can be. The arguments are oftentimes reductive iterations of the same bigotry and false comparisons I have heard on the streets of Graham and other North Carolina towns. To their credit, most committed neo-Confederates can marshal enough Lost Cause talking points that you really have to know your Civil War history (I don't) to navigate a debate with them; the cartoons, in contrast, are usually simplistic and dumb. I am also aware of the short strips on the topic on The Nib as part of their broad-based attack on monuments celebrating White supremacy and colonialism. Comics in an actual protest setting, however, don't always fall so clearly to one side or the other. Consider this anecdote: While chatting with two armed Three Percenters who were guarding the Confederate statue in Asheboro, NC, in July, one showed me a printout they had found that morning affixed to the statue: Manny from Diary of a Wimpy Kid with ACAB written below it. I thought they were going to tell me Antifa did it, but no. They claimed that "White nationalists" put it there to incite a race war.
Beyond those examples, the only two comics-related items I know of related to Confederate monuments are a few years old. Both were created in response to what unfolded in New Orleans in 2015-17, where heightened disgust over Confederate symbols following the Charleston church shooting (June 2015) led to intense public debates and a near-unanimous city council vote to remove four of the many Confederate monuments located in this cosmopolitan, majority African-American metropolis. One, Ben Passmore's reportage piece for The Nib, "Takin Em Down" (February 2017), is bound to become canon. In vivid vignettes, it follows the early phases of the movement from then-Mayor Mitch Landrieu's issuing of an ordinance for the statues' removal in December 2015, the violent backlash of "preservationist" groups, the subsequent entrenchment of more vocal anti-monument groups, and closes with nighttime guerrilla raids on the monuments with spray paint and hammers.
The star of Passmore's story is Take Em Down NOLA, "an anti-white supremacist monument coalition" that also originated with the Charleston shooting, inspired in particular, according to Passmore, by activist and filmmaker Bree Newsome's scaling of the flagpole at the state capitol in Columbia to remove the Dixie that flew there. After their dramatic inaugural act of a literal "Confederate flag BBQ" at the foot of New Orleans's towering Robert E. Lee monument, Take Em Down NOLA actively took part in the public debates about the statues and ideas for replacements that honor the liberation and empowerment of Black people. What I really appreciate about this 32-panel strip is its compact detailing of the debates about history, heritage, and the power of public symbols—the terms of which have changed little since Passmore made this comic in 2017. Antifa has replaced ISIS in the demonization of BLM as fascist erasers of history, but otherwise "Take Em Down" reads like it could have been made yesterday and set in any number of cities. If anything, the comic reads prophetically. "If these monuments are symbols of white supremacy," writes Passmore, "then how they are removed will be just as symbolic. If these monuments are celebrations of white supremacy, maybe their destruction should be a celebration." That is exactly what happened in Richmond this past summer.
Another interesting piece is George Porteus's one-page "Shapeshifter," drawn for Lumpen Magazine in the spring of 2017, a few months after Passmore's comic. Using the General Beauregard Equestrian Statue in New Orleans as reference, it offers a mock instructional diagram of how Confederate monuments might be pulled down and recycled: get yourself a ladder, some rope, and a hook, yank it down with a pick-up truck, cut it up with a saw, melt it down, and pour the liquified rebel into molds to make American flag lapel pins. As neo-Confederates in North Carolina almost invariably drive pick-ups, I can't help but read the toppling segment ironically.
I asked Porteus for some background: "That work was directly inspired by reports that the city of New Orleans was beginning to take down some of its Confederate monuments, a seeming no-brainer that nonetheless took decades of community effort to accomplish. The 2003 footage of Saddam Hussein's statue being dragged off its pedestal was also a visual influence, along with '90s Lego instructions. Aside from an engagement with its explicit subject, the piece represents the beginning of my ever-increasing interest in the sort of sequential design that exists outside of narrative comics. I had also recently seen Ava DuVernay's documentary 13th, which laid bare the slippery legacy of the Civil War as it continues to oppress the descendants of enslaved people. I wanted to show that the symptoms evolve, but the disease remains constant. Applied to the monuments in New Orleans, I suppose I was fascinated with the duality of the undertaking, that a vital and symbolic act of erasure was also, taken by itself, almost feebly inadequate. There are, in 2020, plenty of aspects to the work that I am now uneasy with, mostly that it leaves too much to interpretation. The turn from righteousness in the first few panels to complicity by the last, combined with the implicative second person voice, only serves to muddle the target of my critique with my target audience. As an artist, I am usually happy to confound political assumptions, but as a person, the time for equivocation seems well over."
Personally, I like the open-endedness of the work. What I see is a clever condensation of how patriotism in the United States is often fashioned out of White supremacy, especially among Republicans. I see a wry statement about how flag worship and soldier worship go hand in hand, mutually supporting and protecting one other through interlocked taboos against critique of either. I also hear echoes of things I often hear from pro-monument people: Confederate veterans are American veterans, and since what they fought for are American constitutional values, they are American patriots as much as they are Confederate patriots and should be honored as such. Wear an American flag, fly an American flag: you're beyond question now—even if your patriotism is made out of the remnants of the Confederacy.
FMA's comics are obviously less polished than these predecessors. One might even call them crude. But that is partly what I like about them. They are raw and earnest in that '80s, black-and-white indie comic kind of way, while making the issues hyper-local and specific as only people personally engaged in a political movement are wont to do. Often whipped together quickly for a protest, FMA's comics wear their urgency on their sleeve. They are made for the street, which is precisely where I first obtained one: in the parking lot of the Food Lion in Burlington (one town over from Graham) where the July 11 march began, where someone handed me a zine titled Rise Up Alamance.
"Now is the time to stand against police overreach, whether it be racial profiling, lethal force, or intimation," states the introduction over an image of a macho White cop brandishing a pistol. The drawings, statements, poems, and comics in this 24-page xeroxed, stapled zine—all composed by local Alamance county artists—address such issues as racism, allyship, smart protest conduct, the Klan, and the police. There is also a statement on the 1969 Burlington Riots, during which a 15-year-old Black male named Leon Mebane was shot seventeen times when police opened fire on people they claimed were looting a grocery store. The unsigned comic, "Remember: Cops are Just Like You and Me," is a mock-sympathetic piece explaining how cops, precisely because they are humans susceptible to fear, surprise, and propaganda, need to be navigated with utmost caution. The zine's piece de resistance is its centerfold: a WANTED poster of sheriff Terry Johnson, whose racism and support of the neo-Confederates (mentioned above) are the stuff of local legend. That image has since been emblazoned upon T-shirts sold by FMA to help pay for their activities, as has the adapted Ghostbusters logo on the zine's back cover, featuring a Klansman instead of a white-sheet ghost.
Later, on the street in front of the monument where the speeches were happening, I was handed another item of printed matter: a tri-fold comic titled Who Was Wyatt Outlaw. It was signed by one Nikki Dixxx, who turns out to be the artist of the cop comic in the Rise Up Alamance zine. A biracial, half-Black, half-White man in his thirties, whose penname dates from his years in a punk band, and who, in his own words, "looks weird" with tattoos and occasionally a mohawk, Nikki cuts a sharp contrast with the frumpy t-shirt/blue jeans/ball cap-wearing Confederate sympathizers on the streets of Graham. As a walking embodiment of the changing racial and cultural dynamics in this region of North Carolina, I see him and his comics as a set, in the same way that, say, punk music is not just about the music but also the challenges its associated fashions and lifestyles pose to social norms. In this sense, too, it is important that FMA's comics are distributed by hand at protests, though not usually by Nikki himself, who prizes his privacy. The messengers are also part of the message here: millennial, Black, White, and Brown and sometimes tattooed young folk "doing culture" in a traditionally Whites-only Southern downtown.
About the comics, though. The history behind Who Was Wyatt Outlaw is important for understanding just how ugly the situation is in Graham. Though his name sounds like a gunslinger out of a Western, Wyatt Outlaw was Alamance county's first Black town commissioner and its first Black constable, elected to those positions in 1869. As a Union solider during the war, leader of the local chapter of the Equal Rights League (a national freedmen's advocacy association) after the war, and proprietor of a woodworking shop in downtown Graham that served as a social spot for both Black and White workers, Outlaw was a proud symbol of Black empowerment and the promise of interracial progressive politics during Reconstruction. That is also why he was hated by White supremacists. On the night of February 26, 1870, the local KKK broke into Outlaw's house, dragged him outside before the horrified eyes of his wife and children, down Main Street to the courthouse (a different building from the one there now), and hung him from an elm tree, with his mouth slashed open for talking too much and a note of warning to others pinned to his back. As one of the causes of the Kirk-Holden War in 1870 to suppress the KKK in Alamance and neighboring Caswell counties, Outlaw's murder was recounted in gruesome detail in depositions from family members and other witnesses during the trials that followed the Klan's suppression. The corruption of North Carolina's legislature and legal establishment by White supremacists, however, ensured that the perpetrators got off and were able to reassume positions of influence within post-Reconstruction society.
As Nikki's comic makes clear, the Confederate statue in Graham is intimately connected to Wyatt Outlaw's lynching. One would be hard-pressed to find a more clear-cut example of Confederate monuments serving as monuments to White power and White terror in the South. First, the elm tree from which Outlaw was hung stood in the general vicinity of where the monument was erected in 1914. Positioned as it is in front of the courthouse, the monument thus serves as a reminder of how lynching was embraced as an extralegal means to enforce White supremacy with the tacit approval of the law. What's more, one of the men involved in Outlaw's murder, lawyer Jacob Long, proud founder of the North Carolina branch of the Klan, served as Master of Ceremonies at the monument's unveiling. Proclaimed Long to a crowd of reportedly 3000, "It is well for us now and then to turn aside from the duties of every day life, and together celebrate some great event in which we all have a common interest; to recall the achievements of the great and good of our own race and blood, and speak some word or perform some act, or direct some memorial which will keep fresh in our memories services, sacrifices, and events that ought not to be forgotten." Our own race and blood.
After Long came Henry London, who, as a lawyer and publisher of The Chatham Record, was one of the region's most vocal and influential advocates of White supremacy against the threat of the "Negro vote." While London's speech at the unveiling prattles on vaguely about the greatness of Confederate soldiers, here he is in Greensboro in 1900: "Now it is determined that white supremacy shall be made permanent by ridding the state of the ignorant negro vote. . . The whole situation is embraced in the single question: Can North Carolina be governed better with or without the ignorant negro voters? There should be no hesitation on the part of any man, with pure white blood in his veins, in answering that question. . . [black voters] were as unfit to exercise the right of suffrage as their savage brother, who naked roamed the wilds of Africa." As argued in a handy, powerful article about the Graham statue by Mike Scott for Medium, both Long and London, as well as many of the adults in attendance at the monument's unveiling, would have recognized the connection between 1914 and 1870. Those old enough would have remembered seeing Outlaw's body dangling from almost the same location forty-four years ago, while some of them, including one of the speakers, had been personally involved in dragging Outlaw from his house a block north, the direction which the Rebel at the top of the 30-foot-high obelisk now faced. Though the tree is long gone, the east-west cross street through downtown is called—prosaically until you learn some local history—Elm Street.
It is also important to note, especially given how protestors today are attempting to rethink and expand local identity and memory, that the Graham monument builders knew very well that they were rewriting history with their tower of stone. During the Civil War, Alamance county—which voted 1114 to 254 against secession (not counting its Black population, of course)—had been a hotbed of anti-Confederate sentiment. Quakers in the south part of the county actively opposed the war, as they had long opposed slavery. The White man who is thought to have been Outlaw's father, Chesley Faucett, was a leader of a group known as the Red Strings (officially, Heroes of America) during the war, writing cutting anti-Confederate articles and helping young men dodge conscription and desert the Confederate army. The Confederate monument, with its paeans to OUR CONFEDERATE DEAD, obliterates all of this.
Furthermore, the placement of such monuments in front of practically every courthouse in North Carolina during the first two decades of the 20th century represented a political and ideological victory, specifically over the interracial Fusionist politics that momentarily held forth the promise of an alternative to Jim Crow and the Solid South in the 1890s. Adam Domby, in his False Cause: Fraud, Fabrication, and White Supremacy in Confederate Memory (2020), accordingly calls statues like that in Graham "victory monuments." Their erection declared not only that Whites would continue to lord over Blacks, but that Lost Cause advocates would dictate what it meant to be White.
To argue, as neo-Confederates do, that Confederate monuments are apolitical homages to veterans and forefathers is thus completely disingenuous. To argue, as even some liberals do, that "historical heritage" should be respected and protected, ultimately amounts to an acceptance of the ideological purposes these monuments were originally designed for, among which is the projection of a certain brand of power over public space. That neo-Confederates and other types of White nationalists rally around Confederate monuments should be nothing but an argument for their immediate removal. While I am not usually impressed with their quality as artworks or moved by their sentimental, high-minded, patriotic inscriptions, I do find many Confederate monuments powerful even outside of a charged protest setting precisely because I recognize that the brand of Whiteness they represent is alive and well in American society. Because these statues are alive—because they are not just "history"—they need to be neutralized.
Meanwhile, Wyatt Outlaw, Graham's first Black political leader, has been practically erased from public memory. Though his life and murder were significant enough to inspire two best-selling semi-non-fictional novels by one of his associates—Albion Winegar Tourgée's A Fool's Errand (1870) and Bricks without Straw (1880)—the only object remotely approaching a public monument to the events around Outlaw's lynching is a North Carolina Highway History Marker on the road between Graham and I-40. It reads: "Kirk-Holden War: Racial violence in Caswell and Alamance counties in 1870 led to martial law, under Col. George W. Kirk, impeachment and removal of Gov. W. W. Holden." Without any other knowledge of the events, a passerby zooming by on their way into Graham is apt to think Kirk and Holden, assigned to suppress and prosecute the Klan, were the bad guys.
The situation, however, seems to be turning. In 2016, the Paramount Acting Company in Burlington staged Wyatt Outlaw: A Drama in Two Acts, Based on a True Story. They are reportedly thinking of staging it again, while FMA members are looking into writing a new play about the horrible last moments of Outlaw's life, to be performed potentially on the streets of Graham. I have also heard activists in Graham talk about petitioning to have a historical marker about Wyatt Outlaw installed at Sesquicentennial Square, which they sometimes refer to as Wyatt Outlaw Square. I have also heard it called Confederate Square. Indeed, the most effective enactment of these spaces' latent symbolism has arguably been carried out, unknowingly, by the neo-Confederates themselves. During larger protests, Sesquicentennial Square is typically where they congregate and raise hell, most of them either ignorant or not caring about the bloody history they are channeling—or perhaps, perfectly aware and proud of it.
In the meantime, we have Nikki Dixxx's little comics broadside. It represents the potential of Wyatt Outlaw's story, not just for local counter-history initiatives, but for crafting a progressive, revisionist pop culture that a wider audience might enjoy and learn from, including kids. I may have never learned about Outlaw otherwise. Same, I assume, for the vast majority of readers of this essay. Who Was Wyatt Outlaw is ostensibly a comic about a man and a monument; it is also a manifesto toward the future reclamation of public memory and public space in one North Carolina city and across the South.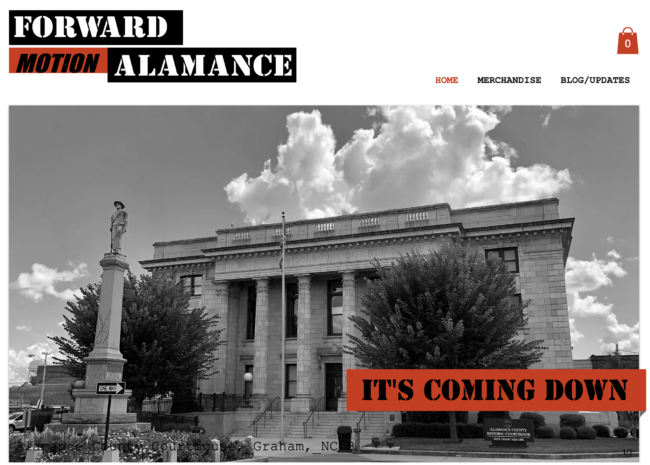 In late August, I finally met with Nikki Dixxx and two other members of FMA, Katie Cassette and Kris, to talk about their activities, especially those of an artistic nature, and particularly the comics they have produced and will continue to produce.
Most FMA members prefer not to use their real names, or have their photographs made public, out of concern of being doxed or other retaliation. Though not all of them live in Graham, they do live in Alamance county, so the possibility of harassment or worse is real. Neo-Confederates often take photographs of people's license plates and love sticking their cameras in people's faces, mine included. As noted earlier, taunts and shoving are not uncommon even during small protests. In August, two people wearing Klansman-like sheets knocked on one activist's door in the middle of the night; a security camera caught them running away. No one I talked to took it as anything more than a prank. But with tensions high in Graham, I don't think anyone would be surprised if someone was seriously hurt or even killed by racists or the police.
Even while we were doing our interview—in, naturally, Wyatt Outlaw/Confederate Square—the "Graham thing" intervened. One mildly strung-out young guy charging his phone desperately wanted to share his opinions about the statue: about how it is part of history, good or bad, and how history shouldn't be erased. A bit later, a neo-Confederate drove by and screamed something out of his truck, then walked by and yelled that we were all "drug addicts," getting into a scuffle with the first guy. Then someone else sauntered over and yelled "faggot." Of the, maybe, ten times I have been to Graham, not once have I not seen or heard something unnerving in Sesquicentennial Square, even on days when nothing is happening. In mid July, hearing that things had settled down, I stopped by Graham to get better photos of the embattled statue. For once, the town wasn't under martial law and the courthouse wasn't surrounded by cop cars, aside from one parked vigilantly next to the statue itself. The policewoman eyed me as I took photos, her door half open to spring out if need be. Creepier was an old White lady sitting on the brick planter at Sesquicentennial Square. Wearing harmless grandma baby blue, I initially didn't think anything of the fact that she appeared to be watching me the whole time. But when I walked past, she said to me in a hateful whisper, "Why are you here? You're not welcome here. You. Are. Not. Welcome." Even if the statue is removed and counter-monuments erected, Graham is going to need to hire an exorcist, the bigotry and xenophobia are so deep here.
The square also occupies an important part in the story of FMA's founding. After the murder of George Floyd, lifelong Graham resident Von Jovi (as he has asked to be called), who is Black, decided it was time to do something. As he recalled in a message passed along to me: "With no real plan, just a clear desire for direct action, I decided I was going to go sit in downtown Graham. I dressed in all-black and brought a good book and sat in the same spot where they hung Wyatt Outlaw, while facing the Confederate statue that is erected in the middle of downtown. I had no political agenda. I just felt I had to do something as a Black man. By me living in Graham and understanding the racial undertones and discrimination that goes on, I never felt a sense of fear only a sense of duty. This wasn't about race. This was about right and wrong, and I knew that I was on the side of right and that gave me a sense of security and confidence to stand up against anyone who or anything that goes against basic human decency. This process has allowed me to really find myself while also challenging myself to become more informed about what's going on at a local level in the town where I live. After the fourth day, when the police pulled over a friend of mine to try to find out who I was, I realized that I needed to link with like-minded people. So, I reached out to the other Black person I knew in Graham, the owner of the Muse [a clothing store in downtown Graham]. She had been in contact with other people in the area and explained their story and we came together."
Below is how other members of FMA have described their origins, their activities, and their art.
Ryan Holmberg: To start off, tell me about Forward Motion Alamance.
Kris: When the George Floyd stuff happened, Von told us a story about how the next day he decided to just come out here and sit and read, and see what happens. The first time, he was here for an hour, nothing happened. But then he came back the next day, did the same thing, then the next day again, and on the fourth day he was out here and the cops approached him and asked him like, "Hey, what are you doing?" They were very suspicious of him. Apparently, they had noticed him sitting here for four days. And for him that was the moment when it clicked how racist Graham is. He's a guy sitting in what is pretty much the only public park downtown, just reading a book.
Katie Cassette: Then Dion, the only Black storeowner in downtown Graham, she and a friend decided to go to Beer Company to grab a beer. Loretta, who works at Beer Company, is also Black. Just their race caught some neo-Confederates' attention. They thought they were protestors—just because there were three Black people congregating in the same place—and harassed them for no good reason. This was probably back in June.
Kris: Stuff really didn't take off here until after the statues came down in Raleigh. ACTBAC held their first big counter-protest the next day. They sat out here all day.
Nikki Dixxx: Forward Motion probably wouldn't have started if they hadn't come here and started using racial slurs to get people's attention, just yelling unnecessarily.
KC: But going further back, when Silent Sam came down in Chapel Hill, that is when the police presence around the Confederate monument here in Graham got heavy. As a White woman, I hadn't really noticed that until recently. In Saxapahaw also, there's a small group of people who have been standing outside for 30 minutes every day since George Floyd was killed. They're very peaceful. They don't respond to agitators. I got to know a woman involved with that, named CC, because I work at the general store there, and she invited me to come to Graham and have a meeting with likeminded people to talk about ideas for some action we could take. So I came to Graham with her, Dion and Von were there, and it congealed for some reason. There were other people who had already been dealing with things in Pittsboro and Chapel Hill around these exact same issues, so we have some veterans in our group with the experience to do things like listen to the walkies and recognize the people who participate in the counter-protests. We have strong diversity in our group already, then with Nik bringing in art and comics with the education potential they have, that's really what makes Forward Motion special, I think, because we have this propaganda branch to sell merch and make money to fund what we do. Other groups have reached out to us precisely for that reason.
ND: Forward Motion is a direct response to what you might call "conservative aggression." If everyone was nice, this would probably just be another little town where no one talked about these issues much. But the neo-Confederates really drove us to it. We had no choice.
RH: Have all of your actions been in Graham? Or have you done things in other places in Alamance county?
Kris: So far only in Graham. But aside from the Confederate monument, we've also been pushing to get new county commissioners elected and putting pressure on the sheriff, Terry Johnson, who has a long history of abuse of power and abuse of our immigrant community.
ND: Racial profiling, use of racial slurs. He has instructed people in the sheriff's department to not trust anybody that looks like they might be from Mexico. He uses coded language like "their values don't match ours." He believes that the age of consent in Mexico is fourteen and says that people who come to the United States will act on the same "sexual impulses." So, statue first. Terry, second. County commissioners, third. Those are the three big things.
KC: Also, just making space for something different in Graham. Dion opened this funky, vintage clothing store here. She has, like, paintings of breasts on the wall, and shirts that say "cunt" and "bitch." Which is already something this town had never seen before. Plus, she's a Black woman and she's strong and she's proud. Forward Motion for her, I think, was also about making room. Whenever something happens, the rest of us check in to make sure she's safe, because with the store she's really on the frontline here. And just simple things like having a game night downtown, which they do now at Beer Company every Thursday, to get more people of color to hang out downtown. Just trying to get different kinds of people to feel welcome here.
ND: I would say another one of our goals is bringing art and creativity to Graham. Because art helps foster greater open-mindedness, dialogues, and just makes it nicer to live here.
KC: And it provides a way to uplift the voices of Black and indigenous people of color who live here and are from here. Sylvester, who is Black and has lived here all his life, says he never really came into Graham growing up, not until this movement started. He says there's this palpable feeling that he was not welcome downtown, and most of his community feels the same way. They might go to a church two streets over, they might even live two streets over. But they don't come here, around the courthouse. So one of his ideas was a demonstration to just get people of color to come downtown and do simple things like sit down and drink coffee or walk around, just to get the town used to seeing Black people here.
RH: I can only imagine. The first time I came to Graham, on a whim to check out the Confederate monument, and every time since, even when there's no protests happening, there's this palpable negative aura. It really is something—and I'm White. What is that? What is that Graham aura?
Kris: So, I'm from here. Downtown Graham feels very different from the rest of Graham. Graham is otherwise a very suburban place, and the residential neighborhoods have always felt pretty integrated to me. I grew up surrounded by people of color. I went to school in Graham. Graham is a town that is 24.4% African-American, and another 10% Latinx. If you live out in the suburbs of Graham, you see that. But when you come downtown, to this circle around the courthouse, you don't see the multicultural diversity that exists elsewhere in town. And that speaks to what Sylvester says about how, in communities of color, there's an unspoken rule that living in Graham is fine as long as you don't go downtown.
RH: So this vibe isn't a new thing, it's not just since the recent wave of protests.
ND: Not at all. Maybe a year ago, I came downtown to go to Colonial Hardware, which is just down the street a couple of stores, to pick up supplies for a construction project I was working on—nothing nefarious—and an officer saw me leaving, made eye contact with me, started his vehicle, I started mine, I pulled out, careful to obey the speed limit. He followed me all the way outside of town, down 87, for miles, following very close behind my car. There's always this feeling that, like, if you have the bass a little too loud or if you look weird, you might be followed or antagonized by the police—by some of the police, not all of them—or by some of the locals.
RH: Do you feel like there's a demographic shift in Graham recently?
KC: Dion's store, Muse, has really shifted things, bringing different customers in. It makes me want to open a store, selling tarot cards and crystals, with a Pentagram in the window! Because there is so much Christian Whiteness here, and of course there should be a space for that, but there should also be space for other things, and I think it would enrich this town so much if everyone could feel welcome here. I actually have my eye on a storefront already!
Kris: I think especially these last couple of weeks, I have started seeing more people of color downtown. Maybe they feel more welcome, more supported, more protected, which is precisely our mission, what we set out to do.
RH: Maybe we can shift gears and talk about the comics a bit. Nikki, how did you get into comics? Were you always into comics? What's your personal comics history?
ND: I've been into comics for a long time. Ever since I was kid, I've been a fan of Jack Kirby, both the Marvel and DC stuff. I love the machinery, the dynamics of the Fantastic Four, the crazy things that Reed would make, and the outer space scenes. When I think of Kirby, I think Fantastic Four, Galactus, that kind of stuff, New Gods. I love the way he draws energy and space. And Steve Ditko, him especially. The Ditko Spider-man work is amazing. I mean, I don't agree with a lot of his objectivist politics. But I like his Blue Beetle and his Charlton work. I like the older '60s stuff.
RH: Do you read a lot of comics?
ND: I had kind of a chronic spending problem up until about Civil War. Since I was reading a lot of mainstream comics from the Big Two, I got a little burnt out with all the changes that are done and undone. There's a Nazi Captain America now! I hate that shit. I still take a dip when I can, but not very often. Comics are so expensive now. I used to spend like 350 a month up until the Civil War happened, and I was like, what am I doing!? I need money to move out of my parents' house! Instead, I had all these comics, a bunch of the Ultimates, a whole collection of Dazzler, a lot of the Civil War stuff.
Kris: I think we should specify that he means the Marvel Civil War, not the real Civil War!
ND: Ha! Sure sure. But it would be great to do a comic book called Civil War, the real one. I would love to make a comic about Andrew Johnson, another super-villain worth exploring. Johnson and Jackson. I imagine our comics fit most people's budget just fine!
RH: Tell me about your comics for Forward Motion.
ND: The Wyatt Outlaw comic is probably the first comic I've ever completed, actually. The first one I've made and given to people, at least. When I was a kid I made cartoon strips, I was trying to be like Jim Davis or someone. But I never showed anyone my stuff. Usually now I do single page illustrations, and I dabble in painting. But I decided to make the first comic, Who Was Wyatt Outlaw, because sequential art is such a good medium for conveying ideas to all sorts of people. There's a lower barrier and you can get a lot of information across quickly. The project was pressure-free, which was important. It started off as something fun. But since people liked Wyatt Outlaw, we started making more, and now we're thinking about developing more characters.
RH: Can you tell me in your own words what the Wyatt Outlaw comic is about?
ND: I guess you could say that comic is about the way people whitewash history, about the way things are swept under the rug. Specifically in this town, the significance of where Wyatt Outlaw was lynched, and how the people who lynched him funded the statue. There's a direct link between the KKK and this particular statue. If you're looking at the statue just as is, without knowing the history, you maybe just see a work of art or cultural heritage. But if you have the background information, you realize that the statue is so much more.
RH: Tell me about the second comic, They Tried to Kill Black Vote.
ND: I want to do a series of comics where all the Amendments are X-Men and they're sent out by the Constitution, who's like the Professor X of the group. All the different Amendments go out and try to fight the good fight. So one of Black Vote's powers is to be able to turn the tide in elections. It's fun to think about ways to personify laws and history in different ways. On the cover of the sheriff Terry Johnson comic I'm working on, he's breaking the arm of 1A, the First Amendment, by instituting oppressive laws around free speech and what you can say, where you can say it, and how you can say it. Terry's superpower is that he can smash the amendments, beat them up. But his kryptonite is free speech. He has incredible strength, but paper-thin skin. He's like the opposite of Luke Cage. If you say "shit," that'll cut him. So he makes swearing a finable offense in Graham and builds a super-suit to withstand the barrage of opinion. Over here, this is Jim Crow, a new character I'm working on. He's an interdimensional being healed by hate. He's got to keep the Confederate monuments intact, as a way to summon energy to keep himself alive in his own "reality."
RH: The first two comics you made were 6-page, single-sheet, folded-up pamphlet comics. Can you tell me about the production and distribution of those?
ND: Let's see, I drew them, I printed up as many as I could at a friend's house, then we printed up some more until that ink disappeared too. I passed out some master copies to people and said please copy this and give it to people, and now I've been sending out the files to people as well. I am hoping they have a life of their own.
RH: All your printing is xerox?
ND: Yep. I do the pencils, lightbox those in ink. Then xerox the drawings to blow them up to the size I want. I work out word balloons on tracing paper like this. This one had a typo, which I just fixed by cutting and pasting over the old version. I've tried to leave parts for other people to do, with Xs to ink in and stuff, but I don't have an assistant, so I end up doing everything myself.
RH: Have you gotten much feedback?
ND: People seem to like them, so I'll keep making more. For now, they're mainly for handing out at protests. But eventually I would like to compile everything into a collected volume, with both the comics and other drawings, then sell that on our website. My plan with the Terry comic is to hand some of them out for free, just to let people know about him. He's got two more years as sheriff. Then we're going to sell the rest on the website, with the proceeds going to things like water to give out at protests. Essentially, we want to print them as cheaply as possible to make enough money to print more to give out for free, if that makes sense.
RH: What else do you sell on the website?
ND: Political yard signs, the kind you stick in your lawn, one saying TERRY JOHNSON RESIGN! We have pins that say Forward Motion Alamance with a Ghostbuster logo, but instead of a ghost it's a Klansman. We also put together a community zine that's got a lot of different stuff in it. It was a little rushed, it turned out kind of a mishmash, but it was cool to have local artists be involved in something together. I just wish we had had more time to put it together properly.
RH: Are you hoping to collaborate with more area artists in the future?
ND: Yes. We need artists to contribute to this movement. Comics about political awareness, or treating news events, or even fun things like an Antifa super soldier, Captain America style or something, busting heads— Actually, I take that back. Don't draw that! Don't draw anything violent involving Antifa.
RH: Tell me about that. Are there things you won't draw, or are careful to not draw in a certain way?
ND: I've had to walk a line between drawing a good super-villain while trying not to glorify them. Like, you want your Klansman to look menacing in a comic, but you don't want them to look cool.
RH: What is the detail that changes them from one to the other?
ND: I don't know. I feel like if the guy is looking too cool or something, I might put a patch on his robe, or make one of his eyes crooked.
RH: You mentioned violence, and wanting to be careful about that.
ND: Yeah, I don't want to draw anything that makes it seem like we're a violent group. I don't want to reinforce the Fox News stereotype that we're violent Antifa out to steal your home and property. Don't get me wrong, I don't have any problem with anti-fascists. But that's not what our movement is about.
KC: You see it when someone is just standing by the statue. There are barriers all around it. Police are always standing nearby. I can't imagine what would happen if someone actually tried to deface it. That would confirm all their fears and everything we are trying to do would be fucked.
ND: This town is basically an experiment. We are trying to see if we can get this monument removed through "legitimate" means, whatever that means—legal means specifically.
KC: It's going to come down to whether they think keeping it is a safety issue or not, because that's how the law around monuments and their removal is structured in North Carolina. Or, it'll be settled in November. Forward Motion is focusing now on the election, trying to get marginalized communities to vote, and getting information to them about voting. There are three Democratic county commissioners running this year. We're trying to uplift and get them into office, because the Lord knows we need that.
RH: On that note, would you consider making a comic that spells out the issues in a more didactic way, that says here is what is happening, and that ABC needs to happen to achieve XYZ specific goals?
ND: Yeah, that sounds like something we should work on. But I have tunnel vision. The other comics had deadlines, specific protest dates. So we busted them out. We stuck to the deadlines. Some of the drawings I may not like, but I couldn't sit there and hate myself about it. We had to get them out. Katie is like my manager. She makes sure I get things done on time. Sometimes it's hard to make a story out of everything that's going on. But that's also the joy of it, coming up with characters who represent the issues. Black Vote may seem like a ridiculous character, but what he represents is real and important.
RH: Katie, you also make art. What have you made?
KC: I like to make the pamphlets. Another local organization, Agents for Change, let me create a little pamphlet to make their demands more fun and exciting. I also made the Terry Wanted poster for the T-shirt. Nik is the comics person. I'm more of a painter, but Nik is showing me how comics work, how you line panels up and the energy that is produced that way. It's a whole different medium. I have never been a comics person, so it's been very cool to work alongside him. He's the storyteller. It's been fun to watch the comics evolve. First, there was the Wyatt Outlaw comic, which is about history, it's literal. Wyatt Outlaw actually existed and the comic presents information how history actually happened, at least as far as we know. And then Black Vote is a character representing an issue. And now this Terry Johnson comic is a story world that mixes real characters and symbolic ones.
ND: Eventually I want to do a whole universe of characters. Then also have some comics that are more straightforward, educational comics about real people and concrete issues.
RH: Someone was telling me about a Wyatt Outlaw play.
KC: Yeah, that's Sylvester. He's our theater person. Originally his idea was to restage an older play, written by someone else, in the middle of town. Now the idea is to collaborate with a local historian named Walter Boyd to write a play of their own about the last moments of Wyatt Outlaw's life, to be performed in conjunction with a Wyatt Outlaw vigil. They're working on that now, and brainstorming about logistics—no wings, costume changes, things like that, and of course getting the city's permission.
ND: In our research about Wyatt Outlaw, we came across a playbill about his life. Even the photographs people say are of him are actually of someone closely related to him, or so I've been told. That's why in the comic I kept his face blacked out or blank or with a question mark. There's not much known about him, which is sad, because he was basically Graham's first sheriff after the Civil War.
RH: Can you tell me a little about your interactions with neo-Confederates, whether on protest or non-protest days?
ND: Well, I haven't succeeded in giving them any of my comics.
RH: Have you tried?
NC: Yeah, I guess a little bit, here and there. I just got tired of continuously printing them out and carrying them on me all the time. The neo-Confederates were actually my original target audience. But it's hard to get anything through to them, let alone put something in their hands. Maybe if someone in our group printed a batch, I would try again. That's who the comics were originally for, after all.
KC: I feel like I tried to discourage you from engaging them. You were thinking about doing that and I thought it was, I don't know, pointless maybe.
ND: Yeah, only likeminded people ended up reading them and circulating them—which is good, too. But the comics are disarming. If someone perceives you as a bad person who is here to do harm, and you can show them what you're about with drawings. . . I mean who's ever been hurt by pictures? Well, plenty of people. But come on, this is the nicest way I could express what we believe, by drawing it out in pictures.
KC: That is an important philosophical question. Is it worth trying to educate the hardcore Confederate people, who are really small in number? I feel, personally, that the answer is no. It's not worth me putting my energy there. I'd rather try to empower and uplift people who are marginalized and build momentum for what we're doing. But Nik still has this desire to go there.
RH: Would you ever want to do a comic about them, about the neo-Confederate types you meet on the street in Graham, or would that be dangerous?
ND: It could be dangerous. That's why I don't sign my name on any of the comics I hand out here. If I use anything it's Nikki Dixxx—triple X!—which came from a punk band I used to be in. After a county commissioners meeting about two months ago, two hooded men knocked on someone's door in the middle of the night and ran off. They caught it on a security camera. It's washed up, trying to bring back this Klan aesthetic. They need to come up with new ideas. But it's still serious.
RH: Do you feel like doing the Terry comic is risky?
ND: Oh yeah. Ever since starting these comics, I keep having this recurring nightmare of someone erecting a burning cross in our yard. Then I wake up and of course there's nothing. But I keep having this dream over and over again.
RH: When drawing the Terry comic, are there certain things you are avoiding to reduce the risk?
ND: Not really. I'm featuring a lot of local characters, like the Three Percent militia, who are on Terry's team of bad guys, and a group called ACTBAC. The first time I encountered them, I just went over to see what they were about, but they wouldn't even talk to me. I'll talk to anybody. But it's crazy. You try to go with a smile and an open mind and all ears to see what they have to say, what their grievances are, because nine times out of ten, we all have the same goals, just different ways of getting there. But I was met with nothing but aggression, lots of yelling. It doesn't help that I dress weird, of course, but their whole thing is "We're trying to protect Alamance country from people like you," meaning me. Or pointing across the street and saying that they are "the thin red line" between order and "that"—and I'm the "that." Come on. I'm not a "that"!
RH: Do they think you're Antifa, whatever that means for them?
ND: I guess so. That term has gained a lot of notoriety in the past couple of years. I'm not sure what they think, if they think I'm going to take their guns away or what. It seems like a blurred mishmash of ideas. It's just fearmongering. And all the Antifa people I have known, they just want to protest or bring water and food to people—like vegan biscuits and gravy! Can you think of anything less scary than vegan biscuits and gravy? They don't know how to fight. They've never held a gun before. There's nothing threatening about them!
RH: One last question, maybe it's more of a comment. I've been trying to keep my eyes open for cartoons and comics about Confederate monuments. Of course, you find newspaper editorial cartoons on the topic, and a few strips on political sites. But yours are the first I have seen in a longer format, and also the first created by people actually involved in the movement locally in a sustained way. Just at that level, the actual content aside, I think what you are doing is unique and important.
ND: Well, if our comics inspire more people to make comics on similar topics, that would be great. I don't really pay attention to what else is out there, though. I use an antique computer and don't even have a cell phone. Between those two handicaps, I don't spend too much time on the information super highway.
RH: Why do you choose to be low-tech?
ND: Extreme paranoid fears of things like hardware being hacked, data being sold. I don't like doing any financial transactions online. Besides, I break all my phones. I jumped into a pool with a phone in my back pocket once. I could go on and on about how much I hate them. I also hate being accessible. That layer of separation is important to me.
KC: Yeah, we have like a '80s relationship, which can be very nice.
ND: It's nice to come home and find a handwritten note. I don't like getting the buzzes on the thingy.
RH: Well, good luck continuing to revolutionize Alamance county with your hand-distributed xeroxed comics. I wish your movement the best of luck with that!
ND: Hey, you wait, I'll be the next Kevin Eastman, you never know!
RH: And fax me the Terry comic when you're finished, please.
ND: Don't you worry, I will!
*Thank you to everyone from Forward Motion Alamance who took the time to speak with me for this essay. Please note that this essay was finished prior to the Trump caravan that drove through Alamance county on September 19 and the large protest on September 26, during which the situation in Graham once again approached a boiling point, where it will likely remain through at least Election Day. Also, I would appreciate any corrections of factual error or contentions of interpretation regarding the unfolding of events in Graham. They can either be posted below or sent to me directly through social media @mangaberg.