Comicon Napoli is the second-largest comics event in Italy - so large that this year it will be held twice, in two cities. The first show was held in Naples, in southern Italy, from April 28th to May 1st; in a week or so, another show will be held in Bergamo, in northern Italy, from June 23rd to the 25th. Compared to Lucca Comics & Games (here's my report from the latest edition), which is the largest comics event in Italy, and the second-largest in the world after Tokyo's Comiket, Comicon Napoli is something quite different. First, it does not spread across a whole city; the Naples show takes place in a large structure dedicated to fairs and other events—public sector employment examinations, for example, and COVID mass vaccinations in recent years—with indoor halls and outdoor spaces, and a huge theatre as well.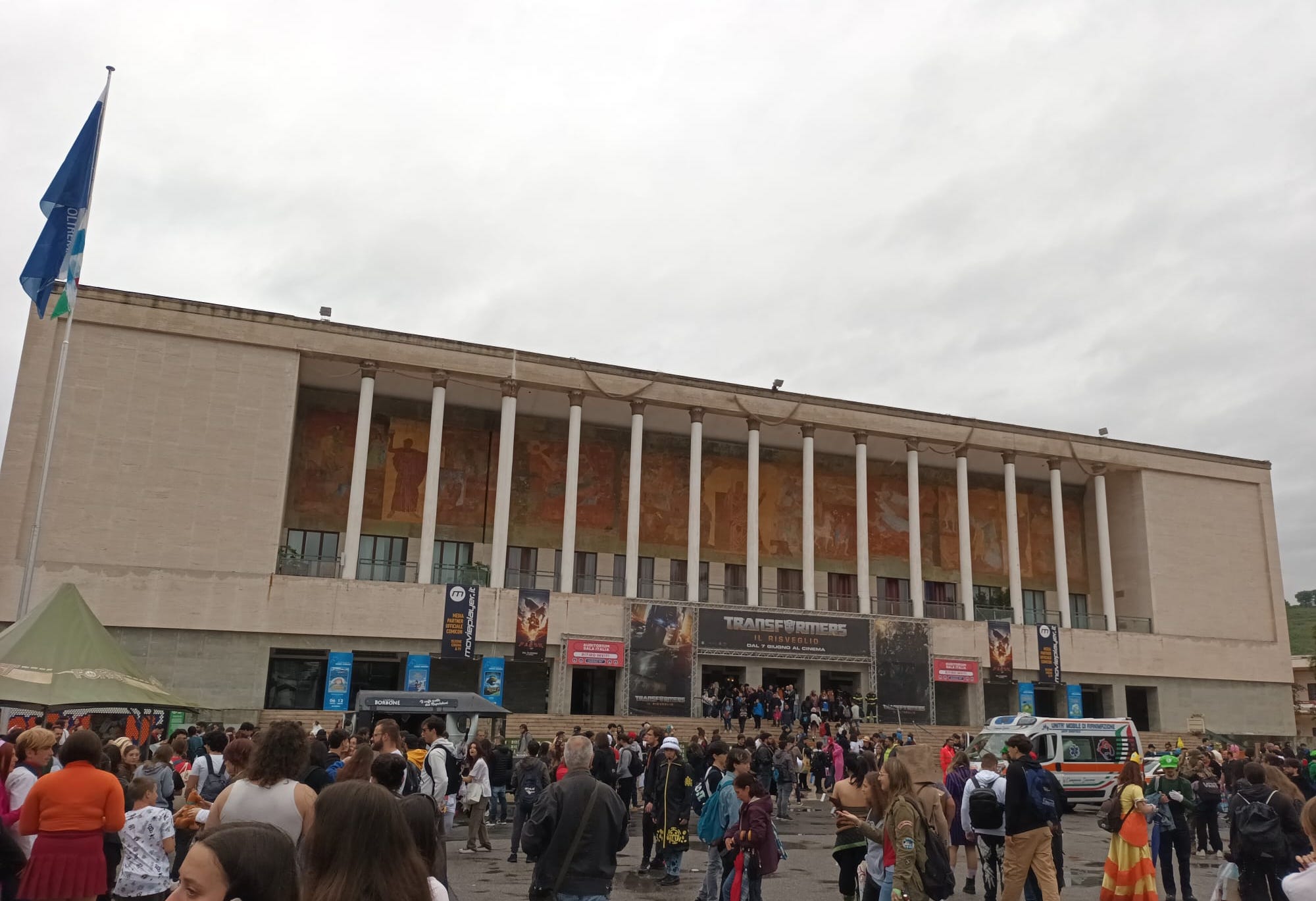 Comicon also has a moderately younger audience compared to Lucca Comics, with a reputation for being particularly welcoming and friendly to comics creators and industry people. Over the past 10 years, I haven't missed an edition, and this year, as usual, I was there as part of the crew of the magazine Fumettologica, and also as scout and editor for the Italian publisher Edizioni BD.
This year, we were anticipating something different for the festival. Honestly, we didn't know what to expect. Why? Because this year's edition was completely sold out in advance for all four days of the festival. Everybody from the curators to the attendees and industry people shared a mix of feelings from excitement to concern. In addition, on the second day of the festival, S.S.C. Napoli was expected to win the national football championship. The title had not actually been secured yet, but the numbers were on their side; they only needed to win one more match. The team and the city had waited 33 years for a national title - it hadn't happened since the era of Diego Armando Maradona in 1990. (I recommend the 2019 documentary Diego Maradona on Netflix to better understand that era and the Maradona phenomenon.) It was not hard to understand how the whole city was feeling. And yet, it was hard to understand for anybody coming from other parts of the world, because when it's time to celebrate, Naples takes it really seriously, and they party hard. Literally every building and every street was painted blue, the color of the city team.
I still haven't mentioned one important detail here. The football stadium is right in front of the Mostra d'Oltremare, where Comicon takes place. It is literally a two-minute walk between the buildings. There are gates to enter the convention center, but still we wondered: what is going to happen when the match ends? Is the earth going to shake under the feet of screaming joyful football fans? Are they going to invade the festival site? Are we safe inside? And after that...?
"Buy a scarf, a flag, anything. Wear it, and you will mingle with the crowd," I was told by a shuttle bus driver on Friday night, the first day of the festival. I really don't care about football; I barely know the rules. But his advice made sense, I thought.
However, the match was postponed from Saturday to Sunday. Don't ask me to be too specific, but my understanding is that they needed to play at the same time as another match, on which depended the outcome for the Napoli team. So Saturday was safe and quiet, just like Friday. Or, as quiet as a sold-out festival can be, with an average of over 40,000 attendees per day.
The most notable international guests were American pros Brian Azzarello (100 Bullets) and Daniel Warren Johnson (Do a Powerbomb!, Murder Falcon), mangaka Aki Irie (Go with the Clouds, North by Northwest) and Miki Yoshikawa (Yamada-kun and the Seven Witches), French manga-style artist Tony Valente (Radiant), and Belgian artist Brecht Vandenbroucke (White Cube), among many others. Italian celebrity Milo Manara was also on hand to present his adaptation of Umberto Eco's The Name of the Rose from Oblomov Edizioni.
The main exhibitions were dedicated to: Italian Disney comics maestro Giorgio Cavazzano (also this year's guest of honor, the "Magister"), who has a career spanning half a century; superhero artist Jim Lee and the time he lived in Italy, 20 years ago; the aforementioned Brecht Vandenbroucke; Italian Marvel and DC artist Simone Bianchi; Italian illustrator Aldo Di Gennaro; and the late Luca Boschi, a peculiar exhibition dedicated not to an artist or a writer, but a critic and scholar. This was the first of its kind in Italy, "possibly the first time in Europe," per Matteo Stefanelli, artistic director of Comicon, later that night at the festival awards celebration.
Yes, Comicon Napoli has its awards, and they are both interesting and questionable at the same time. After the nominations are compiled by a restricted committee of experts (critics, booksellers, curators, translators), the final jury is composed not only of comics professionals, but also actors, musicians and writers from outside the field. This year's jury was headed by Barbara Canepa (cartoonist), Caparezza (musician), Elettra Stamboulis (comics writer, critic and art curator), Pau (singer) and Valerio Mastandrea (actor, film director).
There are two categories of awards at Comicon: the Micheluzzi Awards, named after the cartoonist Attilio Micheluzzi (1930-1990), which honor strictly Italian works; and the Comicon Awards, which consider foreign works alongside Italian fare.
Among the Micheluzzi Awards: La gabbia ("The Cage") by Silvia Ziche, published by Feltrinelli Comics, won Best Graphic Novel; Andrea Sorrentino won Best Artist for the series Primordial, published in the US by Image Comics and in Italy by Bao Publishing; Manuele Fior won Best Writer (yes, this time it's not a Best Artist for him) for the graphic novel Hypericon, published digitally in English by Europe Comics and in Italian-language print from Coconino Press; Eternity by Alessandro Bilotta, published by Sergio Bonelli Editore, won Best Italian Series; Mor. Storia per le mie madri ("Mor. Story for My Mothers") by Sara Garagnani, published by add editore, won Best Debut; and the anthology Confini ("Border") won the Nuove Strade ("New Roads") Award for Best Self-Publication.
As for the Comicon Awards: Buon Natale! Corrierino ("Merry Christmas, Corrierino!"), a selection of holiday strips from 60 years' worth of the children's magazine Corriere dei Piccoli, published by ComicOut, won Best Edition of a Classic; Ascolta, bellissima Marcia by Marcello Quintanilha, published in Italian by Coconino Press, bested Chris Ware's Building Stories and Anders Nilsen's late-to-Italian Big Questions for Best Foreign Graphic Novel (it was originally published by Éditions Cà Et Là as "Écoute, jolie Marcia" in France, where it won the Fauve d'or at Angoulême in 2022; Fantagraphics just released it in English a few weeks ago as "Listen, Beautiful Marcia"); the manga Adabana by Non, published in Italian by Dynit Manga, won Best Foreign Series; and Caterina e i Capellosi ("Caterina and the Capellosi") by Alessandro Tota, published by Canicola, and Isa vince tutto ("Isa Wins Everything") by Lorenzo Ghetti & Rita Petruccioli, published by Rulez, tied for Best Comic for Young Readers.
After the ceremony and dinner on the balcony of the theater, the night was quieter then expected - not the Armageddon we had in mind for days, in case Napoli had won... or was this the calm before the storm?
The following morning, I walked the two kilometers that separated my hotel from the festival site. The streets were already full of vendors selling memorabilia for the Napoli match, and food - lots of food. Myself and my Fumettologica colleague, Antonio Dini, decided it was time to get a Napoli scarf: winter model, 10 Euros. We proudly wore it right away. We started greeting everyone with "Forza Napoli!" The answer was always "Sempre forza!" (Something like: "Go Napoli!" "Always, go!")
The convention gates opened a little late, and the air was filled with a strange thickness; a dense feeling of anticipation. A young crowd was amassed in front of the entrance, while on the opposite side of the road, the football stadium was secured by police and metal barriers.
There were probably less people walking around the halls on Sunday, and everywhere you'd look you could see it all painted light blue; almost everyone was wearing at least one blue item, honoring the Napoli team. Kids were enjoying the outdoor spaces of the festival - just chilling, eating pizza and pastry, and lying down on the grass. Thanks to the favorable weather of the south, the festival provides many activities outside its halls.
A specialty of the Comicon is the "Ring": an actual outdoor boxing ring where one comic artist challenges another. Both cartoonists draw three subjects in a limited time in front of a crowd, which must declare a winner. The champion receives... nothing. "Love wins, and the team [Napoli] wins," I said, during one of the bouts I hosted.
The football match began in the afternoon: S.S.C. Napoli against Salernitana, from the city of Salerno, only 50 km away. By the time the match reached its second half, the attendees of Comicon Napoli slowly began to vacate the festival premises. The halls were almost empty; it was such an unusual sight.
So I went outside, and I realized the festival's own loudspeakers were broadcasting the football match. The sky was grey, and several people were walking towards the gates of the football stadium. I thought to myself, what I am doing here? I didn't have any panels to host or any translation to do until 6:00 PM.
As if pushed by all those kids wearing blue, I started moving towards the gates. Yes, me - a man who never liked football, who's barely watched a match in his entire life. Yet, proudly wearing my Napoli scarf, I approached the stadium. If that thing—the joy, the stadium, the city, I didn't know what—had to explode, I wanted to be there, right next to it. For someone like me, who had no experience at all as a spectator of big sports events, it was like watching everything from a distance while still being there. I felt out of place, even as I tried to take part in all that excitement. I saw the entourage of a Japanese guest of the festival approaching the stadium next to me; Napoli supporters began asking them for selfies, maybe only because they were Japanese. I don't think those people knew that among the group was Tetsuro Shimaguchi, the swordplay choreographer on Kill Bill.
As I came into proximity of the football stadium gates, I kept taking photo after photo. I was so amused and amazed by how people was cheering. The whole scenario must have been something pretty obvious for anybody who's into sports, but for me, it was probably like being an average person who enters a comic convention and sees cosplayers.
With my blue scarf on, I was a cosplayer too. Was I feeling happy for them - for the team, for the city? Or was I faking it? Yeah, sure: I was faking. But when a loud noise and screams and the sound of horns came from the nearest curve of the stadium, and a huge man who looked exactly like Paulie from Goodfellas asked me "Who scored?" I screamed "Us!" with eyes glowing (must have been those blue smoke bombs). I probably touched him too.
"Yeah, I know that. But WHO?" he thundered, demanding a player's name.
"I-- I don't know. I-- I'm s-- sorry." I started to feel he was going to call my bluff.
The man rolled his eyes, shrugged abruptly, and turned the other way.
Okay, Valerio, cheer with them, but let's be careful. Don't get carried away, you are not credible.
I tried to refresh the Google page with the results of the match on my phone. No signal. I asked around. The score was still 1-1. Maybe the noise was just a reaction for a missed goal.
I had given bad information to Paulie.
The streets were full of people, except for a roundabout where a big blue truck loaded with screaming fans magically appeared. I was walking next to vendors with their carts full of shirts, scarfs and flags (now more expensive than in the early morning); screaming vendors in mini food trucks were frying calzones in giant pans.
At that point, I saw people running towards me. Fuck! They-- uhm, WE won! I need to take cover! I hid behind a billboard pole, but then the horde stopped. False alarm, the match wasn't over yet. Maybe it was just a few kids scared of a firecracker.
How was I supposed to know when the match is over?
"If they win, you will see it. The whole place is going to blow up," I was told by some friends I met there. But what does that meant? Blow up? Is Vesuvius going to erupt? I had heard that authorities warned fans not to take the party up to Mount Vesuvius.
My phone had no signal at all. In the crowd I recognized the long blue-dyed hair of Alino, one of the minds behind the festival, and I started following him. He clearly knew what to do and where to go; I was safe with him.
I finally realized the match had ended in a draw when I saw people moving slowly away from the stadium, still happy but not so happy.
I was disappointed too. Not for the team, to be honest, but for the missed opportunity to witness such an event. "What?! Why the fuck did you go there?" I was asked later. Why? Because it was the place to be. There was no point to being that close to ground zero and coming back home without seeing what it was all about.
But nothing happened after all. As I predicted in the Ring, love won.
S.S.C. Napoli officially won the title the following Thursday, May 4.
And I have to admit that all the warnings I got were probably exaggerated - people were happy in a positive way, and everyone was safe (except one person who got stabbed in the neighborhood).
I went back to the festival as Sunday waned, just in time for a panel I hosted for Brecht Vandenbroucke and ZUZU, two very different and equally sweet artists. And speaking of panels, during the festival I had the chance to meet Peter Maresca, publisher of Sunday Press. He was a guest of the festival, and I hosted and translated his panel about the origin of comics. Peter is a generous and passionate individual, one of those people you feel lucky to catch at an event like that. His presence is a proof of how the cultural offerings at Comicon can be diverse, rather than banal.
See you next year in Napoli!
(By the way - when Napoli won the title that Thursday, I watched the celebrations on TV and my phone. The whole city looked incredible. Two of the image sources I enjoyed the most were this photographer and Robert Del Naja from the British band Massive Attack.)