This week's Scene Report is brought to you by Edie Fake. Thanks Flakes!
-----
It's important to say one thing straight off the bat: Chicago loves comics like no other place I've ever been. It's town is full of oddballs and oddities, a fermented blend of cheap rent, cheap beer, bad weather and good house shows...and somehow the result is a veritable hotbed of activity in all directions.
Let's start this report on my block. Down four flights of stairs from my apartment you'll find Anya Davidson working furiously on her next graphic onslaught in a studio surrounded by many animals and no windows. She's made these super lush silkscreened comics for years, usually in itty-bitty editions of five or so, but now she's also got some killer pages in the Kramer's E. that just came out, so get on it.
When we make it out the door of the building and just head down the block, we'll be at Robin Hustle's house. Hustle not only draws perverse zine-comic hybrids about hair, milk and sex economies, she's also spearheaded the reawakening of a Chicago punk free paper, to be known henceforth as The Land Line. This is the reincarnated version of the monthly paper called The Skeleton News that ran itself fabulously ragged for about two years while I was outta town. The Land Line is going to be quarterly and also free, content-rich and dirty, just like good soil. The first issue debuts right around the new year. There's a million folks meeting, working and partying to make it happen...on the visual end, Grant Reynolds notably took on the helm of "Comics Editor" and recent transplants Mika Lee and Otto Splotch are throwing down some real brain bender drawings for it.
A couple blocks further down the street towards my P.O. Box we run into this household that is a crazy pit of comics talent. Leslie Weibler, Andy Burkholder and Max Morris are all holed up together living with a collective library of approximately a million great comic books, spurring each other onward towards greatness. Dane Martin used to live here and Blaise Larmee too. Max can talk comics in a real way for days without stopping and he just launched a great Chicago comics anthology called "Vacuum Horror" at this year's BCGF.
There goes the neighborhood! Let's expand a little...One of my favorite places in town is Spudnik Press. Started four years ago by Angee Lennard (who also draws the geriatric comic Mossdale Estates), the press has grown exponentially even during the year I've been a member. Part of the thrill of this shop is you might run into the likes of Lilli Carré printing some gorgeous, witty edition, or Sanya Glisic blowing your mind with her cosmic-ly perverse Struwwelpeter prints. Artist book maker Aaron Smith just got the AB Dick offset press up and running and it's a force to be reckoned with, along with the functional facilities for letterpress, silkscreen, etching, woodblock and litho printing. Add to this the number of active copy scams in town and the fact that Aaron Renier just scored a free Risograph machine and we've got a print renaissance on our hands.
...Which reminds me of Keith Herzik's big show that just happened at the historic Hyde Park Art Center which included 4 zillion comics and posters he's made plus a frozen pizza he accidentally cooked for 6 hours. Keith's got colors on lockdown that no one has names for yet. That's the sort of thing we encourage round these parts.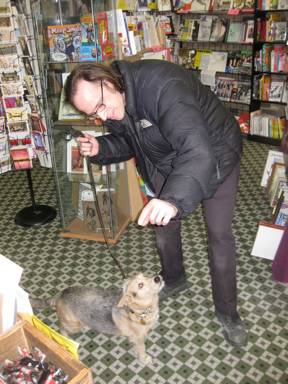 ...Which reminds me of the "Cartoon Ink" show Christa Donner, Jeremy Tinder and Surabhi Ghosh curated a few months back at the School of the Art Institute which showcased some of SAIC's young guns like Sua Yoo, Wax Wing, Emily Fundis, Sarah Drake and William Cleveland next to the likes of Chris Ware, Anders Nilsen and Jeffrey Brown. Hey -right- Chicago's a great place to learn comics in a school, if that's your bag! When local rabble-rouser Anne Elizabeth Moore isn't busy teaching zinemaking in Cambodia, starting her own tripped-out grad school or calling the comics industry on its own shit, she also teaches comics at the 'tute. The comics-inclined SAIC student body has staged an impressive Small Press and Comics Symposium two years running and puts out an anthology Xerox Candy Bar. Comics historian Hillary Chute is down at University of Chicago, as is Paul Hornschemeier, as will be Alison Bechdel in the spring. Curmudgeon-with-a-heart-of-gold, Ivan Brunetti teaches at Columbia College where his passionate students like Onsmith and David Alvarado crank out the gorgeous anthology Linework. Ivan just re-released his iron-clad comics syllabus as a concise and potent little instruction volume that I am working through with Marian Runk at our biweekly gay comics coffee klatch.
Jeremy Tinder is a good guy to know - not only is he awesome in a general way, he's also one of the solid forces behind the weekly rendez-vous of Chicago's notorious Trubble Club. TC roll call will break your drawing-chops-o-meter: frequent offenders include Aaron Renier, Nate Beaty, Carrie Vinarsky, Corinne Mucha, Grant Reynolds, Lilli Carré, Joe Tallarico, Sam Sharpe, Rachel Niffenegger, Ben Marcus, Bernie McGovern, Jo Dery, Becca Taylor, Travis Lampe and the unstoppable Laura Park- plus a rotating cast of out-of-town visitors. When I started going to this thing I thought that no way was I going to enjoy drawing against someone else's panel, but it turns out that it's actually utterly inspiring. Trubble Club is a beast unto itself! Not only is it a running contest to see who can be the most vile and crude, it keeps you loose and lucid and it's like DIY drawing school, to boot. Trubble will be putting out it's first full color edition momentarily courtesy of some Post Family support and we get to do an installation and curate a comics reading room at the DePaul Museum next year for a Chicago Imagists show they're staging.
On the note of shows staged, I wanna be sure to mention that people are doing some pretty amazing things with performative comics here. Does this even happen in other towns? Ezra Clayton Daniels used to throw infamous and rowdy Comics Art Battles back in the day, and since he just moved back to town I guess that means we should all look out. Brett Koontz makes brilliant comic books about post-apocalyptic sci-fi lifestyles and then turns them into these (also brilliant) backyard theater productions so you can figure out who he based each character on. Lyra Hill just started the world's most exciting comic book reading series, Brain Frame, that alternates between feeding you jell-o shots and splashing you with fake blood. Lyra herself always goes above and beyond at these happenings and then hands the stage over to hams like Ian McDuffie and Krystal DiFronzo. It's made me cry tears of joy and laugh food into my nose and I look forward to it every month like as if it were Halloween or something.
It's definitely a town where comics and art have met, fallen mad in love and now they're having a baby. Just take a look at Paul Nudd's crud, or check out Kerry James Marshall's RYTHM MASTR paintings. And check out Deb Sokolow's drawings. Did I mention the Imagists? That Yoshida shit runs deep! Even the Museum of Contemporary Art here is down, staging the giant Jim Nutt show last year as well as a special exhibit called "New Chicago Comics". A few months ago Ruby Thorkelson got the local feminist gallery, WomanMade, to put on a great show of comics work from women and trans identified artists called "Underground" which included an amazing, amazing reading room.
Also of underground note, The Chicago Underground Library got a new home and a new name after sustaining major damages last winter. Now it's called Read/Write and it's still rad all over. Additionally, Joe Tallarico has not-so-secretly been improving the underground comics stronghold in the Art Institute Library, as well as rooting some old-school Hot Nuts like George Hansen out of the woodwork. Joe's been busy on the print end too, doing comics making and editing for the long running freak sheet, Lumpen which just up and turned 20. Also aging gracefully is Roctober, the best music/comics magazine in the universe; they're about to turn twenty just as the clock strikes issue #50
Who else turned twenty this year? Oh, why, Quimby's Books, the infamous weirdo comics and zines shop, my current place of employment and a truly astounding place to hang. I've been coming to Quimby's since shortly before it moved to its current location in '94, back when I was a zitty, obnoxious teenager and Dan Clowes was probably down the street drawing Eightball. Twenty years in now, this beast has made itself an international hub of self-publishing and small press comics, not only by keeping our eyes peeled for interesting experimental stuff on paper but also by accepting anything and everything folks send our way. For a good part of it's run, the shop has been owned by Eric Kirsammer, who guides with a gentle hand and keeps us stocked in twisted art. Traditionally, the floor has been handled by rabid self-publishers like my powerhouse co-workers Liz Mason and Neil Brideau. There's no telling how many minds have been blown in these walls, I certainly count mine among them. Deep scene resource 4eva.
Can't forget the other stores around here- Quimby's is not the only game in town, especially if you're a traditionalist. Our sister store, also under the mindful proprietorship of Kirsammer, is the stocked-to-the-gills Chicago Comics which I will proceed to call whenever I am confused about Marvel. There's also Brainstorm for a passionate mix of superheroes, videos, and funny jokes. Challengers carries its own eccentric combo of local and mainstream work. I've only been into Vigilante once, but I liked it, and then if you go up so north it's suburbia, Comix Revolution holds court and holds down the fort.
What's a better place to wrap things up than the future? For Chicago, that means getting a solid annual independent comics festival started here. Originally dreamed up by my Quimbyian coworker Neil (who also helped jump start the Chicago Zine Fest a few years ago), the Chicago Alternative Comics Expo (or CAKE, for short) finally has its ducks in a row - a plum location at Columbia College's Ludington Building, a solid date (June 16th and 17th, 2012) and a gorgeous promotional poster by Laura Park. Applications are open until the first of January, the tables are truly affordable and things are really starting to get up and rolling to make it happen. CAKE's core team of organizers (Neil, my neighbors Max and Andy along with Grace Tran, Jeff Zwirek, Nick Drnaso and myself) are starting the exciting work of mapping how we want the space set up and imagineering what the programming will look like.
...So things are brewing in Chicago, in the past, in the now, and in the near next- If I were you I'd come check it out.