Although he was never a big name or a fan favorite, Bob Fujitani, who died Sept. 6, had one of the most extraordinary careers in comics. He was an artist's artist, a versatile and widely respected figure in the adjacent fields of both comic books and syndicated newspaper strips. Beginning as a teenager in the Eisner shop, Fujitani went on to work for almost every publisher in the business, including MLJ, Lev Gleason, Atlas, Avon, Hillman Periodicals, Fawcett, Ace, Harvey, Holyoke Publishing, Marvel and Dell. He never worked for National (DC), though his later clean, realistic style would have fit in well with the house style created by artists like Alex Toth, Dan Barry, Gil Kane, et al.
Fujitani, who was an Alex Raymond fan, was able to work as a ghost artist on two of Raymond's most famous creations: Rip Kirby and Flash Gordon. The bulk of his newspaper cartooning was drawing Flash Gordon, first assisting Dan Barry, and then eventually assuming all of the art chores on the strip when Barry decided to go back to painting. Fujitani also ghosted on Judge Wright and Mandrake the Magician.
Among his notable achievements in comic books, Fujitani drew the first five issues of Dr. Solar, Man of the Atom (co-created with one of Dell's most prolific scripters, Paul S. Newman), which made its debut in 1962 with Gold Key's first original character and ran intermittently for a total of 31 issues before finally being canceled in 1981.
Fujitani was born on Oct.15, 1921 to a Japanese American father and an Irish-English mother, Tom and Anna. Born in Krippenbush, New York, the family moved to Connecticut when he was only 2 years old. He was raised in Cos Cob, where he attended elementary school. An avid artist from childhood, he was soon copying Alex Raymond's Jungle Jim newspaper strip.  The family later moved to Old Greenwich, where he graduated from Greenwich High in 1939 as class president and captain of the football team. He was encouraged as a student in both artistic endeavors and commercial practicalities by his favorite teacher, who would have him execute watercolor still lifes and then sell them. He wound up living in Connecticut for the rest of his life, along with many, many other cartoonists. (Interestingly enough, from the 1950s through the 1990s, Fairfield County in Connecticut was the unofficial Cartooning Capital of the United States, since it was home to not only Bob Fujitani, but also his inspiration, Alex Raymond, as well as Mort Walker, Dik Brown, John Cullen Murphy, Stan Drake, John Prentice, Noel Sickles, Bud Sagendorf, Leonard Starr, Dick Wingert, Mel Casson, Ernie Bushmiller, Dick Cavalli, Orlando Busino, Tony DiPreta and dozens of others.) 
After graduating from high school, he attended the American School of Design on a scholarship for 18 months, but ended his studies when offered an opportunity to work with Will Eisner by Phillip E. "Tex" Blaisdell, a lifelong friend who spent his entire professional life in the comics industry. 
Fujitani took up his friend's invitation immediately, and Eisner hired Fujitani to pencil three story pages a day at a rate of $5 a day. He soon worked his way up to inking Lou Fine's pencils for Dollman, Uncle Sam, The Ray and The Black Condor, all series that Eisner was packaging for Quality Comics. He later took on the art chores for Hack O'Hara, chronicling the adventures of a heroic cabbie. After Fine's departure for greener pastures, Fujitani took over the art on his superhero features for a time, working in a style very much influenced by Fine's own lush inking and graceful, energetic figures. Following his entry into the business with Eisner, Fujitani was soon hard at work for a variety of different publishers during the 1940s, especially MLJ, where he drew superhero characters like The Hangman, working with the character's original artist Harry Lucey until he eventually inherited that assignment. At MLJ, Fujitani's style changed, becoming more surreal, with more daring layouts and leaner anatomy. His lighting effects in the grim Hangman stories took on the look of film noir. His other work included drawing Harvey characters Green Hornet, The Zebra and Shock Gibson. He also took on Cat-Man, an interesting if now little-known superhero character, for Holyoke Publishing.  In 1942, he moved on to doing features for the Air Fighters comic such as The Flying Dutchman, Black Angel and Skywolf, and his style changed yet again. 
In 1945, he jumped from comic books onto newspaper strip pages, drawing a crime strip entitled Judge Wright, about a judge who did more than try cases; he actually solved crimes. The strip was credited to Bob Brent and Bob Wells, neither of whom actually existed. The strip was written by Robert Bernstein, who had worked on the Crime Does Not Pay comic, and drawn by Fujitani. Fujitani worked under a pseudonym because of anti-Japanese prejudice stemming from World War II. The Judge Wright strip made its debut Sept. 10, 1945, only a few days after the Japanese empire had signed the instruments of surrender. This is also the reason that most of his early work is signed with the nom de plume "Fuje," to hide his Asian-American identity. He stuck with the strip for a little over a year, finally quitting in December, 1946, because he realized he was only making about $35 a week from drawing it, a poor salary even by the comic-book standards of the day. Judge Wright never really found its footing, as if the creators couldn't decide if they were doing a soap-opera strip or a crime strip, and was carried by very few papers. 
After his disappointing experience on Judge Wright, Fujitani returned in the 1950s to drawing comic books, including the influential and best-selling Crime Does Not Pay, which featured his paintings on the covers of issue #88 and 95, among others. Working on Crime Does Not Pay off and on, through issue #103, as well as other Lev Gleason titles, Fujitani wound up drawing or painting hundreds of covers and interior pages. He then moved on to other companies, especially Dell, where he did some of his best work and changed his style yet again, making it simpler, crisper and more open, abandoning the use of the heavy blacks and shadows that had characterized much of his work for several years. He had a notable run drawing six issues of Dell's Prince Valiant comic (appearing intermittently in the Four Color series between 1954 and 1957 — #567, #650, #699, #719, #788, #899), beginning with an adaptation of the 1954 film starring Robert Wagner and Janet Leigh. He was only the second artist besides Foster to tackle this iconic character. His style on the comic was slick and eye-pleasing and he achieved good likenesses of the main characters, as well as evoking a Foster-esque sense of epic scale. Fujitani did a great deal of other work for Dell in the 1950s, including drawing Lassie, based on the famous TV and movie canine, and the classic dinosaur adventure comic, Turok, Son of Stone, working most often from Paul S. Newman scripts. He also drew Bob, Son of Battle and King of the Royal Mounted, two other titles featuring dog protagonists, and continued with another knightly character, Sir Lancelot.
Prolific, as ever, Fujitani also drew stories for several Marvel/Atlas titles in the 1950s, including Strange Tales, Suspense, Astonishing, Adventures into Weird Worlds, Kent Blake of the Secret Service, Spellbound, Wild Western and Two-Gun Kid.
He continued working in the comic-book business, interspersed with commercial-illustration assignments, such as doing drawings for Boys' Life, until the early '60s, when he shifted back to syndicated newspaper strips. His first ghosting assignment in comic strips since Judge Wright was working with Dan Barry on Flash Gordon. Although he ghosted other strips, notably Rip Kirby for John Prentice in the 1990s, and Mandrake the Magician for Fred Fredericks during a brief period when Fredericks was ill, his work on the daily and Sunday Flash Gordon strips constitutes, by far, his largest body of published work. In his obituary in the CT Post, Fujitani was quoted as saying of Flash Gordon, "It blew me away. I never dreamed that one day I would be drawing him."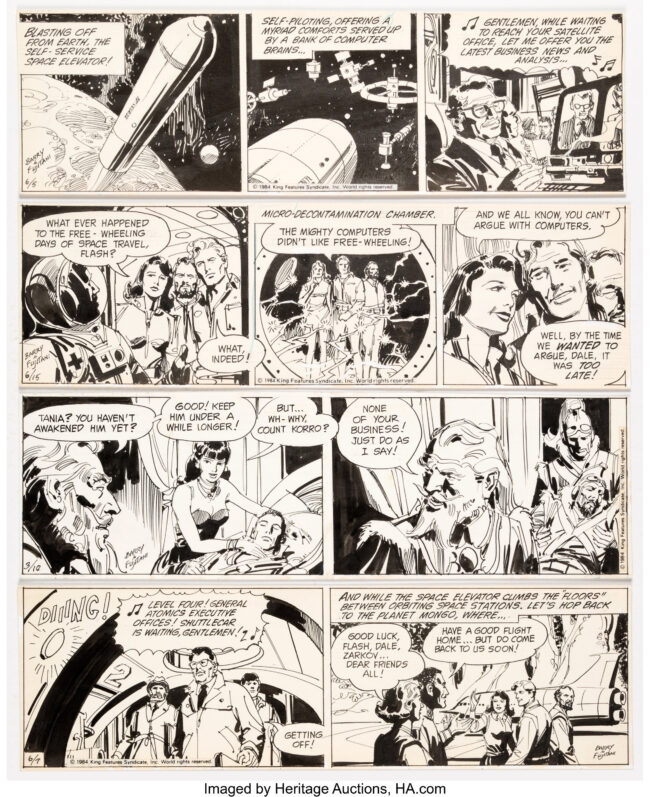 Starting in 1963, he worked with Dan Barry on the daily strip, and then the Sunday page, after the death of Mac Raboy in 1967, gradually assuming more and more of the art chores from Barry, who by end of his run on the strip, was more interested in painting, and eventually Fujitani was doing all of the art, and was finally credited on the strip in 1977, after years of laboring in obscurity. He eventually had a falling out with Barry over business matters, though he did return to the strip briefly to help Barry out several years after that. He did his final Flash Gordon strips in 1986. He finally retired from cartooning in the 1990s.
Despite the uniform excellence of his work, and his association with so many well-known characters such as Flash Gordon, Rip Kirby, Doll Man, Uncle Sam, The Hangman, Dr. Solar, Prince Valiant and Green Hornet, Fujitani is rarely mentioned in histories of the comics, although author and comics-historian Ron Goulart did give him a write-up in the second volume of The Great Comic Book Artists. He was also profiled by Jim Amash in Alter Ego, Vol. 3, #23.
Fujitani lived for the rest of his long life in Old Greenwich, Connecticut, with Ruth, his wife of 73 years. He was just about a month short of his 99th birthday when he passed, having had one of the longest careers of any living cartoonist. As a working cartoonist, he had a reputation for being fast, talented, dependable and easy to work with. In recognition of his long career and many contributions to cartooning, Bob Fujitani was given an Inkpot Award from San Diego's Comic-Con International in 2005. After retiring from comics, he devoted himself to painting, often executing landscapes of Tod's Point and seascapes of Long Island Sound, where he liked to fish. Bob Fujitani is survived by his daughter, Susan Fujitani Meller and her husband, Frank Rubenfeld, who live in Berkeley, California.