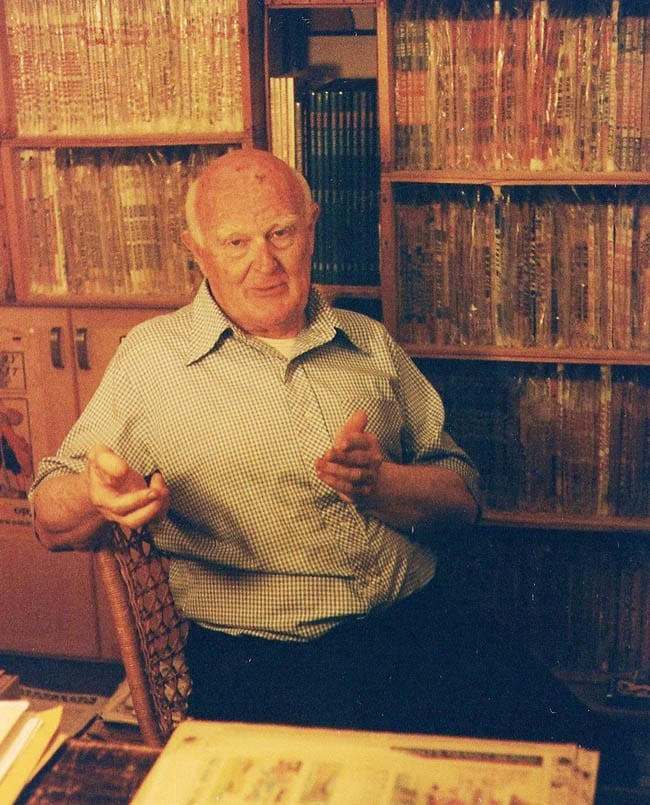 Bill Blackbeard, without question or quibble, is the only absolutely indispensable figure in the history of comics scholarship for the last quarter century—and will undoubtedly retain the title for well into this century and beyond. On March 10, only a few weeks shy of his 85th birthday, Blackbeard died in California at Country Villa Watsonville East Nursing Home where he had been living for some time. But long before he died, Blackbeard knew he would live on in scores of books that reprint American newspaper comic strips, all compiled from his monumental collection.
As reporter Kevin Parks said several years ago at ThisWeekNEWS.com: "He saved the American comic strip—all of them."
Most of them, until 1998, were stored at the San Francisco Academy of Comic Art (SFACA), in the garage and basement of a sprawling Spanish style stucco house at 2850 Ulloa Street a few blocks from the ocean in the Sunset District, a quiet residential neighborhood of the city. Stacks of old newspapers, some in Pizza Hut boxes (because the size was convenient), created a grotto of newsprint, threaded with narrow aisles, canyon walls of pulp, dimly lighted (and lighted only when necessary), throughout the otherwise spacious cavern. But the collection filled every room in the rest of the house, too—comic books, graphic novels, magazines, Victorian cartoon-illustrated fiction, British boys' papers, "penny dreadfuls" and pulps, books, story papers, dime novels, fanzines, underground comix, prints, drawings, bound volumes of newspapers, newspaper tear sheets, and clippings. The books were often in bookcases especially built with the space between shelves precisely the spine height of quarto-sized books, the most widely published size in the twenties and thirties, the years Blackbeard was exploring for his vintage mystery book collection.
Blackbeard and his wife Barbara and a haphazard cadre of comic strip enthusiasts who volunteered at the Academy, spent years meticulously clipping comic strips from the old newspapers, arranging them in chronological runs of each strip title, and storing them in filing cabinets (which were often fruit crates turned sideways to make shelving). By the 1990s, Blackbeard estimated that they had clipped and organized 350,000 Sunday strips and 2.5 million dailies. Long before then, Blackbeard began raiding the trove to produce the content for over 200 books, some of which he wrote or edited, including the Smithsonian Collection of Newspaper Comics (1977), The Comic Strip Century (two slipcased volumes, 1995), Richard Outcault's Yellow Kid (1995) Eclipse's and Fantagraphics' Krazy Kat series, and NBM's 12-volume Terry and the Pirates (1984-87) and its18-volume Wash Tubbs and Captain Easy (1987-92).
Among the first of these milestone tomes was a series of volumes from Hyperion Press—the Hyperion Library of Classic American Comic Strips. All at once, in 1977, the Hyperion canon exploded over the collector landscape like a roman candle, a shower of books, nearly two dozen titles, each one reprinting vintage newspaper strips from their earliest years—Bud Fisher's Mutt and Jeff before there was a Jeff, Clifford McBride's Napoleon, Frank Godwin's Connie, Percy Crosby's Skippy, George McManus's Bringing Up Father (Jiggs and Maggie), Billy DeBeck's Barney Google, and more, each an exemplar of comic strip artistry at its finest or a benchmark in the history of the medium.
This cascade of treasure was the earliest by-product of the Blackbeard obsession, an obsession formed when he was still a child.
William Elsworth Blackbeard was born April 28, 1926, in rural community northwest of Indianapolis, Lawrence, Indiana, where his grandfather operated a service station and his father was an electrician, and his mother kept the books for her husband's business. The family moved to Newport Beach, California when the boy was eight or nine. A few years later, he made his life-altering discovery.
On a walk through the neighborhood one day, 12-year-old Bill found an open garage door and, prompted by youthful curiosity, he went inside. And there, as reported Parks, he saw stacks of newspapers, floor to ceiling, along all three walls. Attracted at once to the colorful folds of the Sunday comics sections that protruded visually along the wall of otherwise drably gray newspapers, Bill began pulling some of the papers down to get at the Sunday funnies. Some dated from 1923.
"I was absolutely excited at this stuff," Blackbeard told Parks, who noted that "his voice still brimmed with wonderment."
When the owner of the garage came home while Bill was still there and indicated that he wanted to rid himself of all those heaps of newspapers, "that was all Blackbeard needed to know." He hauled them off and started his collection of comic strips.
And he quickly learned that, in those days before recycling, many people had stacks of newspapers in their basements or garages, and Blackbeard helped himself. In a 2007 interview with Jenny Robb, now curator of the Billy Ireland Cartoon Library & Museum at Ohio State University, Blackbeard reminisced: "Once I discovered this, I had no other interest in life than finding these caches of newspapers." Said Robb: "He mined the piles he located for their comic pages, which he eagerly read and began to keep in stacks. He later recalled, 'I wasn't old enough then to have a good librarian's sense of order. I just sort of thought they were all wonderful, and I kept the stacks going.'"
He was captivated by the newspaper funnies, enthralled. Comic books held absolutely no appeal.
"Newspaper strips then were just knocking me out," he told me when I interviewed him in the fall of 1995. "The original comic books were coming out about then. And it seemed to me at the time—because I was so deeply into newspaper strips, and of course I was seeing it all from a critical point of view—that comic books were second- and third-rate stuff that couldn't make it in the newspapers. The guys who produced it, I thought, were probably teenagers, guys not too much older than I was. And that was true. Their stuff was being bought just to fill pages in these magazines.
"Far from being overwhelmed when Action came out with Superman," he continued, "I thought it was meretricious dreck. I liked the art. I'd been following Slam Bradley in Detective Comics. And I liked the art and the storyline; I thought that was fine. But the Superman content did nothing for me because I immediately saw what many other people saw: there's no story here. If he can do anything he wants to, who cares? Why bother? But the art did appeal, and I looked at it occasionally. It was nicely drawn.
"Then the whole superhero thing came in, and I recall thinking in the early forties that certain things—like Sub-Mariner and the Human Torch—I thought those were psychotic, the work of a lunatic. And of course Mickey Spillane was scripting, so I wasn't that far off. I couldn't understand how anyone would want to immerse themselves in such stuff. I was definitely not a sympathetic reader of the early comic books. I had dismissed them growing up. It wasn't until the comic book craze of the sixties came in that I thought, My god—people think this is classic! Couldn't believe it."
But he made himself a believer with a short psychoanalysis of comic-book readers in the days of his youth: "What you had was a lot of devotees in the grip of a fantasy. They could jump away from all this, leap over, conquer people at will. In many cases, the fantasy was all they had access to. I think a lot of these early readers—they had, obviously, a fine imagination, fine intelligence—I think they read into the superhero stuff more than was there. They elaborated and built it up in fantasy and wonder, and their imaginations went far beyond the actual on-the-page material. That seems to have been the case."
We were in the comics crypt downstairs, and about this time, the cockatoo upstairs emitted one of its ear-piercing shrieks that periodically punctuated our conversation. The cockatoo lived in a cage that occupied the entire living room. It was the first thing I'd seen as Blackbeard ushered me into the place. But its scream could be heard throughout the house and the vault below.
AFTER GRADUATING from high school in 1944, Blackbeard joined the army and served in Europe during World War II, following which, he enrolled in Fullerton College, where he pursued an interest in history and literature. He left college when his GI Bill benefits ran out and became a freelance writer, authoring stories for pulps and nonfiction for other magazines.
In the middle 1960s, Blackbeard hatched an idea: he wanted to write a formal history of the American comic strip. He'd grown up on Floyd Gottfredson's Mickey Mouse and E.C. Segar's Popeye (i.e., Thimble Theatre)— "so I had been exposed to the best," he said. And now he wanted to immortalize the immortals. He pitched the idea to Oxford University Press, and his project was approved. Then he was stymied at the very outset by the absence of available primary resource material.
He felt that in order to write with authority about the origins, innovations, trends, and social significance in the history of comic strips, he needed access to complete, uninterrupted runs of individual strips. "Runs of some strips would not suffice," Robb wrote: "Blackbeard aspired to acquire every strip ever published." And even that, she finished, "was not satisfactory." Comic strips reflected popular culture, and so a thorough understanding of the history of the medium required seeing it in the context of "all narrative and graphic art created for mass consumption."
"Nobody had anything," Blackbeard exclaimed. No syndicate retained anything like complete files of its comic strips. No library shelved comic strips by themselves in any readily retrievable form. The only resource lay in the bound volumes of newspapers that could be found in the libraries of each paper's hometown.
The task seemed daunting in the extreme. Blackbeard would have to thumb through each volume, each issue, page by page, until he found the comics section; then read all the strips. Then go on to the next issue of the paper. And since no single newspaper carried all the comic strips in circulation at any one time, he would have to repeat this process again and again, in one library after another, in one city after another. Daunting in the extreme, like I said.
Then—another discovery.
"The Library of Congress had six acres of Naval warehouses in Alexandria, Virginia," he said, "which housed bound files of every major American big city newspaper going back into the nineteenth century. An incredible collection. And everything in it was absolutely mint."
Then a revelation: just as Blackbeard was about to get into these files, he found out that the Library of Congress was in the midst of a vast project to replace its bound volumes of newspapers with microfilm. Not only would microfilm take less space, but it would, so the reasoning ran, save the historical record: in the belief that newsprint paper deteriorates, the Library wanted to film all papers before they simply disintegrated.
"The fantasy that newsprint deteriorates is a preposterous concept," Blackbeard said. "They didn't consider the most obvious refutation of the proposition, which the files of the Library of Congress would have supplied. They paid no attention to the evidence in their own hands that these papers were not disintegrating; they were in fine condition." And they remain so as long as they are not exposed to light (hence the dim illumination in the subterranean comics sepulcher).
Blackbeard was dumbfounded by the Library's so-called thinking. The microfilming was in black-and-white, so all the brilliantly colored Sunday funnies would be lost forever. Alarmed, Blackbeard approached the Library's officialdom.
"And they said, Do you want these newspapers? You can have them," Blackbeard laughed.
Unhappily, many of the Library of Congress volumes had already been microfilmed and discarded, so Blackbeard scoured the country for libraries willing to give him their bound files as they microfilmed the newspapers into posterity and oblivion.
"Many libraries didn't care who I was," Blackbeard said. "Just take the files off our hands, they said. And I would go in and physically take them and truck them back here to San Francisco. And they thought that was wonderful because they didn't have to hire someone to do it. So I had Ryder trucks trundling all across the country—from Chicago, from New York, from the Library of Congress. "
Blackbeard selected the Hearst papers and others of the more sensational ilk because they were graphically more interesting. And he soon accumulated a huge quantity of old newspapers.
Because many libraries cannot give away their holdings to private concerns, he established in 1968 the San Francisco Academy of Comic Art as a non-profit entity to which libraries could legally donate their old files. For more than 30 years, Blackbeard added to the SFACA holdings as opportunities presented themselves, amassing what was eventually determined to be about 75 tons of material, mostly comics-related but much of a general popular culture nature.
Some of the SFACA comics inventory consists of whole newspaper Sunday funnies sections because Blackbeard realized that many of the early sections, some dating from the 1890s through the 1920s, were extremely rare and should be kept intact so researchers (and other devotees) could see the Sunday comics in full, glorious color.
From the comics reliquary beneath 2850 Ulloa Street has come the raw material for scores of reprint volumes over the last three decades—volumes that supply comics scholars with vital visual data (and all of us with hours of enjoyment, pouring over these vintage masterpieces).
Blackbeard never applied for grants or solicited donations to fund the Academy; he operated on a bare bones budget, he told Robb. He never took a salary, but some portion of his living expenses were surely supported by the SFACA coffers. The coffers were regularly replenished by fees he charged publishers and collectors for copies of comic strips and other popular culture materials in the archive. Blackbeard's personal income came from stipends paid for his editorial services—historical introductions and discussions of cultural contexts that he supplied for many of the reprint books being published with SFACA materials.
BLACKBEARD EDITED many of the books and wrote a few of them. His prose style is erudite but playful, colorful and sometimes overblown (albeit always entertaining), redolent with rhetorical flourishes and lovingly laden with literary puns and linguistic furbelows and not a few arcane (not to say obscure) allusions. He teased his sentences out into elongated convolutions that wound around and eventually come upon themselves going in the opposite directions. His prose was the work of a man who loved the written language, and reading it made the attentive reader smile gratefully.
As a historian, Blackbeard occasionally displayed a penchant for sweeping generalization. Knowing his subject both broadly and intimately (but not as minutely in some areas as in others), he sometimes made assumptions based upon his broad knowledge in those areas where he didn't research his subject closely. But Blackbeard could perform astonishing feats of scholarship. His introductory texts are often fantastic flights of historical digression, but their inherent poetry usually contained an obscure but insightful gem of information.
Blackbeard's quirks, however, are trivial distractions and scarcely detract an iota from his signal contribution to American culture and history: his preservation of uncounted classic newspaper comic strips, which, without Blackbeard, would have been lost to future generations. He saw himself as a crusader in this enterprise, Robb wrote, "rescuing the materials from certain destruction." But he also "collected for his own satisfaction and pleasure, while at the same time serving the greater good by making the materials accessible to all."
She continued: "Blackbeard was part of a wider movement in the second half of the twentieth century of scholars, cartoonists, and cultural critics who attempted to legitimize the study of popular culture in general and cartoons and comics specifically. ... His crucial contribution was in recognizing the value of objects that others considered so common as to be worthless, or at the very best, inappropriate for serious efforts at preservation. ... As commercial entertainment that was never intended to be displayed as art, newspaper comics seem to fall into the least-valuable category, 'inauthentic artifact' [employing a term established by James Clifford's Art-Culture system]. ... By collecting and promoting comics, Blackbeard shifted comic strips on newsprint from the status of inauthentic to authentic artifacts."
Blackbeard was largely instrumental in affecting a major cultural change, Robb said: "His actions transformed comic strips into objects with legitimate cultural, historic and sometimes even aesthetic value."
In January 1998, most of the holdings of the SFACA were shipped off to the OSU's Cartoon Library & Museum in Columbus, Ohio. Blackbeard's landlord had refused to renew his lease, and by then Blackbeard knew the best place for the archive eventually would be at OSU; the landlord's obstinacy simply hastened the inevitable transference.
The reason for the landlord's recalcitrance after decades of renting to Blackbeard is almost never alluded to in accounts of this aspect of the SFACA's history. My guess is that the landlord effectively evicted Blackbeard because Blackbeard wouldn't pay the rent. And he wouldn't pay the rent because the landlord wouldn't repair a leak in the house's roof that was letting water seep onto precious, highly vulnerable newsprint in the bowels of the building, effectively destroying history.
As it happens, on the day I visited Blackbeard in the fall of 1995, insurance adjusters came to assess the threat to the collection, and Blackbeard told me what was afoot. He was already withholding rent, and I suspect he went on doing so for some months thereafter, making himself a less than desirable tenant from the landlord's perspective; a crusader for renter's rights from other perspectives (mine, for instance).
In any case, the SFACA had to vacate the premises. It took six semi-trailer trucks to move the accumulation of a lifetime. "The sheer mass of material," said Robb, "made it one of the largest collections the Ohio State University Libraries had ever acquired."
But it wasn't everything in the SFACA archives. Blackbeard and his wife moved to Santa Cruz, and Blackbeard took some of the collection with him: Segar's Popeye, DeBeck's Barney Google, Gottfredson's Mickey Mouse, Tuthill's Bungle Family, all George Herriman's strips and all of Milt Gross's, and selected runs of Dick Tracy, Little Nemo, Captain Easy Sunday pages, and a few other somewhat more esoteric titles. From this store, he would continue to serve the needs of publishers producing reprint books for the next dozen years..
Meanwhile, at the Billy Ireland Cartoon Library & Museum, the recipients of Blackbeard's hoard were dismayed to realize that it came without an inventory or finding aid. With funding by the Getty Foundation for three years, the Cartoon Library began cataloging the collection, but as of 2009, Robb reported, less than half of the archive had been processed.
Still, the collection is being used, she said—"by researchers from a variety of disciplines, including English, communications, art, American studies, popular culture studies and history" and by the publishers of comic strip reprint books.
Blackbeard never did produce for Oxford University Press that definitive history of the American comic strip that started him out on his extraordinary odyssey "Instead," Robb said, "he embarked on a lifelong collecting effort that has contributed more to the scholarship in the field than any single book could have."
Much of the information in the foregoing I took from my unpublished interview with Blackbeard in September 1995, but I am indebted to Jenny E. Robb for details found in her exhaustive article, "Bill Blackbeard: The Collector Who Rescued the Comics" in the Journal of American Culture, 2009, Vol. 32, No. 3. Wikipedia was a minor source, as was Kevin Parks's article at ThisWeekNEWS.com, August 14, 2003.