"In the early days of filming, it also became clear to us that the thriving local community was a story in itself. " -Louise Amandes
In 2012, Seattle comics artist Ellen Forney (Marbles) received a Seattle Stranger Genius Award, followed in 2014 by Fantagraphics publisher and Comics Journal co-founder Gary Groth and Jim Woodring (Jim, Frank in the Third Dimension) in 2015. Woodring's art is currently on display at the city's esteemed Frye Art Museum. Seattle's press, institutions and government have accepted comics as a valid and important art form. With the release of the 2015 film documentary, Bezango, WA, it becomes clear that comics are -- and have been for a while -- one of the principal exports of the Pacific Northwest, along with airplanes, coffee, and computer software.
Back in 2011, filmmakers and documentarians Louise Amandes and Ron Austin set out to make a movie about artists in the Pacific Northwest who make comics. They thought they were making a simple film about a beloved subject and then discovered they were in the middle of a cultural surge, firmly rooted in history.
Among many others, they filmed James Gill, Frank Young, David Lasky, Steve Willis, Pat Moriarty, Ellen Forney, Roberta Gregory, David Horsey, Brian Basset, Donna Barr, Jim Woodring, Gary Groth, Shannon Wheeler, Shary Flenniken, and Peter Bagge (to mention the top-billed folks on the film's official poster).
On September 30, 2015, their ninety-minute documentary entitled Bezango, WA, premiered in Seattle and is making the rounds of various film festivals. It will soon be available on DVD.
Bezango, WA is a respectful film that refreshingly approaches the subject of making comics from the points of view of the artists involved. There are no animated "Pow!" sound effects or comic-book-like special effects. It's the sort of approach you might expect to see in a documentary about people who make fine musical instruments: lots of craft, lots of love. We visit with artists drawing and inking comics with consummate patience and skill while they frankly discuss their lives and art.
Despite Bezango, WA's dignified approach, the fleece vest casualness and rainy day dreaminess that characterizes much of life in cloudy, damp Seattle makes the film seem unpretentious, perhaps even a little too modest at times. Non-comics culture viewers, or -- more precisely -- non-Seattle comics culture viewers will likely not be fully informed of many of the accomplishments of the dozens of cartoonists presented. For those viewers, the questions of "who is this?" and "why are they in this film?" may present themselves.
Viewers not well-versed in the Seattle comics scene will recognize the names of Jim Woodring, Peter Bagge, and Simpsons-creator Matt Groening (not in the film, but discussed), but they may get lost with the breathless run-through of dozens of lesser-known figures. However, if a comics documentary with a similar generosity and inclusiveness had been made in the 1990s, we would now have the chance to see a younger Roberta Gregory, Peter Bagge or Jim Woodring (not to mention Jason Lutes, who was in Seattle back then)-- and that would be valuable. So, within Bezango, WA's generous panorama of Northwest cartoonists, there may very well be those who will become more widely known in the years to come. And, certainly the film is a powerful validation and encouragement to the newer cartoonists in the area, if not to cartoonists everywhere. And there are a LOT of them. At a recent, jam-packed edition of DUNE, a monthly comics drawing night, Jim Woodring stopped by, and was overheard exclaiming to David Lasky, "Where did all these cartoonists come from?
Between the time when Bezango, WA was made and when it was completed, the comics scene in the Pacific Northwest, and especially in Seattle, exploded with a revival. As Louise and Ron hustled around the rainy streets of Seattle with cameras, sound and lighting equipment to make their movie, a new generation of artists making comics (who appear in the film) emerged. During this time, many established artists in the area released major new works. In addition, new comics-centered events started or grew dramatically in scope and attendance, like Short Run (see my coverage here) and the Emerald City Comic Con, which have generated even more interest in comics in the region.
In the following interview I conducted with Louise Amandes and Ron Austin, we discuss this and other aspects of the making of Bezango, WA.
[Disclaimer: I appear briefly in the film]
Let's start with a really deep question – where did you get the film's title? Is there actually a town in Washington State called "Bezango?"
Louise: We actually had several titles for our film, but none of them felt right.
Ron: Yes. Like "Following the Line" or we even had a working title called "Toonie Junction." These names just didn't quite fit or feel authentic.
Louise: One day we were looking at a mini-comic series by local cartoonist Steve Willis called "Bezango, WA 985." In this series he drew cartoons about a fictitious town filled with unique characters. We really liked the name and thought our film replicated the idea of a small community filled with unique characters, so we asked Steve if we could use it, and he replied that he was honored.
Steve Willis is an under-appreciated comics creator, in my opinion. I was glad to see him in your film.
Ron: In a way Steve Willis is the Mayor of alternative comics in the region. He has created newave comix since the 1970s and got his start working with Matt Groening and Lynda Barry at the Evergreen State College student paper, The Cooper Point Journal. This helped make the title of Bezango, WA a no brainer. Also it just sounds great to me. Since people may not know exactly what it is, then there is an air of mystery to the title.
Newave comics refers to the self-published, short run comics movement of the 1980s and 1990s that was done with photocopiers and the United States mail service. Steve Willis is one of the central figures of that movement. How did your documentary get started, and how long have you been working on it?
Louise: From early 2009 to late 2010 Ron and I made four short films together, mostly about artists. In 2011 we were mulling over our next project and Ron brought up the idea of making a documentary about cartoonists in the area.
Ron: Yes. I've always been into comics and I drew them when I was at The Evergreen College. I was also actively involved in a local group Cartoonists Northwest. It just felt like the artists in this region would make a great story.
Louise: I too loved cartoons when I was young and drew them and illustrations as a kid. We agreed to move forward with the project and without much knowledge of how we would tell the story, we just started interviewing one cartoonist after another. It took us four-and-a-half years, from beginning to end.
Why a documentary on a slew of Pacific Northwest cartoonists, as opposed to following the story of one cartoonist?
Ron: At first, I wasn't sure if we would do this as an overview of the entire region or follow an individual artist. I think my biggest influence was Cartoonists Northwest, a group that has been around in Seattle since about 1980. They accept all artists as members. There's a wide range of professions represented in the membership: gag cartoons, superhero comics, kids fare, adult stuff, undergrounds, caricatures, 3-D animation, and many more. I was influenced by this diversity and inclusiveness, and it carried it over to the film.
Yes, the film presents a wide range of people working in comics, from self-published to pro, from people like Ellen Forney making intensely personal comics  to someone like David Horsey, who creates political cartoons, to Georgia Ball, who talks in the film about writing for Strawberry Shortcake comics for young readers.
Ron: Yes. I was actually quite nervous interviewing some of the artists such as David Horsey, Roberta Gregory, or Jim Woodring. These are people's work that I grew up reading from when I was in college. Basically they were rock stars to me.
Louise: The fact that I didn't know any of the artists in the area was also a nice balance to Ron's familiarity, because I was able to tell the story from the point of view of someone who knew nothing of the community and very little about the industry in general.
Ron: Louise was able to add perspective to my perception of their fame. The interviews would never have been as professional had we not worked together.
Louise: And Ron was able to educate me (and the audience) on so many details that he knew because he grew up reading the comics of many of these artists. We strove to make the film not only highlight the uniqueness of this community and to showcase the art, but to portray what artists of all mediums typically deal with in terms of trying to pay the bills and continue to do what you are passionate about.
You interviewed over 60 cartoonists for this film -- why so many? And why not just stick with the well-established figures?
Louise: We originally wanted to focus on a few artists, but most of these artists were very busy with their own projects and deadlines, and because we didn't have a big budget to pay them, we were limited in the amount of time we could ask of them.  Most of them graciously gave us around two hours of their time, and with set-up and take-down of the equipment, it didn't leave a lot of time to get too deep with any of them. To tell an in-depth story about an artist would require several interviews and following them around with a camera for awhile, and this just wasn't feasible with the artists in our film.  It was partially because of the budget and time constraints, but also many of them are used to being alone in their rooms drawing and weren't completely comfortable in front of the camera, so that also became a factor.  So, as we were discovering this in the early days of filming, it also became clear to us that the thriving local community was a story in itself.  All kinds of comics events and comics creations started popping up like Short Run Comix & Art Festival, Dune, The Intruder, Portland Projects and Emerald City Comicon.  So, juggling of all these elements, we realized the film was evolving into shorter segments about more people, the community and the history of the region versus a film about a few artists.
Your film doesn't cover the biggest comic book and related media convention  in the area, the Emerald City Comicon, which . Why did you decide to leave that out?
Louise:  Eroyn Franklin, one of the founders of Short Run states this best in the film.  She talks about how Seattle has many big festivals like Emerald City and Jet City which is awesome, but the work their friends were doing wasn't represented there and they wanted to give self-publishers a voice.  We felt the same way in the artists featured in this film.  And since Emerald City Comicon is such a big festival and has so much press, we wanted to focus the film on the cartoonists and comic artists whose work didn't fall into the standard comics represented by that festival.
I've been struck by the scale and vitality of the comics and illustration community here in the Seattle area.
Ron: I have to say that this is very much a gift back to this community of artists. We wanted to uncover some of what makes this community tick, and to present the history of comics and cartooning in this area. We worked under the assumption that the Northwest does offer a unique view of cartoonists and comic artists.
Louise: As we filmed comics events, people started to hear about our film. We were constantly approached with names of people to include. And so we did. Most of the artists in the film are from the Seattle, although we do have a few from other cities and towns in the region. We would have loved to include more people from outside Seattle, but our budget for traveling was very limited, as well as the fact that we both were working full-time jobs. -- and also the pool of Seattle artists was so great, that this became the main focus.
Seattle has been called a Mecca for cartoonists. Toss a rock into the air out here and it will probably land on a cartoonist, bent over a drawing board!
Louise: It was difficult when we had to make the decision to stop filming because we kept discovering more and more great artists. But we both were pretty exhausted with interviewing and one day said, "OK, that's it. We're done with filming."
Ron: It is kind of funny we got to that point. We just realized we could not fit in one more person. I suppose if Gary Larson of The Far Side had been open to interviewing we would have fit him in there. But ultimately we reached a point where we knew we had filmed enough. Also, our goal did not really include highlighting the most well-known and popular artists in the area.
It seems like it must have been a tall order to somehow refine all those stories and interviews down into a 90-minute film.
Louise: Yes, it was extremely challenging. There were so many great sound bytes that we could have made a five-hour series.
What was your process for managing the content?
Louise: We ended up transcribing all the video from every interview and highlighting the best sound bytes from each person. We then took those highlights and organized them under general categories we thought were important to tell the story. Even with this structure I believe our first draft was several hours long. Then came the process of whittling away to include a bit of everyone and to cohesively tell the story with the clips we had.
Ron: It was Louise who did most of the logging and archiving of the hundreds of hours of footage and video we captured. It was an incredible task that she completed.
The film has a loose structure in that it keeps returning to bits performed by cartoonists, writers, and improv artists Frank M. Young and James Gill. How did that come about?
Louise: We also knew that within these interviews we had to have a story run throughout. We didn't want it to just be a list of one artist after another. During this time we interviewed David Lasky as he was finishing up the drawings for his graphic novel with Frank M. Young called The Carter Family: Don't Forget This Song. That's when we first heard about Frank.
We then sat down with Frank and also his long-time friend and cartoonist Jim Gill. Ron and I watched the footage of their interview and found ourselves laughing hysterically at the banter between them. We decided to use Frank and Jim throughout the film almost like sports commentators highlighting the people throughout the film.
We also were fortunate to experience Frank and David going through the process of putting their graphic novel out to the world and seeing it get nominated for many awards, making this a rich subject for our main story.
In a running satirical gag, Frank and Jim fail attempt to crowd-fund their proposed 700-page Umbrella Man comic at a site called "Face-Punch." I thought that was ironic, since your film was partially funded with a Kickstarter campaign.
Louise: We came up with the idea of them trying to crowd-fund a graphic novel, but through their improv, they came up with the name Face-Punch.
Ron: My film background is from The Evergreen State College where we studied a lot of post-modernism films. Coming from that side of things I'm mixed on how important a plot can really be to a film. That may seem like a silly thing to say, but it seems that sometimes in documentaries that the plots are contrived because there is a push about story, story, story. And I think it is OK to deviate from the 3-point structure. However, in a way we wound up doing that, going traditional with that our film too by adding a 3-point structure almost as a parody (laughing). We had a real story of Dave and Frank creating their graphic novel, and then we also essentially contrived a story about Jim and Frank raising money to create a mini-comic about the Umbrella Man who was a comic character from the early 1900s.
The very odd Umbrella Man, a popular character by John Ross "Dok" Hager from the pages of the Seattle Times in the early twentieth century, who is apparently based on an actual person – a local character, is a fascinating discovery. How did you find that old, forgotten cartoon? Did you go spelunking through old Seattle newspapers to dig this gem out?
Ron: I believe we found out about the Umbrella Man shortly after interviewing Peter Blecha from History Link (historylink.org). The character just seemed perfect and we knew that we'd need to feature something about him in the film. After a while we thought it would be great to make him a running gag throughout the movie with Jim and Frank's improvisations around him. By doing this we created a blend of fiction into the documentary. I don't know if this will work for everyone out there watching the film, but Louise and I thought it was a hilarious addition to the film. Also, Umbrella Man is an easily recognizable figure.
I'm curious as to what, for each of you, is your personal connection to comics and arts in this area? You don't have to answer that using a 3-point structure…
Louise: I grew up near Chicago in a very large artistic family. I was a big fan of The Far Side and Garfield when I was young. I also drew a lot when I was a kid. I have a B.F.A. in Interior Architecture and did a fair amount of design and drawing when I worked in that industry. I became very interested in graphics and got a certificate in Animation and Motion Graphics. I took a few filmmaking classes but mostly learned how to make films through the process of making them. I also am a musician and did improv theater for many years, so my life has strongly been filled with the arts.
Ron: I read the classic comics when I was a kid. Mainly enjoyed Wizard of Id, Peanuts, and lots of superhero comics. I also read local artists in the Seattle Post-Intelligencer and Seattle Times such as Ray Collins, Brian Basset and David Horsey. When I was about ten years old I discovered The Freak Brothers and also Robert Crumb. I created comic books all the time as a kid, and in college I created a weekly comic strip for Evergreen's newspaper, The Cooper Point Journal. In college I also enjoyed reading Roberta Gregory's Bitchy Bitch and Jim Woodring's Frank comics. For about ten years I tried to sell my political cartoons to newspapers and magazines. That made for a good hobby. I will always have a passion for cartoons and comics. Even though I don't draw much these days I still consider myself to be a cartoonist. Being a cartoonist is more a personality trait than an occupation!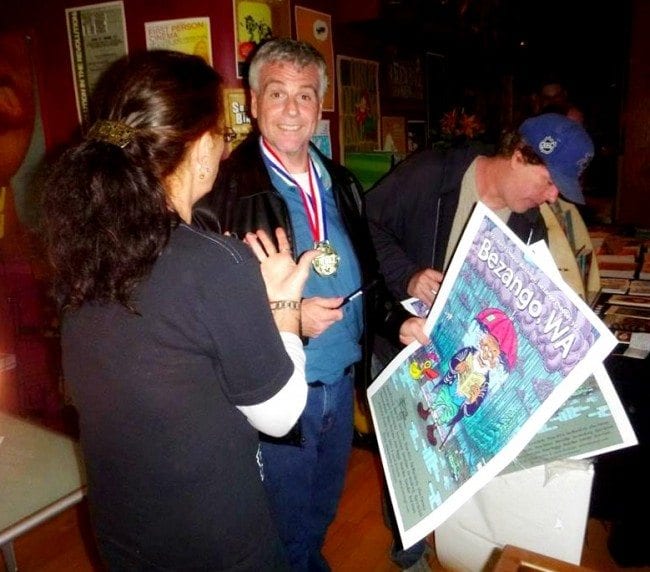 There are several segments in the film that show comic artists concerned with how little material success (or respect) they get for all their talent and labor -- was this a common theme that arose in your interviews?
Louise: Yes, it came up at most of the interviews. Many of the artists are living on a shoe-string budget and work other jobs to pay their bills.
Ron: Not all of them. David Horsey of the LA Times does quite well for himself. But generally yes, the idea of finances was prevalent in a lot of the interviews.
The connecting thread in the film is the story of  David Lasky and Frank Young as they create their graphic novel, The Carter Family: Don't Forget This Song (Abrams, 2013), see it published, and then get nominated for the Eisner Award. Can you talk about that a little?
Ron: It was our luck as filmmakers to encounter them at the right moment. We had filmed them creating their book and then realized after it was nominated that it would make a great story. The whole creation process as well as the "suspense" of if they won.
In the film, James Gill says: "Maybe that's why Northwest cartoonists... maybe that's why there's this concentration. These are people who like to sit in little, cozy, warm rooms while it's raining and cold outside." And then Frank Young chimes in: "Which is all the time."  Did you come away from your four-and-a-half years immersion in this topic with any new insights about whether there's a particular style or character to the comics and cartoons that come out this region?
Louise: Steve Willis, Bob Cram, Ray Collins and some of the other earlier cartoonists had a simplistic style. Currently, I still see that simplicity in many of the artists, but with all kinds of variations. Working on this project all these years it wasn't so much that a common thread with the art stood out for me, but what really struck a chord was the constant buzz of events, release parties, collaborations, and other comic events that seemed to keep these artists continuously putting new artwork out. There were just so many new graphic novels, zines, mini-comics, newspapers, gallery showings. It was just great to see the tenacity of these artists continuously motivated and inspired by each other to keep drawing.
Ron: I actually like a lot what you had to say in the movie, Paul, that there is something unique about this area. In some way we can see how artists from earlier generations such as Basil Wolverton connected to the styles of Charles Burns, Peter Bagge, and even Steve Willis.
And even more recently, we have the wild comic distortions of Pat Moriarty's comics and art, the densely cross-hatched nightmares of Max Clotfelter's work, and the grotesque forms seen in the  comics of what I affectionately like to call the Seattle Goop Art School that includes Intruder ringleader Marc Palm with James Stanton, Seth Goodkind, Ben Horak, Tom Van Deusen, and Scott Travis, among many others-- most of whom appear in your film, towards the end.
Bezango, WA had its world premiere in Serbia. Not long after, it had its United States debut here in Seattle on September 30, 2015 as part of the Northwest Film Forum's 2015 Local Sightings Film Festival. How has it been received, so far?
Louise: So far we've gotten a lot of positive feedback. The most common response I've been heard from people is: "You've educated me about a community I had no idea existed. It's made me see cartoons and comics in a different way and I will definitely pay more attention to buying and reading them." Hearing this from several people made me happy because this was the biggest goal of the film, to encourage people to support these artists. The reviews from the cartooning community have been mixed.  Many people have said they loved it and others have said they wished things were different about it.  We understand there are many people who have their own visions of what should have been highlighted.  But there were many factors to consider in the decisions we made.  We hope this film is one of many that will be made about this community of artists.
Ron: This film was made through our experiences and our view point of this community. Everyone has their own story. I encourage people to make their own films or tell their own experiences about cartooning and comics in the Northwest. I would enjoy seeing other people's perspectives.
Brian Cobb's original score for the film just won an award for Best Original Score for a Feature Film at Seattle's 2015 Local Sightings Film Festival. As I recall, it's richly textured, lovely acoustic guitar work -- did he compose to a final cut, or did you shape the segments to his score?
Louise: We sent Brian the finished film. And I went through and typed out the timecode for each section that needed music and gave him a general idea of what kind of music we thought would work well for each section. He would then create the music and send it back to us for feedback. He did a lot of sections throughout the film. But there were also a variety of songs in the film from other amazing musicians and bands.
What are your future plans for making Bezango, WA available to a larger audience? Any plans for the hundreds of hours of video and oral history you captured? That seems really valuable to future scholars.
Ron: Ideally we will post some of the extra footage to a Web page. First thing is to burn all the DVDs and include special features that showcase outtakes and extra footage. I can see how, eventually, the raw footage will likely be more valuable than the film itself.
Louise: Right now we are sending it out to the festival circuit and comic events. We're still in the beginning stages of that. We will have DVD's available to sell at Short Run in Seattle on October 31st. We also will eventually put it online after it makes the festival rounds. Yes, we plan to put together a lot of the video for future history.
__________________
Notes:
The trailer for Bezango, WA can be viewed here.
Twenty-five minutes of a working draft of Bezango, WA can be seen here.
The official website of Bezango, WA, with a complete list of the people who appear in it, is here.