Swamp Thing co-creator, comic book artist and illustrator Bernie Wrightson died March 18th following a long battle with cancer. Wrightson was a product of the second generation of comics fandom and began contributing to fanzines in the late 1960s, before breaking into the comics industry in 1969, with work for Web of Horror and DC's Showcase, including two issues of the dark fantasy strip "Nightmaster". Although his early work was raw, it was powerful, with lush inks, dynamic anatomy, and a knack for telling stories, especially dark, scary ones, as you'd expect from an artist whose favorite movie was James Whale's 1931 masterpiece, Frankenstein. Although Wrightson's métier was horror, he was too talented and too versatile to be easily pigeonholed, and drew beloved fantasy and sword and sorcery stories and illustrations early on in his career.
Born in 1948, to a working class Baltimore family, Wrightson didn't recall receiving a great deal of encouragement for his early artistic endeavors from his parents, but as he observed in a 2015 interview in Comic Book Creator, "I've been drawing as long as I can remember." Comic books and comic strips were early influences, with Wrightson citing Hal Foster's Prince Valiant, Flash Gordon, drawn by Mac Raboy and Buz Sawyer by Roy Crane as his favorite comic strips. Wrightson was only five or six when he began reading EC Comics, the most visceral of which, as drawn by Graham Ingels or Frank Frazetta, had a profound influence on his aesthetic. Another big influence on Wrightson was horror films: He was fortunate to be in the "Monster Kids" generation, when Famous Monsters of Filmland began publishing, and Universal released its "Shock Theater" package of old horror films for syndication, spawning a host of local late night horror movie hosts like Baltimore's own Dr. Lucifer, played by faded movie idol Richard Dix.
Popular interest in dinosaurs had a resurgence in the late 1950s, providing another piece of Wrightson's influences. While he remembered loving Ray Harryhausen's stop-motion Beast From 20,000 Fathoms, other, more cheaply done dinosaur films failed to impress him. As he recalled in the same Comic Book Creator interview, "I saw that Lost World remake with Claude Rains (1960), and that was a huge disappointment…you couldn't fool me with plastic horns on a big lizard…" Another great early influence was the Ace Books editions of Edgar Rice Burroughs featuring covers and frontispiece illustrations by Frazetta, which Wrightson credits with getting him to start reading novels cover to cover.
In addition to his influences from popular culture, Wrightson also learned about drawing by watching John Gnagy's famous art instruction program on television, and taking the Famous Artists correspondence course. His first published drawing appeared on the letters page of Creepy #9 (June 1966), showing a man being dragged into an open grave, and a headstone bearing the inscription "Berni Wrightson, Dec. 15th, 1965".
Within the next few years, Wrightson made a stir in fanzine circles with his many Frazetta and Ingels- influenced illustrations. A meeting with his idol Frank Frazetta at a 1967 convention in New York further inspired Wrightson to begin creating his own stories. It was at that convention that Wrightson also met Al Williamson, Jeffrey Jones, Michael Kaluta, and Dick Giordano. He also met fanzine publishers Rich Hauser and Roger Hill and soon began contributing to both Spa Fon and Squa Tront. Years later, Michael Kaluta recalled that halcyon weekend like this: "And the next day, we four DID meet Frank Frazetta and Ellie right in their hotel room, three doors down the hall from the room we'd rented. We met Roy Krenkel in Frank's room later that evening, after Frank and Robert Barrett had driven out to Frank's place on Long Island and brought back a huge stack of Frank's originals…Wrightson traded a drawing to Frank for a Johnny Comet Sunday page…that flawless original was with Bernie all the time we roomed together…from Nightmaster to Swamp Thing.
In 1966, Wrightson secured a job at The Baltimore Sun as an illustrator, his first professional work as an artist. His first published work in comic books was "The Man Who Murdered Himself" in House of Mystery #179 (March-April 1969), a title with which he would have a long association. Wrightson is also credited with creating the illustrated splash pages that graced many issues of DC's "mystery" comics as a way of getting a quick paycheck. Wrightson drew his first continuing character in 1969, Nightmaster for Showcase issues 82-84.
Wrightson contributed painted covers and interior stories to all three issues of Web of Horror, a Warren-esque horror mag published by owners of Cracked. Writer Bruce Jones and Wrightson were scheduled to take over of as editors of WOH with the fourth issue only to find the offices empty after the publisher unceremoniously pulled the plug on the magazine. Fortunately, he was getting plenty of work from DC's mystery magazines, House of Mystery, House of Secrets, The Unexpected, Weird Mystery Tales, and The Witching Hour.
In 1971, working from a script by Len Wein, Wrightson illustrated "Swamp Thing" in House of Secrets #92 (July 1971). Reader reaction was instantaneous and overwhelmingly positive, and by fall of the following year, DC was publishing a Swamp Thing title with scripts by Wein and pencils and inks by Wrightson.
Comics fandom reacted enthusiastically to the new title and Wrightson was soon assigned the art chores on DC's new Shadow title, based on the famous pulp character. Despite doing a house ad featuring the character, Wrightson quickly realized he couldn't handle doing two books simultaneously and The Shadow was assigned to his friend Michael Kaluta. Wrightson did keep his hand in, helping with the penciling and inking chores of issue three, and inking the splash page of issue four.
After ten issues of Swamp Thing, Wrightson departed for other assignments, though over the years, he did a number of Swamp Thing covers for various reprints and collections of his original stories. To this day, Swamp Thing remains one of his signature characters. During the mid-70s Wrightson also did covers and interior stories for Marvel's slate of mystery comics, including a well-remembered adaptation of a King Kull story, "The Skull of Silence" (Creatures on the Loose #10).

One of the things Bernie Wrightson is best remembered for is being a founding member of The Studio, the loft space he shared with Michael Kaluta, Jeffrey Jones, and Barry Windsor-Smith, starting in 1975. This gathering of successful and popular artists eventually produced The Studio, a lavish art book containing sections on Wrightson's illustrations, as well as those of his studio-mates.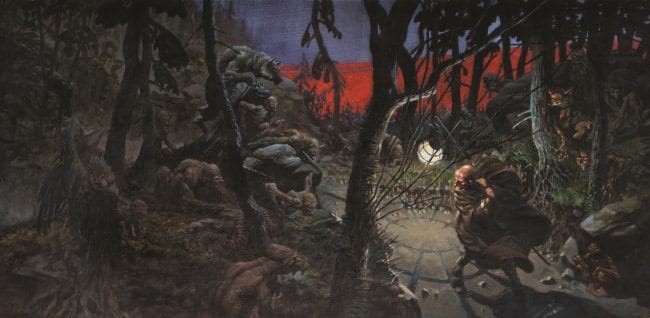 It was during this period that Wrightson began work on what was widely regarded as his magnum opus, Bernie Wrightson's Frankenstein (1983), a new volume of Mary Shelley's horror classic with a frontispiece and 50 full-page illustrations by Wrightson. Dark Horse subsequently reprinted it in 1994. There was also a French portfolio of Wrightson's Frankenstein illustrations.
In 1982, Wrightson illustrated the graphic novel adaptation of Stephen King's Creepshow, itself an homage to EC horror comics.
This was the first of several collaborations between King and Wrightson, with Wrightson illustrating such King projects as The Cycle of the Werewolf and the extended publication of The Stand. He was the creator of the character Captain Sternn, who was also featured in a segment of the Heavy Metal film. From the '80s to the present Wrightson continued to draw characters for Marvel, DC, including Batman, The Punisher and Spider-Man. More recently he enjoyed a feruitful relationship with IDW, drawing Dead She Said, the Ghoul and a new version of Frankenstein. Wrightson also had a prolific career as a concept artist for films including Ghostbusters, Galaxy Quest, George Romero's Land of the Dead, and Frank Darabont's The Mist.
In January of 2017, following a series of health problems that included brain surgery, Wrightson announced his retirement from drawing and public appearances.
Bernie Wrightson was a fan favorite from the very beginning of his long and prolific career. Among the many awards he received over the course of his 40-plus years working as a cartoonist and illustrator were: Shazam Awards for Best Penciller (Dramatic Division), in addition to winning the 1972 Shazam Award for Best Individual Story (Dramatic Division) for Swamp Thing #1. Because of his work with Jim Starlin on the charitable comic Heroes for Hope, Wrightson shared a Bob Clampett Humanitarian Award. In 1975, Wrightson won the San Diego Comic Con's Inkpot Award. The National Cartoonists Society recognized his work on Frankenstein, Alive, Alive! in 2012 in the Comic Book Category. The year 2015 brought Wrightson some final recognition for Swamp Thing, his Frankenstein illustrations, and indeed, his entire body of work when he received the Inkwell Special Recognition Award.
Perhaps the finest recognition Wrightson received was the almost universal adulation he received from his fans for his kind and generous nature to many people over the years.
Bernie Wrightson is survived by his wife, Liz Wrightson, his sons John and Jeffrey from his first marriage, and a stepson, Thomas. The family plans a celebration of his life and work for later in 2017.