When looking back at the output of an artist's career, there's early work... and then there's early work.
One useful way to review the early work of Peter Bagge is through Fantagraphics's massive new slipcase box set package of his pre-Hate title, The Complete Neat Stuff (1985-89), which puts together all 15 issues of that wild, all-over-the-place, early work into a, er, "neat" two-volume hardbound unit suitable for bookshelves. It serves as a fine addition to any 1980s comic-book collection; a look back at what was going on in the alt-comix world some 30 years ago; and a great snap shot of a young artist finding his way as a storyteller. There are also tons of sick jokes, hyperactive, and explosive drawing and serves as the backdrop for what Bagge would go on to do with Hate, his most seminal work, a few years later.
It's a terrific collection, beautifully constructed, and has some great memories from Bagge about his days leading up to, and during, that period of time. And while Neat Stuff was an anthology title, it was also a one-person show, albeit one person with an awful lot of voices. For long-time fans, the box set is a delightful reminder of just how free, joyful, and sophomoric (in the best comic sense) so much of Bagge's early work was; the variety of styles and artistic approaches he used, especially in the earliest Neat Stuffs, is berserk. For those who only know his work from Hate and beyond, the utter weirdness of certain pieces, coupled with the diversity of some of the other stories' intentional stupidness, will be an eye-opener. But most of all, for me, it's a reminder that Neat Stuff was consistently extremely funny during a period of time I don't particularly recall as being all that funny. Especially in comics.
So I completely recommend The Complete Neat Stuff for a look at the early work by one of our most important voices.
But now I'd like to take a look at some of Bagge's earlier work, specifically some never-before-published, or very-little-seen, pieces that were done during the period just before he began Neat Stuff. In his introduction to the NS box set, Bagge writes that in the early/mid-'80s he had a meeting with Fantagraphics and approached Gary Groth with two separate ideas for books; the first was to have Fantagraphics take over the publishing of Robert Crumb's Weirdo anthology, which Bagge was then editing, and the second for an unnamed all-ages and kid-friendly humor anthology, which would be along the lines of Mad. That project never happened, but some materials were created for it, some of which made their way into Neat Stuff and Weirdo, while others never went beyond the idea stage and have gone unpublished and unseen before this article. 
Bagge's co-editor for that proposed anthology was New York cartoonist David Coulson, who now lives in Pittsburgh. Most of the images shown here are from Coulson's collection, with the exception of the Comical Funnies cover at the end of this piece. I recently spoke with Bagge and Coulson and asked them to share their memories of the pieces and of the times in which they were created.
Bagge: "I can't even remember if we even had a working title [for the all-ages project]. I don't even remember throwing titles around with David. And again, it was just that when I was at home and I came up with anything that I thought was all-ages friendly, I would either do a strip or write a rough or jot down ideas... and the main person I was going back and forth with was David. But we never got that invested in it."
One finished piece that did come out of the collaboration was this early Bradley Family strip, that ended up running in Weirdo #13. Bagge gave these roughs to Coulson as guides for the piece, which can be seen with Coulson's finished art below.
"After Peter took over as editor of Weirdo [in 1983], we were working together on stuff for Stop [a John Holmstrom/J.D. King/Bruce Carleton-edited magazine from the early 1980s] and talking about doing a comic book together like the one he did with Ken Weiner, called The Wacky World, and he asked if I would draw and do the finishes for that Bradleys strip," said Coulson. "The visual script he gave me was very complete--there are differences but it's pretty complete. I think he liked what I did because it was more, like, 'traditional looking' than his stuff. He said it was more subversive because it looked so real."
"David was far more accomplished than me at that time," said Bagge. "I was still struggling mightily with my draftsmanship back in 1983. So I just wanted to see what the end results would be like. I was happy with it, of course -- I love David's art -- but I of course had no choice but to keep on struggling with my own art."
Bagge also provided Coulson with model sheets for each of the Bradley Family characters.  "These sloppy Bradleys model sheets must have been for David's eyes only," Bagge said. "It also suggests that we were gonna do more Bradleys strips together, which I vaguely recall was the case."
Among the other items Coulson held onto from those days is this Bagge treatment of a proposed "couple strip" that Bagge says looks like a "VERY modified version of Chet and Bunny," characters that had reoccurring strips in issues of Neat Stuff.  "I have no recollection of that script, or what I had in mind for it." Coulson remembers the treatment being done for a proposed strip about a television critic.

Typical of Bagge's work for the proposed anthology was this never-finished piece titled "Do These Things."
"That 'Do These Things' page is pretty funny!" said Bagge after seeing it for the first time in decades. "That's something Dave was going to draw for me, I assume. And it very much represents what I had in mind for a kid friendly comic book. Something more absurd than MAD, and not so satire-oriented."
New York City in the early 1980s was a hotbed for young alternative-type cartoonists, with many having connections to the city's art schools, most notably the School of Visual Arts (SVA).  SVA's faculty at the time included Harvey Kurtzman, Will Eisner, Jerry Moriarty, and Art Spiegelman, whose RAW magazine included contributions from his students--Drew Friedman, Mark Newgarden, and Kaz. Bagge, who attended SVA in the early '80s, fell in with a different group whose self-published efforts included Stop and Comical Funnies, which Bagge launched with Punk's John Holmstrom. Shown below is Bagge's cover to issue #2.
"For years I lived on 7th Avenue in NYC, between 20th and 21st St.," said Bagge. "It was a halfway point between Penn Station and the Village, and thus had an endless stream of suburban teens heading back and forth from one destination to the other, especially on weekends. Lots of black guys who looked just like this cover character used to loiter along that stretch, selling drugs to the teens and/or hitting on the girls. Those shoulder-held boom boxes were a fixture with them too, and some of them were HUGE. (I actually bought one myself -- they had good sound quality! I still have it and listen to the radio on it next to my drawing table.) Anyhow, these guys really cracked me up -- they were living caricatures -- so when I got a chance to do a cover for Comical Funnies I drew one of them. Funny thing was, the other Comical Funnies guys, particularly Holmstrom, were afraid it'd be deemed racist (naturally), yet instead of refusing to run it they insisted I color the guy as a caucasian -- as if that would fool anybody! The most insane artistic compromise I ever made."
Through Holmstrom, who was then doing work for Scholastic's kid-magazine Bananas, Bagge also did some forgotten strips for a forgotten teen title called Maniac.
Bagge: "'The Brainiacs' is a slightly modified version of a strip I used to do for Video Games Magazine, called 'The Video Kid,' in the early '80s. I see these tear sheets are from something called Maniac Magazine. I have ZERO memory of that publication! I don't even have any copies of it! Weird!
And like many New York cartoonists at the time, Bagge was also doing "pay the rent" work for the notorious Screw Magazine, which was at the time being art directed by his pal Ken Weiner.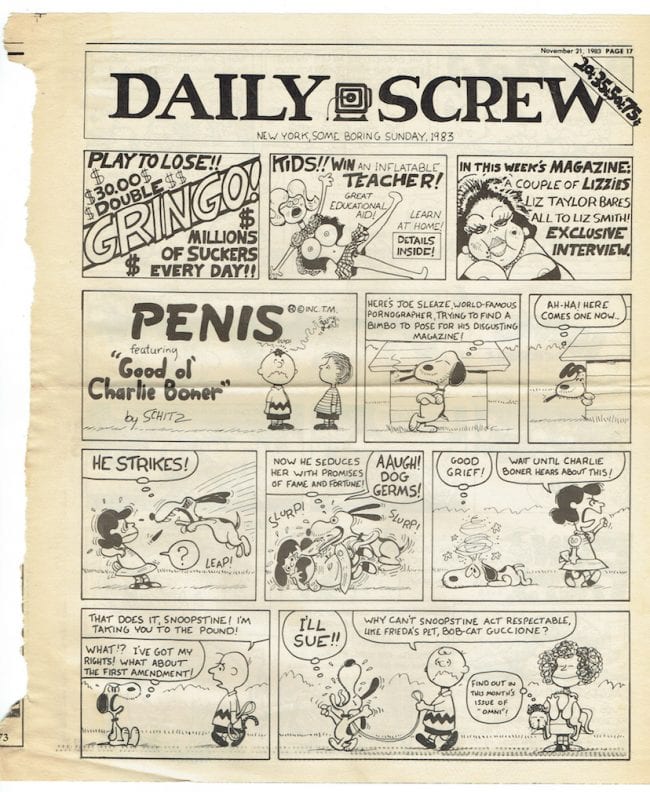 Bagge: "That 'Daily Screw' page was page 1 of a 3-pager I did, satirizing daily strips in an X-rated fashion. Screw used to have a 3-page comic strip or spread in every issue. I did at least a half dozen of these between 1980 - 1985 (as well as many one pagers). All or most of these were collected in a Screw Comics collection Fantagraphics put out in the mid-late 1990s."
So, why did Neat Stuff happen and not the unnamed all-ages anthology?
Bagge: "How I remember it was that when it would get up and running, that is seemed like David was, more than anyone else, keen it than anyone else I could think of off-hand. I'm sure that Ken Weiner, who is now Ken Avador, I think he liked the idea a lot too at the time. Even though his day job at the time was being the art director at Screw. [Laughs] He also was trying to figure out a way to get away from the x-rated stuff. The thing with Ken Weiner, though... he was a Gemini. [Laughs] He changed his goddamn mind every day! But David is a rock-steady guy and he seemed like he would be a really good person to work with."
"But then two things happened... really, the one and only publisher I pitched it to was Fantagraphics. And that just blew up everything. I went to Fantagraphics to pitch to the both doing Weirdo, because Weirdo was a little up in the air with me taking over.  Ron Turner's [Last Gasp's publisher] initial response was that he didn't want me to be the editor. So Crumb leaned on him, and eventually Crumb got his way, but in the meantime Crumb said, 'You might want to talk to other publishers.' So, the only place that was in driving distance of Hoboken, New Jersey [where Bagge was living at the time] was Fantagraphics, when it was in Stamford, Connecticut. So I went up and met with them. They didn't want to do WEIRDO because what Crumb had been doing with it was way too weird for them, and they also told me that doing anything that was 'all-ages' was just like 'touching the third rail.'  They had only just started publishing comic books. Prior to that they were just The Comics Journal and Amazing Heroes, and they wanted to establish themselves right out of the gate as an adult comic publisher. They didn't want to muddy the waters by doing 'all-ages' stuff. And so that too away the possibility of them publishing the all-ages anthology that I was pitching to them. "
"But the biggest monkey wrench of all is that I showed them my most recent work and they loved it and said right there and then that they'd give me my own comic book. And I didn't anticipate that at all, but that sounded perfect. But I also knew that if I was going to do my own comic book it was going to take up literally all of my time, so something had to give, and it was the all-ages anthology that me and David were talking about."
Bagge continued to edit Weirdo or several more issues and what eventually became Neat Stuff was held in limbo as both Bagge and Fantagraphics moved to the West Coast.  "I had this understandable fear, which turned out to be misplaced, that Gary Groth was going to wake up and say, "Wait a minute! What the hell was I thinking, giving this guy his own comic book?' [Laughter] I was just convinced that once the had moved and were established in Southern California that he was going to change his mind about giving me my own comic book. There was a good bit of time--maybe six months--where we were out of touch because I was moving myself, and I just devoted as much time as possible to Weirdo. And I was very happy with the first bunch of issues I did for Weirdo, the first five that I edited. I thought they came out really well. But then Gary Groth called and said he still wanted me to do my own comic book. He wanted me to do it quarterly, but I talked him down to three times a year of Neat Stuff and I never blew deadlines. But that had to come first, and especially for the last two issues of Weirdo that I edited, I wasn't really happy with it and I knew it was because I wasn't putting all of my energy into it. So I thought it was best for everybody if someone else took Weirdo over and by that time Aline Crumb's kid was out of diapers and she said she'd take it over. Which was great. It was like the perfect solution."
And so now, some 30 years later, we have a great box set of Bagge's Neat Stuff as a result. I assume a Hate box set is being prepared as I type this.