Frank here. This week's scene report is brought to you by William Cardini. Mr. Cardini just finished my comic book correspondence course. Hopefully, you will someday see the comic that he produced during the course - it's pretty sharp. In the meantime,  please enjoy his report on the Austin comics scene.
-------------
Austin Scene Report by William Cardini.
Despite having been (and in some cases continuing to be) home to various comics legends, such as Chris Ware, Mack White, Cayetano Garza Jr, Shannon Wheeler, and the Armadillo World Headquarters crew, Austin doesn't seem to have the same reputation among cartoonists as similar cities such as Portland or Minneapolis, but I think it could.
Austin has two comprehensive comic book stores, Austin Books & Comics and Dragon's Lair, that stock everything from local minicomics to Fantagraphics to manga. And if you're more interested in zines, there's Monkeywrench, an all-volunteer collective-run radical bookstore.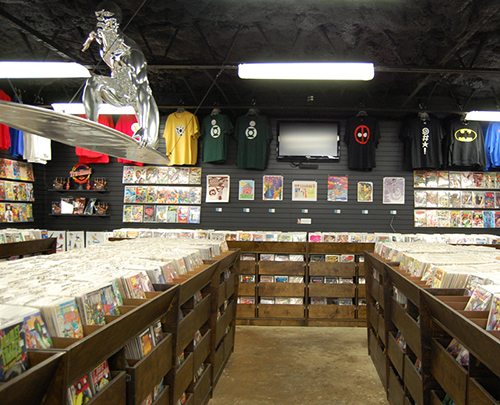 Austin Books shows local artists on their back wall. This is a long distance photo I took from my show there with my wife Glade. You can see their deep back issue racks.
The center of my Austin comics scene is Domy Books. An independent bookstore and gallery, Domy started in 2006 in Houston's hip Montrose neighborhood. In 2008, Domy co-founder Russell Etchen opened an Austin branch of the store, and it's been a boon. A towering, super friendly red-haired dude, Russell is always eager to make a recommendation or talk about obscure comics, artists, zinesters, and graffiti artists. He makes sure that Domy features a prominent zine section, screenprints, and a slew of art comics. He also curates the gallery section, featuring cartoonists such as Ron Regé Jr and Esther Pearl Watson. Russell also puts together the annual Monster Show, where he asks cartoonists from all over to do a 9x12" drawing.

Photo of this year's Monster Show opening by Carling Hale. If you squint you can see Jonny Negron.
Speaking of Mr. Negron, Austin has a pretty full local creator roster. Here's a small sample:
You can see most of these folks once a year at STAPLE!, a local indy media/comics festival that's been getting bigger and better every one of the seven years its run.
In general, Austin has a community that's really supportive of DIY efforts and art. The music, literary, and art scenes ooze over and intermingle with the comics scene. There are a lot of creative people doing a lot of things here. If only it weren't so damn hot.