Seeking shelter from the crowds in the city center at the museum across the Charente turned out to be a great idea, an elision into comics history. The main exhibition there is Art Spiegelman's personal selection of comics from the 1830s till today, Le Musée privé. Put together in collaboration with resident comics specialist Thierry Groensteen, and with works borrowed from the Billy Ireland Library at Ohio State, the Glenn Bray collection, and elsewhere, it is the most eloquently curated comics show I've seen since the fantastic Masters of European Comics in 2001.
It starts in the 1830s with Töpffer and early European comics before it hits a motherlode of original American comic strip pages -- the heart of the exhibition. Knowing Spiegelman's taste, it is unsurprising that he predictably leaves out several of the great illustrators -- most notably Raymond and Foster -- but there is so much great material that one quickly forgives him: from McCay and Herriman over McManus, King, Gould and Gray, to Schulz, Watterson, and Thompson, as well as several lesser known and underrated figures such as Milt Gross and Garrett Price.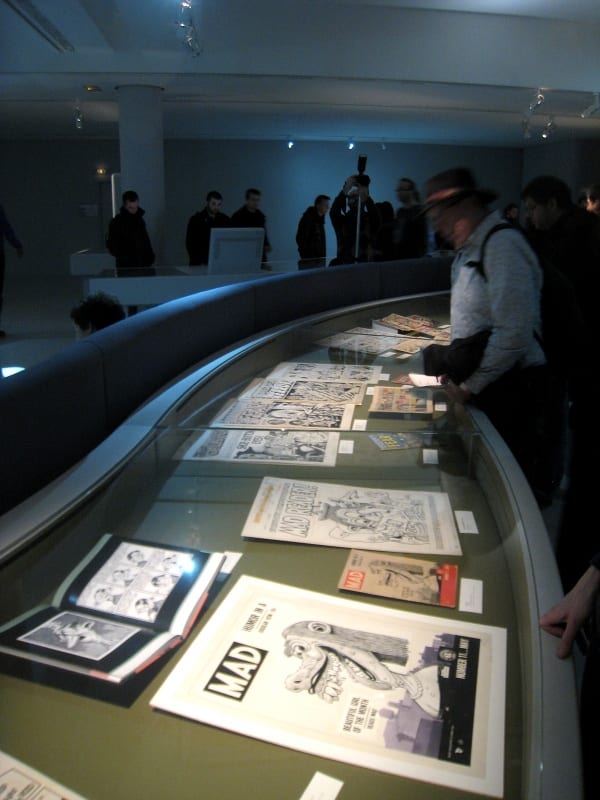 Then comes the comic books including a broad selection of classics, which -- though naturally underplaying the heroic genres -- presents much of the cream, with the focus predictably on Mad and EC. Spiegelman not only presents these comics comprehensively, but often with key, iconic pages -- Kurtzman's "Corpse on the Imjin", Wolverton's Lena the Hyena cover for Mad, Kurtzman and Elder's splash page to "Restaurant" from the same magazine, and eye-popping pages from Ingels, Davis, Craig, and the rest of the Usual Gang.
The underground section continues along the same lines, focusing initially and naturally on the Zap artists (though downplaying Crumb) and then switching to a generous selection of Rory Hayes pages as well as Bill Griffith's recent elegy to the artist. And in an adjoining room hangs the entirety of Justin Green's "Binky Brown Meets the Holy Virgin Mary" in the original. Only when the exhibition hits the eighties does it lose height, seeming random in its selection (although you can't front on Dan Clowes' "Needledick the Bugfucker").
As a comics history the exhibition is somewhat idiosyncratic, but as Spiegelman notes in one of the excellent accompanying videos, every cartoonist constructs his own past, and this one's a particularly cogent and inspiring one -- one that locates in humor and subversion the life of the mind.