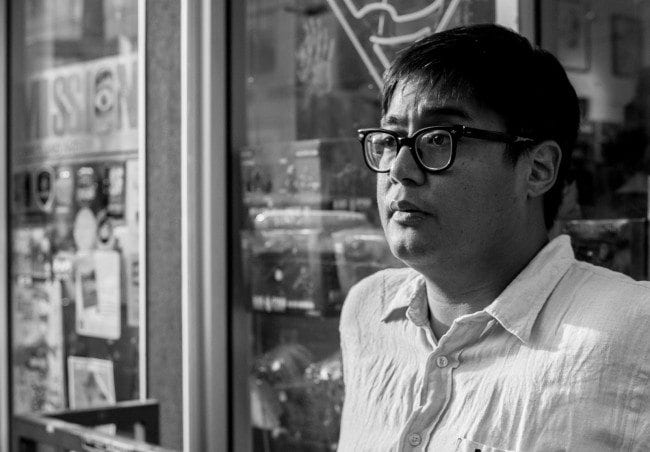 Alvin Mark Buenaventura, the editor, printmaker, and prominent art comics publisher, was found dead in his Oakland, Calif., home on Thursday, February 11. He was 39. A cause of death has not yet been determined, and an investigation is ongoing, according to the Alameda County Coroner's Bureau.
Buenaventura was born on March 26, 1976. Growing up in San Diego placed him in proximity to the San Diego Comic-Con, of which he was a keen attendee; in a 2012 video interview with the Meltdown Comics and Collectables Meltcast 2.0, Buenaventura made his attendance at the show "pretty early on," noting a youthful interest in Marvel, DC and Image superhero comics. However, as related at the Huffington Post, a chance encounter with issues of Daniel Clowes's Eightball in his adolescence suggested different horizons: "At that age, I didn't really know what to make of these comics but was mesmerized by the mordant and surreal world they presented."
"Alvin used to come to the SDCC when he was very young, maybe high school age, and would always be camped out at my table when I got there," Clowes told the Journal via email. "He would usually buy some original art and I thought he must be an eccentric rich kid, but I later learned that he basically spent all his money, down to the last penny, on weird comics and art."
By 2003, Buenaventura had built enough interest and resources in comics to assemble an exhibition, Original Comic Art, which ran from July 7-28 at the "Buenaventura Gallery" in San Diego; he also letterpressed the exhibition's catalog. "Alvin was working at a letterpress shop that was in downtown San Diego and used the front of that shop for the show," according to Jordan Rae, a longtime collaborator. "There was really no gallery per se, that I was ever aware of." In an interview with Tom Spurgeon at the Comics Reporter, Buenaventura related his experiences with Brighton Press in San Diego, with which he had been involved since high school: "I learned a lot about fine press letterpress, intaglio and relief printmaking from working with Brighton Press. I also learned a lot about materials, quality craftsmanship, and working with artists to help them realize their ideas with these mediums."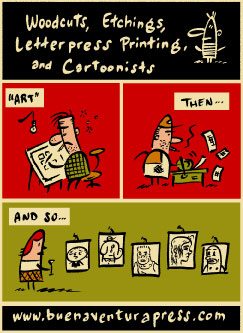 Buenaventura Press was established that year. Its early output consisted primarily of fine press prints created with a generationally-diverse range of alternative cartoonists, among them Gary Panter, Chris Ware, Ron Regé, Jr., Marc Bell, and Sammy Harkham, whose Kramers Ergot anthology would soon become prominent in the history of the Press.
"He only wanted to put out the best looking books and he had very high standards," said Chris Anthony Diaz, who would sometimes aid with the Press's operations. "If something was not right, we would have to do it over. We would be juggling so many things and have to stop and redo something to get it right, maybe a few hours before leaving for the airport. That's how relentless he was with his standards."
By 2005, Buenaventura had begun publishing original books with comic artists: Spaniel Rage, a collection of small press and self-published works by Vanessa Davis; Destined for Dizziness!, a children's book by Souther Salazar; and New York Sketches, an accordion portfolio of sketchbook works by Adrian Tomine. These items joined an eclectic mix of books, magazines, toys, minicomics and import fare at the Buenaventura Press online store, soon bolstered by Buenaventura's 2006 adoption of Comic Art, a respected and visually attentive magazine founded by Todd Hignite, and the aforementioned Kramers Ergot, which had attracted much attention for its boldness in graphic character and production value. Subsequent Will Eisner Comic Industry Award nominations for the debut Buenaventura editions of Comic Art (#8) and Kramers Ergot (vol. 6), a first for the latter, confirmed institutional acclaim for the burgeoning Press.
Buenaventura Press was also a publisher of smaller-scale comic books, beginning with the Injury series by Ted May in 2007, and later expanding into early works by Matt Furie (Boy's Club #2 & #3, 2008-09) and Lisa Hanawalt (I Want You #1, 2009). By 2008, Buenaventura had also begun distributing Arthur magazine and the works of French publisher United Dead Artists, while also serving as U.S. stockist for the full catalog of French publisher Le Dernier Cri.
The monumental work of '08 was Kramers Ergot 7, a controversial and physically enormous 16" x 21" book priced at a then-unusual $125.00. Another big release followed in 2009: The Complete Jack Survives, collecting works by Jerry Moriarty. There was also a "Comics Revival Economic Stimulus 3-Pak" collecting the '09 Furie and Hanawalt comic book releases with Eric Haven's The Aviatrix #1 in a plastic bag bundle distributed to comic book speciality stores. At that time, the Press vowed to publish "half a dozen actual comics over the coming year," as a demonstration of the vitality of the comic book form. But this was not to be.
In a June 11, 2010 post to the Blog Flume weblog, to which Buenaventura contributed with Hignite, scholar Ken Parille and others, it was revealed that Buenaventura Press had been closed down the previous January due to "a devastating financial blow." The circumstances surrounding this closure have never been detailed.
Just before the shuttering of the Press, Buenaventura began editing a new feature in the literary magazine The Believer; debuting in the November/December 2009 issue, "Comics" presented a variety of short strips and one-panel works. It would continue to run until the magazine's January/February 2015 issue.
Another avenue opened in 2010 with the establishment of Pigeon Press, the second comics publishing venture headed by Buenaventura. Its initial releases continued comic-book series begun at Buenaventura Press by Furie and Hanawalt, but unlike its predecessor, Pigeon Press's emphasis remained on small-scale works, including several artist's books and sketch collections with Charles Burns. In 2014, the Pigeon Press Gallery was established to facilitate online sales of original comics art, along with plans for "rare fine press prints, books, and comics." Other notable Pigeon projects included Facility Integrity by Nick Maandag (2014) and Worst Behaviour by Simon Hanselmann (2015); both of these artists, at various times, also contributed to "Comics" at the Believer, along with Furie, Hanawalt, and many others, including several who'd worked with Buenaventura Press in years prior.
"Alvin was one of those special, magical people full of some extra kind of electricity. He was a mad man," Hanselmann told the Journal through a written statement. "He was incredibly generous and caring."
This later period also saw Buenaventura contribute to books he did not publish. Released in 2012 by Abrams, The Art of Daniel Clowes: Modern Cartoonist found Buenaventura editing a monograph on an artist he'd long admired. His co-editor on that project was Blog Flume's Parille, a collaborator dating back to the Original Comic Art catalog at the beginning of Buenaventura's career as a publisher; in 2013, Buenaventura would design Parille's The Daniel Clowes Reader, a critical edition of several Clowes works. Indeed, Clowes was the subject of Buenaventura's final public statement, in a California Sunday Magazine profile, in which he described meeting Clowes at the San Diego Comic-Con when he was young. The story ran just a week prior to Buenaventura's death.
"[H]e managed to find his way into my life, first by compiling a monograph of my work, and then doing more and more to the point that he became both an indispensable part of my working life and a beloved member of my family," Clowes said.
At the time of Buenaventura's death, Pigeon Press was preparing the release of a new project, Sir Alfred No. 3, by Tim Hensley. The status of this and other Pigeon books is presently unknown. "I will do my best to see that all of our releases will continue to be available, and hopefully that we can continue with future projects we were going to do," Pigeon's Dylan Dockstader told the Journal. "At this point nothing is solid."
Buenaventura's survivors include his mother and father and an older brother.