"If one is going to spend ten years on a single subject, George Herriman is a good one." - Michael Tisserand
This is the second part of a two-part interview with Michael Tisserand, author of Krazy: George Herriman, A Life in Black and White, which is the first full-length biography of George Herriman. Part one explores the genesis and methodology of Tisserand's book, his background, and George Herriman's early years. The present section begins with a discussion of George Herriman's life as a newspaper cartoonist, thoroughly documented in Krazy.
Paul Tumey: Michael, one thing I'd love to know is whether you found conclusive proof to the oft-cited statement that Herriman's publisher, William Randolph Hearst, subsidized Krazy Kat, insisting it run in his papers when the public didn't understand it, and didn't want it -- is there truth in that storyline?
Michael Tisserand: I didn't set out to be a Bubblespiker and disprove any of these long-held beliefs, but in this case, I found no direct evidence that Hearst specifically protected Krazy Kat from editors wishing to drop it. I did learn that the story of a lifetime contract is a myth, because Herriman repeatedly expresses concern in letters that his contract won't be renewed, and he's not joking. At the same time, it makes sense that Hearst would want someone who was so critically adored in his papers. I did find a letter from Hearst's editor, Arthur Brisbane, stating that Brisbane thought everything in the newspaper should appeal to all readers, but Hearst liked keeping some highbrow material in there, including the City Life page. And Krazy Kat was running on the City Life page. So, on the Herriman Truth-O-Meter, I guess I'd have to give that a "half true."
Paul Tumey: That's interesting. So, if one were to read a scholarly account of George Herriman's life in, say 1975, we would be told he was a Greek, the son of a baker, and that he had a guaranteed job with Hearst... none of which seems to be true! Brian Walker once said to me, "all history is revisionism."
Michael Tisserand: Yes, and I'm sure that once all of Hearst's papers are digitized, and one doesn't have to spool through microfilm to read all of Herriman's work, there will be more necessary revisions. In this case, of course, it didn't help that Herriman told many of these stories himself! Also, early suspicions concerning the validity of Herriman's birth certificate were absolutely grounded in history -- many New Orleans birth certificates should not be believed when it comes to racial classifications.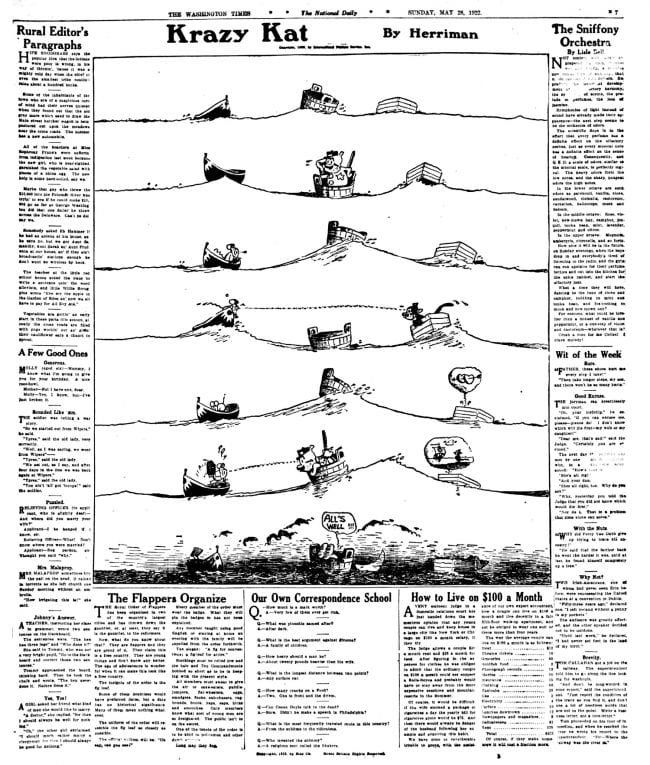 Paul Tumey: Speaking of Krazy Kat running on the City Life page. I've seen that with other strips in other papers. E.C. Segar's Looping the Loop, for example in the Chicago American. I've sometimes wondered if it just wasn't a way to kind of use cartoonists in the daily paper somewhere other than the sports section. Another area cartoonists got some good space was in children's sections. Walt McDougall, C.W. Kahles and Frank King published top-drawer work in kid's sections. But it certainly did showcase Krazy Kat to have it smack dab in the middle of the Saturday City Life page -- there's no arguing that!
Michael Tisserand: Herriman's years with the Los Angeles Examiner – much of which you can see in the Herriman Saturdays feature on Allan Holtz's blog Stripper's Guide – is a great example of this. Herriman is everywhere on those pages.
By the way, I also spent a lot of time trying to determine if it was true that Picasso professed a particular love of Krazy Kat. Every essay about Herriman seems to include that information. I found nothing. It actually might have come from an account of Picasso loving The Katzenjammer Kids.
Paul Tumey: That's funny to me because Art Spiegelman actually wrote a short essay I love that ran in the Sunday Press Krazy Kat book about the Cubist aspects of the strip. Not because supposedly Picasso loved the strip, but on its own formal merits. But it is funny to learn the strip the great painter loved was not the Kat but the Katzies!
In your book, there's some great stories about Herriman's first years working in newspapers in California and New York. He connected with several other cartoonists and writers, like Thomas A. "Tad" Dorgan and Jimmy Swinnerton -- and their work seemed to center around sports reporting. They lived large and had many adventures. You call them "Sports." Did you coin that term yourself?
Michael Tisserand: Sort of. There is talk about the "sports" in the papers, and what constitutes a sport. But I admit to capitalizing the "S" to elevate it to being a literary movement. People usually call that slangy style of writing about lowlife urban characters "Runyonesque" but I'd argue gives short shrift to the other Sports, especially the illustrious Tad.
Paul Tumey: I agree. Relegating that group to a fictional world seems too limited.
Michael Tisserand: One of the primary edits I had to make on my original manuscript was to take out a series of old newspaperman tales that didn't really involve Herriman. A number of the early newspaper writers penned memoirs and they are wonderful. I left as many in as I could get away with!
Paul Tumey: I could see another comics-realted book from you: The Sports. It could be about those wild times Herriman and the other guys had. I've read some fun accounts. Did you know that Rube Goldberg was once arrested in 1908? He was a timekeeper for an illegal fight match and got rounded up with the fighters!
Michael Tisserand: They arrested Goldberg but he invented an elaborate escape machine?
Paul Tumey: No, they let him go because he invented a simple twenty-six step device to turn on the light switch in the police station.
Michael Tisserand: I spent quite a bit of time trying to learn more about a Prohibition-related arrest of George Herriman. Paid a couple hundred dollars for some trial transcripts to be copied. Then I found out there was another George Herriman living in southern California at the time.
Paul Tumey: Ah -- a blind alley! I've gone down a few of those.
Michael Tisserand: Can you imagine how excited I was when the package of trial transcripts arrived in the mail?
That was actually my second longest blind alley. The most time consuming one of all was the silent movie that Herriman appeared in, How to Handle Women. I had a legion of friends trying to help me locate a copy, but it does appear to be missing, at least for now.
Paul Tumey: Man I would love to see that movie! You know it has to be sitting around in a dusty archive, somewhere. Do we know how big a part Herriman had in How to Handle Women?
Michael Tisserand: There are stills that show him with the actor Glenn Tryon and it appears that there scenes of him working as a cartoonist. The movie had series of titles and was poorly reviewed. It featured an early appearance by Bela Lugosi but the Bela Lugosi fan clubs couldn't help me, either.
Paul Tumey: There's a similar film by Rube Goldberg I would love to find,  and also have had no success after much searching. It's a 1914 Vitagraph two-reel silent comedy he wrote and starred in called He Danced Himself to Death. Someday...
Michael Tisserand: Oh no. I also came across news of a very early film about comics production that included a lot of pioneering cartoonists. It's also missing. Now we're just torturing each other.
Paul Tumey: I loved reading about how, after he settled in Los Angeles, Herriman worked in the middle of the studio where the Our Gang, Harold Lloyd and Laurel and Hardy comedies were made. In both Krazy: George Herriman, A Life in Black and White and in your introduction to the recently released Library of American Comics Krazy Kat 1934 you really fill that out and show the intermingling of the comic strip and great 1930s comedy films that occurred with this happy juxtaposition of humorous brilliance.
Michael Tisserand: Remember the scenes of Herriman working in the New York Evening Journal art room. You know that Tad Dorgan comic where they're boxing, and all the cartoonists are gathered round making jokes?
Paul Tumey: Yeah – it's unforgettable. Those broad, hunched-up shoulders on Herriman!
Michael Tisserand: I like to think of Herriman moving back to California and managing to find the one place that was as rollicking and joyful as that art room -- the Hal Roach studio. Beanie Walker -- said by Rudolph Dirks to be Herriman's best friend -- made the introductions. Herriman became a regular fishing partner of Hal Roach, and a close friend to Hal's brother, Jack Roach. Supposedly Herriman stood in as an extra when needed, but I never could find him a crowd shot. I'm still looking!
Paul Tumey: I've been looking too, since you first told me that. It would be incredible to spot Herriman as an extra in a Laurel and Hardy comedy.
Michael Tisserand: I still think we're going to find a scene with Herriman in some Hal Roach comedy. At least, that's what I tell myself when I fire up the Laurel and Hardy movies instead of working.
Speaking of working, did you see that the New York Public Library announced today that it is digitizing its city directories? That's amazing news for this kind of research.
Paul Tumey: Yes! I saw that --- the first free chunk of time I have I will be looking up several names. The availability of research tools online just gets better and better.
Michael Tisserand: It's tragic that the Smithsonian's Chronicling America project appears to be stalled. The digitization of the Hearst newspapers will be such a boon to research.
Paul Tumey: I know -- in the debates tonight I want the moderator to ask "If elected what will you do to get Chronicling America working again?" However, despite the run of cinema bupkus with the Herriman movie appearances, you DID find home movies of Herriman! That's a real score. There's a few bits in your four-minute promotional book video.
Michael Tisserand: Herriman's granddaughter was very generous to let me use that film. There aren't a lot of scenes with George, but each one is precious. There is one beautiful scene in which Bobbie Herriman is changing baby Dinah's diaper, and Herriman is shielding their eyes from the sun. When he realizes that he's in the way of the camera, he quickly steps aside. You can actually witness the shy, humble, even self-effacing character that his friends always talk about.
Paul Tumey: I was struck by how slight and skinny he was. And how his shoulders really do resemble his portrayal in that Tad boxing-in-the-office cartoon, large and rounded.
Michael Tisserand: And how big his hands appear to be!
Paul Tumey: Yes, those hands of Herriman's look magical. So that's a good segue into Herriman's later years. It seems, after all those years of hanging out with fellow artists and colleagues, maybe dating a hootchie kootchie dancer at Coney Island, and travelling all the southwest, Herriman became somewhat reclusive in his later years. Is that right -- and if so, why?
Michael Tisserand: He did. Undeniably. His granddaughter commented on it. So did Boyden Sparkes and Segar. There were bouts of reclusiveness before those final years too. His friend Harry Carr wrote to the Wetherills about how he couldn't get George to go to Arizona, and how much it would help if George would go.
Shortly after Herriman's wife died, an artist arrived to paint Bobbie's picture. In her memoir, she said that it was the car crash that killed Herriman's wife that had made Herriman so isolated and depressed. She actually wrote that Herriman was consumed with guilt because he was driving the car, but this is contradicted by family stories and all the news accounts of the accident, and so it doesn't ring true to me.
He also suffered from bad health, including debilitating migraines. Remember that he was making cartoons about suffering rheumatism when he was barely thirty years old.
Paul Tumey: I know that in some cases arthritis can lead to depression, which can certainly cause one to become isolated.
Michael Tisserand: I never want to diagnose Herriman. When I read a modern diagnosis in a biography of a historical figure, I start to think more about the biographer and less about the subject. But certainly it seems he was depressed in some fashion. And his contemporaries specifically talked about Herriman having an inferiority complex. In letter after letter, he disparages his work, or at least its lack of popularity. And yet, the work itself is uncompromising, and so confident in its own beauty.
Paul Tumey: I agree - it is dangerous ground to psychoanalyze a person from the past. But in those letters and accounts, if nothing else, Herriman seems to have been very self-effacing. That aspect of his personality comes through in your book.
Michael Tisserand: Yes, and racial passing actually means to literally self-efface. To remove a face. Again, I try very hard to not try to say what is going on inside Herriman's head. My goal really was just to tell his story as accurately as possible.
Paul Tumey: In my work on Jack Cole, by the way, I've had to resist the temptation to guess at his mental state. As with Herriman, themes of identity are a major part of Jack Cole's work. He has Plastic Man constantly rearranging his facial features in a blur. It's a striking visualization of self-effacing. Before Plastic Man, Cole had other characters make this peculiar move, too. It's fascinating. I think you can suggest a few directions from a careful study of the artist's work ... but it's treacherous territory. Cole committed suicide, for reasons that almost no one knows -- and his comics are filled with shockingly dark material.
And yet, I respect his work too much to try to pin labels on him or depict him as something different than what he actually may have been. One person who know Cole said he was always jovial and happy, like Willard Scott the TV weatherman. The truth is, us hoomins can be pretty danged complex.
Michael Tisserand: For me, I just kept asking myself, "What do I know for sure?"
Paul Tumey: And you wrote 500 pages! So there's clearly a lot we CAN say about the life of George Herriman and be within the realm of "truth."
Michael Tisserand: Herriman, like Whitman, contained multitudes. In fact, even at his most reclusive, he's involved with a Hollywood society group called The Uplifters, he's welcoming McManus and Swinnerton to his house, and he's making elaborate gifts for everyone right down to his butcher. He's also meeting with fans and young cartoonists such as Jack Kent. I should be so reclusive.
Paul Tumey: That's a good point about the Uplifters. There was a strong artist's community in Los Angeles at the time that included cartoonists. I have a great photo of a Los Angeles book club that includes, among many actors and celebrities, Gene Ahern, Claire Victor "Dwig" Dwiggins and Walt Disney! Herriman may have lived a quite life in his later years, perhaps limited by some form of arthritis, as you discuss in Krazy, but I suspect he was likely drawn out into the world from time to time. You also found some great information about visitors to his home. I loved the story you found about the boy who wound up at Herriman's door and he wrote that the "blew" him to a new suit, as he put it in a letter.
Michael Tisserand: Yes, that was one of the Wetherills. I have letters from Herriman about him, and I was actually able to interview him before he died. I love that story about Herriman's generosity and his closeness to his Arizona family. Everyone I interviewed just loved him.
Paul Tumey: I like that you refrained from imposing too much of your opinions in Krazy. Of course, there's some measure of one's bias in a biography, just from the artistic decisions made -- but overall the book seems to me to be a great balance between providing some insight into Herriman and "just the facts, ma'am."
Michael Tisserand: I have my personal preferences about his work. I am excessively fond of "Baron Mooch" and not so much of "Us Husbands." But I've learned that such opinions might change next week or next year, and I want Krazy to last longer than that.
Paul Tumey: How do you find Herriman's later effort, the baroquely styled color Sunday page, Stumble Inn?
Michael Tisserand: How can one not enjoy Stumble Inn? The whole thing is such a pleasure to look at and read. Every panel looks like a joke.
I love the story that Bud Sagendorf tells of working at King Features and needing a laugh, so going down to the files and reading old Stumble Inn strips. It's like the quote from Segar that's in the Boyden interview, in which he says that a scene of Baron Bean turning the corner is worth more than most other comics combined. There was such great appreciation for the visual humor – the sight gags.
Paul Tumey: I see that, too. Stumble Inn is one of my favorites.
Michael Tisserand: King Features' promotions for Stumble Inn and these other strips seem to acknowledge that Krazy Kat wasn't a commercial success. I'm not sure why Stumble Inn wasn't a bigger success. It seems pretty accessible to me, while clearly being a work of Herriman.
Paul Tumey: That bears some more research and thought. It did run for four years -- which is a pretty good run for strips of that period -- and maybe -- because of the workload -- it came down to either Krazy Kat or Stumble Inn, in which case, I'm sure Herriman would pick Krazy Kat!
Michael Tisserand: I did find one letter from that time when Herriman was grumbling about his workload, so you might be right.
Paul Tumey: This is an abrupt change in topic, but I wanted to ask if you think Herriman was close to his wife? I remember reading in Krazy that he traveled a lot without her. It made me wonder a few times about their marriage.
Michael Tisserand: George and Mabel's marriage remains perhaps the biggest mystery. There is much more documentation about his later romance with Louise Scher Swinnerton. The sole letter I found was written by George to the Wetherills after Mabel died. He was planning a surprise party for his daughter, and he wrote that the idea for the party was Mabel's. He then then added she tells him things sometime. In that line, you can feel his sadness.
Paul Tumey: It seems he as such a private person it's difficult to know for sure how he felt about his marriage.
Michael Tisserand: But his feelings about Louise Scher Swinnerton were pretty transparent. You can imagine how my heart sank when her grandson told me she had him burn a stack of love letters. But a few wonderful letters did happily survive, and it's clear he was smitten. If his health had been better, it seems likely they'd have married.
Paul Tumey: From what I know of her, which is very little, that seems like a good match... her bright energy, sense of humor and it seems she really cared for George. Did you get any sense of how Jimmy Swinnerton felt about the mutual interest between his ex-wife and his good friend and colleague?
Michael Tisserand: He seemed fine with it. He joined a gathering at Herriman's house with McManus, Carl Anderson and Clare Victor "Dwig" Dwiggins. I believe that I heard that Swinnerton was in favor of anything that meant he didn't have to pay any more alimony. But that qualifies as cartoonist gossip.
I have a copy of a little map that Herriman drew for Louise, of the interior of his house. A "rough idea of the dump," he said. He drew a bathtub, which he said was unused, and a wash basin, which he said was occasionally used, and a toilet, for which he noted "Wanted: someone to warm it -- cold evenings." Now, that's romantic.
Paul Tumey: I noticed that! It was very sweet and really made me feel an emotional connection with Herriman. I know that sounds weird, but it was such an intimate detail.
Do you have other promotional plans for the book? Any readings or lectures scheduled?
Michael Tisserand: I have a presentation titled "Birth of the Krazy" that that uses everything from comics to boxing footage to show how Herriman created Krazy Kat. I'm very excited to debut it in December at Ben Katchor's Comics and Picture-Story Symposium, and currently scheduling it for colleges and other sites. All book events will be listed on my web site, and there's also a mailing list, and I'll send out updates on Krazy-related events and news.
Paul Tumey: Thank you for doing this interview.
Michael Tisserand: Yes. Way better than obsessing over the election.
Paul Tumey: Haha! I need to see a Tad cartoon on the debates for my mental health!
Michael Tisserand: OK but leave time to listen to Chuck Berry today!
Paul Tumey: Spoken like a true historian – I just realized today was Berry's birthday! George Herriman was one of the best and brightest of his time. I think of George Herriman not just as a great cartoonist, but as one of the great American artists of the twentieth century. It's terrific to have a book like this on him.
Michael Tisserand: If one is going to spend ten years on a single subject, George Herriman is a good one. Letter after letter revealed how much people loved him. How much they were in awe of him. What a deep connection they felt to his work. That shone through my interviews with people who knew him. And that's how I still feel, too.