Another big day on TCJ. First, Paul Tumey writes a tribute and remembrance for Mark Campos, the Seattle minicomics artist. He also includes memories of Campos written by many of his friends in and around the comics world, including Roberta Gregory, Kelly Froh, David Lasky, Tom Hart, and many others. Whether or not you know Mark Campos's name or work, I highly recommend reading this and learning why he mattered to so many people.
Although he remained on the fringes of comics publishing, appearing almost exclusively in the small press, Mark Campos was a crucial figure in the Seattle comics scene. From the mid-1980s, he participated in various groups which included many notable comics creators, including Jim Woodring, Lynda Barry, Peter Bagge, Jason Lutes, Tom Hart, Ellen Forney, David Lasky, and Megan Kelso. As Campos himself once put it, he was a part of "the Seattle wing of the alternative comix movement." Many Seattle creators (myself included) received warm welcomes and gentle ushering into the Seattle comics scene from the soft-voiced, kind-hearted cartoonist. Campos even worked at print shops, where he helped midwife many a comic book by others into publication.

Mark Campos possessed the talent to gain success with a much broader audience. Cartoonist Steve Willis has written, "In all my years of meeting comix artists there are two people who I consider to be master writers in the medium: Matt Groening and Mark Campos." In his remembrance below, Willis observes that Campos was ahead of his time, a more artful creator in the Newwave Comix movement and Seattle comics scene of the 1980s and 1990s, likening Campos to "a Shakespearian actor in a Wild West boomtown." In his chronicle of the first decades of the small press comix movement, The Minicomix Revolution 1969-1989, Bruce Chrislip wrote: "Mark Campos is among the greatest writers in comix." David Lasky has called Campos' comics "the hidden gems of comicdom."
We also present the final day of this week's excellent Cartoonist's Diary by Tom McHenry.
And then Tegan O'Neil is here with a review of Rich Tommaso's Spy Seal: The Corten-Steel Phoenix.
I will be completely honest, I did not intend to like Spy Seal: The Corten-Steel Phoenix! That the book won me over is a testament to the skill of its creator.

Why didn't I think I was going to like the book? Well, here's where I make my own shameful confession that I'm sure will see me permanently blackballed from the Journal: I'm just not that big into Hergé. So when I saw the cover to Spy Seal I groaned, and although I'm not completely certain I think it was even an audible and not an internal groan. A Tintin pastiche? There are few things within the realm of comic books that hold less inherent interest for me.

Now, as the critic in this instance I think it's only right and proper for me to frontload my prejudices. That's part of the story, after all: right off the bat the book starts off with a demerit for me because I never read Tintin as a kid. And the problem with that is actually fairly common in comics: let's call it the problem of secondhand nostalgia.
Meanwhile, elsewhere:
—RIP Mark E. Smith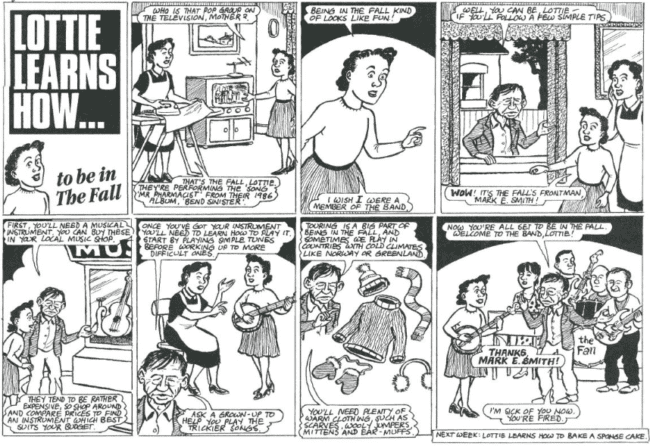 https://www.youtube.com/watch?v=XzJgUa-f424