In his latest book, Mooncop (Drawn & Quarterly), Tom Gauld takes us to a downsizing lunar colony to follow the routine of its lone police man.  The subject and setting are perfectly suited for the artist who has steadfastly developed an impressively dry, quietly absurd sense of humor. I've long been a fan of Tom's comics, as well as what appears to be a never-ending work ethic. All of that on top of being one of the nicest people you could meet in comics.  It was my pleasure to have this opportunity to find out more about him, his life, and his work process.-Noah Van Sciver
Noah Van Sciver: I go back and forth about whether or not an artist should discuss their work. Whether or not it should be left up to the audience's interpretation. Are you ever thinking "ah, please don't ask me about that comic, I really don't want to talk about it" at shows or in interviews? 
Tom Gauld: I go back and forth too. I can definitely see the appeal in being a Stanley Kubrick type who just makes the work and allows it to speak for itself and never does any interviews about it. But I think it's just the way of the business that a bit of promo helps, so I don't mind talking a a bit about the work, I hope I can give a bit of background and some related thoughts without explaining the whole thing away. 
I've heard some artists talk about their work so smoothly and expertly that it's slightly put me off the work itself, as if there ought to be some mystery in the work, even for the artist.  What's interesting in doing these interviews is that the questions quite often make me think about elements of the work which I hadn't consciously considered while I was making the work, so I have to think "why did I do that?" or "is that what I meant?". 
When I was in Europe earlier this year, it occurred to me that there was so much comics history there that an American comics reader would be ignorant about, but it seemed that Europeans were mostly caught up on the comics scene over here. Remember at Angouleme there was a show up about Lucky Luke? I had no idea who that character was but the show was packed full of people. It was pretty amazing to see. How were North American comics viewed from your perspective in as a student? 
The UK, especially when I was a child, was in a funny in-between state where we had our own comics alongside imported American comics and translated European (usually French) comics. I was aware of mainstream/superhero American comics much more through television and movies than through comics. 
My comic reading started when I was maybe eight years old and my parents would take me every week to the local library and I'd get out a new Tintin or Asterix book, which were the only comic books they stocked. Though I remember they did once have a Lucky Luke. Later, I started getting Battle (a weekly comic with war stories in it - I was slightly obsessed by soldiers and wars) and that led onto 2000ad which I read into my teens.
In my early teens I'd got to a shop in Aberdeen (our nearest city) called Plan 9, mainly to buy lead wargaming figures and roleplaying games, but sometimes I'd pick up a Batman or Punisher comic. I think I was more interested in the art than the stories and I never bought a long run of them. I kept going to Plan 9 and that's where I discovered Deadline, DC vertigo comics, Eightball and all sorts of wonderful things. 
Most of the comics which inspired me when I was at college and beginning to draw comics were by North Americans: Clowes, Ware, Seth, Gorey, Katchor. 
Was Buenaventura your first publisher in the US? How did that come about?
It's hard to remember how I met Alvin. I think it would have been through Sammy Harkham who published a few pages of my work in Kramers Ergot 5 years ago. He must have seen my comic strip Hunter and Painter somewhere (it was originally published as a daily strip in the Guardian and I think I put some pages online) and persuaded me to do a mini-comic of it. I liked Alvin a lot and we were going to do another mini comic of a very short story I wrote called The Gigantic Robot, but as we worked on it we decided it would be fun to print it as a big board book instead. 
Alvin could be eccentric and disorganized, but he was a great champion of comics and a talented designer and we made some lovely things together. He hand printed a beautiful letterpress edition of my drawing Character for an Epic Tale and we were talking about doing another print together when he died.
I'd actually agreed to do a book for D&Q before The Gigantic Robot (and perhaps even before Hunter and Painter) but I kept getting stuck on it and doing short comics instead. Tom Devlin at D&Q was very understanding about the glacial pace of making the book which became Goliath, but I imagine it was slightly infuriating for them.
What does a typical day go like for you? Are you drawing everyday?
I share a studio with six other illustrators and designers, in a building with lots of other creative types. I work best in the morning so I try to get to my desk for 8.30am, the studio is usually very quiet until 10 am so I try to get stuck into drawing straight away. People will filter into the studio throughout the morning and I chat a bit, but I try and focus on work in the mornings. We often go out for lunch at a local cafe. Sometimes I think I'd get more done if I was locked away in a room on my own, but I do enjoy the company. In the afternoons I'll draw some more and aim to finish by 5pm so I can get home to the family. If I've got a lot to do I might draw a bit more at home in the evening or make a few notes about an idea.
I aim to draw every weekday, but sometimes I get caught up in admin or emails or orders and the day gets away from me. When that happens I'm always a bit annoyed with myself because I know I should have done an hour's drawing at the beginning of the day when my mind was clear.
When you're working on a story how much of it is open to improvisation? I mean do you tightly script everything out before drawing the final comic and stick to the script, or are you ever drawing the final comic and thinking "Oh yeah, and then that'd be funny if this happens…"
I do quite a lot of planning but I don't write out a whole movie-style script at the beginning.  Mooncop started as a tiny 20-page mini comic which I drew in pencil in an afternoon. I liked it but thought I could make more of the story and setting. So then I started sketching my ideas about the characters and the setting and writing scenes, sometimes typing on the computer and sometimes as scribbly writing and thumbnails.  When I felt I had enough scenes I drew the whole thing in pencil and had a few people read it, then I edited it a bit and then inked it all. All through the process I was tweaking and changing and adding, but not really improvising. 
I'm not sure that this is the best technique for making a graphic novel, I feel like for my next book is like to have a bit of a looser process. Though I don't know quite how.
I imagine while working on Mooncop you were constantly being interrupted by illustration work and the deadline for your Guardian strip (as well as family duties). Is it ever difficult for you to switch gears on projects?
Yes, Mooncop had to fit into the gaps between my illustration and regular cartooning jobs and that definitely slowed it down a bit. 
'Switching gears' is a good metaphor, I think. Sometimes I'd put Mooncop aside to work on something else for a day and then not be able to get started again. I'd look at the folder but just not have the energy to get going (like trying to set off on your bicycle in top gear). The short Guardian and New Scientist strips come much more easily to me, and the weekly deadlines force me to just get on with it.
I hope I'm not coning across as negative about making long stories. In the end I know it's worth the extra effort to have a bigger space in which to tell more of a story or show more of a world.
I should add that I don't feel, as some cartoonists I know do, that illustration jobs are a horrible imposition to be undertaken only for the money. I really enjoy illustration other people's work and probably spend half my time doing illustrations. It's a less painstaking task for me than making comics, and I enjoy the "here's a problem for you to solve" aspect of it. I think I'd go a bit mad if I did nothing but comics, I don't think I have enough to say to warrant doing it full time.
Do you need silence while you work?
Not really, a bit of hubbub in the background can actually be helpful I think. When I'm thinking of ideas or writing dialogue then I can sometimes get distracted by noise and I can only really listen to music with no words, but when I'm drawing (and especially inking) I can chat a bit and often listen to podcasts and audiobooks.
 If I'm stuck for ideas I like to leave the studio and go and work in a coffee shop and I think that mixture of walking to a new place, caffeine and a feeling of slight busyness around me can help my brain get going. I see from your diary comics that you draw in coffee shops too. I think there's probably a platonic ideal of a perfect coffee shop for cartoonists. I think it'd have amazing coffee, lots of generously-sized not-wobbly tables for one and the staff would eject anybody with one of those piercing voices which you can't ignore.
I feel like Mooncop and Goliath are both the perfect size for a graphic novel, which I think is around 90-150 pages. That's just enough to tell a perfectly capsulated story with enough character development, and is comfortable to read. Was that a conscious decision or do you wish you could publish a 500 page book that hurts the reader while they read in bed?
That's nice to hear. I worried while working on both those books that they were too short. I tried to make them longer, but I found I had nothing more to say, and that I was stretching it out for no good reason. In both cases I decided in the end that the story had found its own length and I just had to go with it. I would like to write something a little longer in future, but only if I can find the right story.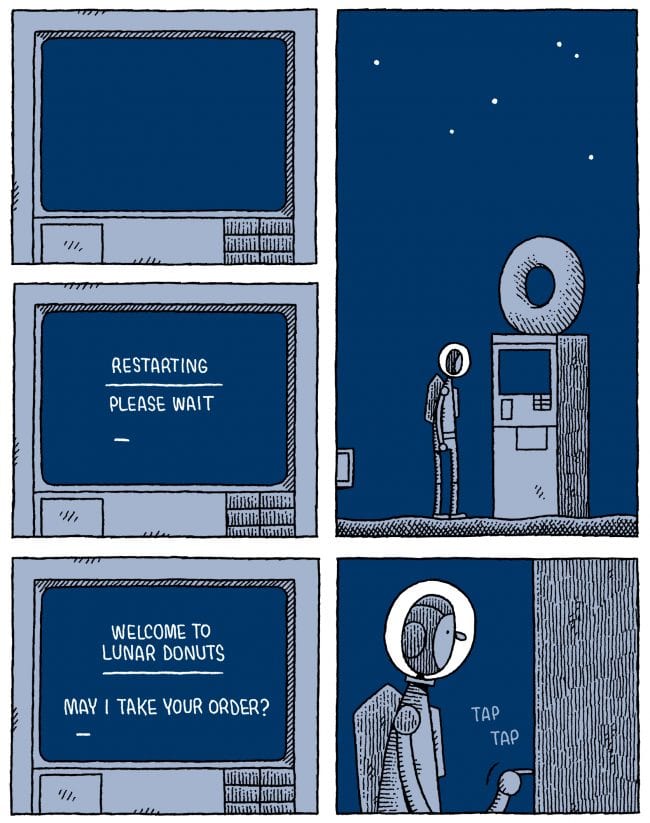 Mooncop feels very anti-technology. All of the robots and automated machines don't work properly and even the outpost on the moon was rundown and being downsized and abandoned. Do you feel like most of the new tech stuff we get is basically unnecessary and maybe even harmful?
I'm not sure it's quite anti-technology. The moon colony is not a futuristic utopia but it's also not really a dystopia, it's sort of in between, which seemed more interesting to me.
One of the things I was thinking about was how in the sixties and into the early seventies it seemed there was such a positive feeling about technology: It was going to make everyone's life better! It was flying people to the moon! It was making space age modern architecture! Whereas now it feels like we're all much more ambivalent, and (most of us) realise that technology won't solve all our problems. 
 I have mixed feelings about technology in my own life and in our world. I really like sharing my cartoons on twitter and seeing people enjoy, react to and share them, but it does have that slightly druggy, addictive quality. 
I know that you draw by hand, have you felt any social pressure to start drawing digitally yet?
Not really. Do you feel a social pressure?
In weird ways, yes. I've started becoming freaked out when artists I know switch over to drawing digitally.
I do use a computer for cleaning up the art, adding the color and fixing things, but I still like the feel of pen on paper. Also, I feel a bit that when the work is in the computer, it's got away from me a little. Like I'm separated by a pane of glass and I don't have the same connection as I'd have to the paper drawing. Computers are great for perfecting things but perfection isn't always what you need.
Your work is so funny that I assume that you were a little introverted nerd as a child. Is this true or false?
That's pretty much true. I wasn't cripplingly shy, but I was very happy on my own, drawing and making up stories. I did enjoy making people laugh with funny drawings.
What's on your drawing table right now?
I'm not working on a new book. I have a few vague ideas but I'm not going to rush into anything. Some day I want to do a kids book and something with animation, but I feel there's still so much to do and learn in comics so it may be another graphic novel. At the moment I'm doing my weekly cartoons for the Guardian and New Scientist, a few bits of illustration and promotion for Mooncop. The piece actually on my desk is a drawing for a signed bookplate for 'Police Lunaire' (the French edition of Mooncop) for the lovely Parisian bookstore Superheros.