A dog lifts his hind leg and urinates on a man's couch. The annoyed man takes the dog outside, locates a tree, and demonstrating his preference in the matter, leans forward and urinates upon the tree. They return home and the enlightened dog leans forward and obediently urinates upon the man's couch in the approved two-legged manner.
As far as scholars have been able to determine, this simple mildly off-color comic strip first appeared in the Dutch Treat Club Yearbook for 1961.
The privately printed edition of 750 copies was distributed to the attendees of the club's annual dinner in the Sert room of the Waldorf Astoria Hotel New York on May 3 of that year. The Dutch Treat Club was (and is) a fraternal luncheon (and cocktail) organization founded in 1905, which boasted a prominent membership of creative professionals. The club maintained no home base, operating instead as a floating Tuesday afternoon soiree at designated Manhattan bistros. The yearbook was launched in 1920 as a souvenir program of its bacchanalian annual dinner, which traditionally included a full-fledged theatrical revue, produced by and starring its multitalented members. The annuals continued for decades and the editions of the 1930s and 1940s boast elaborate production values and arresting graphic design. However sumptuous, those yearbooks found their true niche in showcasing "blue" contributions by the famous illustrators and cartoonists among its ranks, work which was quite unlike the familiar fare that endeared these pulp entertainers to the general public.
"How To Housebreak Your Dog" was drawn by Ernie Bushmiller (1905 -1982) the creator of the internationally syndicated comic strip Nancy, renowned as a consummate craftsman who "dumbed down" his gags to their barest essentials, resulting in a strikingly austere visual language. Bushmiller joined the Dutch Treat Club in mid-career, long after the yearbook's heyday. His name first appears in the membership rolls in 1944 and he remained a loyal member until shortly before his death. Despite this longtime affiliation, "How To Housebreak Your Dog" was Bushmiller's sole Yearbook effort. Ernie later referred to this strip as "the only dirty thing I ever did."
Although intended only as a cheap laugh for his Dutch Treat Club cronies, "How To Housebreak Your Dog" assumed an illustrious afterlife. The irresistible (and un-copyrighted) page was promptly bootlegged, perhaps by a fellow Dutch Treater gone bad. It was soon launched into a surreptitious, labyrinthine underworld through which such illicit printed matter of the day was channeled. No other work produced for this obscure social club ever enjoyed such far-flung distinction. In various modes and media over the past six decades, this mutt has stepped up to the couch again and again.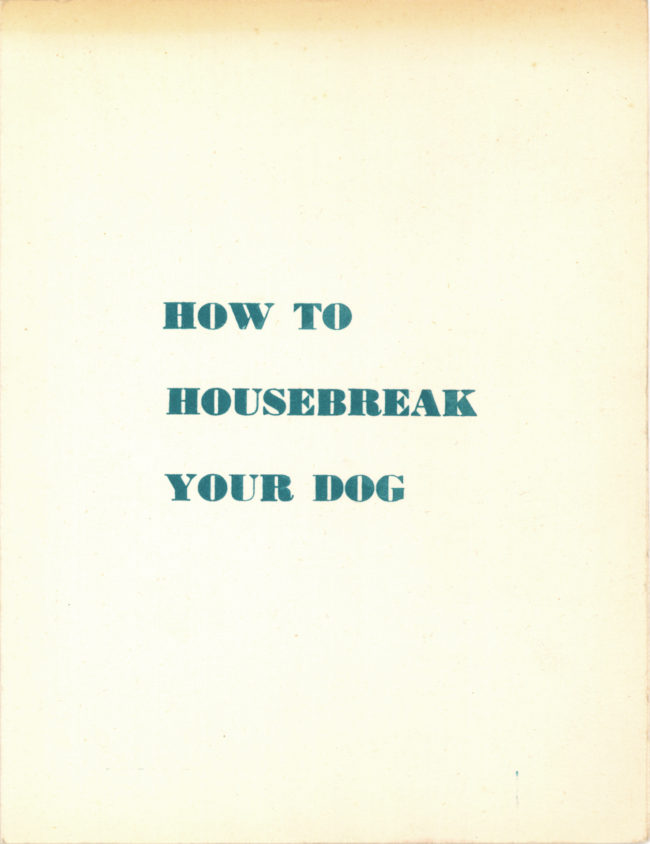 For whatever reasons "How To Housebreak Your Dog" has screamed "reproduce me" again and again to America for nearly six decades and willing entrepreneurs have readily responded to this call of nature. Bushmiller's humble dog-pee joke flows gloriously onward, replicating like mutant bacteria through the dark alleys of our pop culture. And like a grinning dog before a mighty oak, each subsequent publisher seems strangely compelled to leave his unique mark on this enduring work.
(An abbreviated version of this essay originally appeared in Howl: a Collection of the Best Contemporary Dog Wit from Crown Books in 2006.)
Mark Newgarden is a cartoonist and co-author (with Paul Karasik) of the Eisner-winning How to Read Nancy. He teaches at the Pratt Institute in Brooklyn and the Parsons School of Design in Manhattan.