Presenting a new recurring feature by the artist Tom Herpich, reviewing comics he has recently read – vintage manga, indie comics and graphic novels alike.
From 2008, we bring you this rare interview with the underground cartoonist Simon Deitch, covering all the ups and downs of life.
In this 2008 interview from TCJ #291, Joseph McCabe talked to Tim Sale about the latter's art for Batman: The Long Halloween, drawing the Marvel "Color" series (although he's colorblind), providing drawings for the TV show Heroes and more.
You may know Natsume Fusanosuke the writer, but how about Natsume Fusanosuke the artist? In this new translation of segments from a 1993 book, Natsume recalls an encounter with that classic American text, How to Draw Comics the Marvel Way… and then he draws the Marvel Way.
Remembering one of the defining artists of prestige superhero comics from the last 30 years, an intelligent and vivid stylist who rendered age-old characters with rare warmth. Tim Sale died on June 16.
Garry Trudeau's Doonesbury is approaching its 52nd birthday this year, and R.C. Harvey is your guide to the origins of this American institution.
Andrew Neal chats online with Audra Stang, the author of slice-of-life ensemble stories that span decades in the lives of working class youths. What are the thought processes behind detailing the many characters in The Audra Show and Star Valley Stories? You'll find out here!
Waking up in a pool of sweat and one word glistens in the thick, humid air: NEWSLINKS.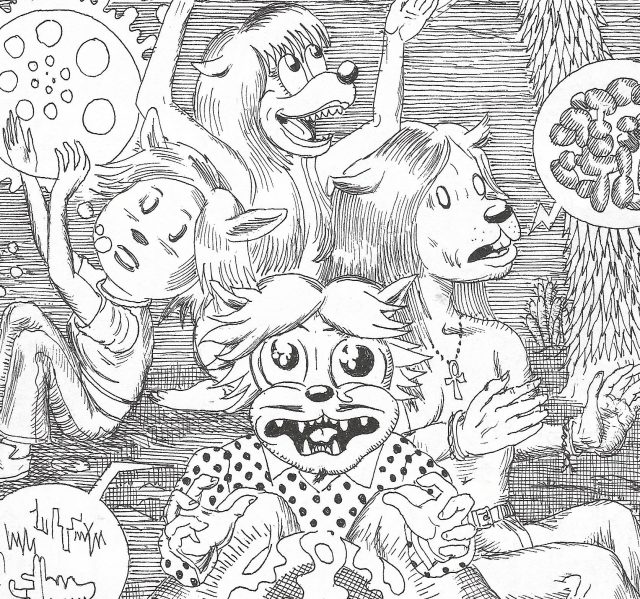 A perspective on Crashpad, Gary Panter's evocation of the underground era, from somebody who was there.
Pairing vast natural vistas with LGBTQ characters often denied their own presence in those places, artist Melanie Gillman has become a standout talent in YA webcomics and graphic novels. Tasha Lowe-Newsome examines two of their works.
RJ Casey is back with a freewheeling chat starring the California Bay Area's Freak Comics, a trio of young artists pursuing their own visions of art in an inclusive group setting. PLUS: See a man's skin cut right off his body!
What if… I GOT TIRED OF NEWS. I drop to the floor. But then I hear your claps, your cheers… I rise to my feet… one hand to my ear…
Ian Thomas offers this brief chat with United Workers of Seven Seas, a group of workers endeavoring to unionize the popular manga-in-English publisher.
Manga artist Kyo Machiko is a true 21st century talent, moving fluidly from social media cartooning to traditional magazine serialization. Now, in the era of COVID, she has begun a series of bilingual books depicting the mysteries of the everyday. Matthew Hill presents an interview with the artist, followed by excerpts from her newest book, Essential My #stayhome Diary 2021-2022.