Ryan Holmberg remembers Shirato Sanpei, one of the masters of politically-informed action comics, who died this past October.
Lane Milburn's newest graphic novel Lure sees the cartoonist making a departure from his previous work. In this conversation, he goes into how those changes came to be, the different kinds of non-comics work he takes on to support himself, and the dark business of "graphic recording".
Today is the 35th anniversary of the conclusion of 1986's Great Peace March of 1986. Michael Tisserand, who participated in the March, is celebrating by telling the lesser known story of the great Guy Colwell, who served as the March's cartoonist. (A gallery of Colwell's work is, of course, on hand).
Your local food court may be abandoned, littered with the debris of a departed era, but we have not abandoned: the links!
In a 2019 essay, artist and scholar Natsume Fusanosuke considers the historical impact of manga icon Takahashi Rumiko and her Urusei Yatsura on the audience for Japanese comics and animation at the dawn of the otaku era.
An exclusive preview of Conor Stechschulte's Generous Bosom #4, courtesy of Breakdown Press awaits you!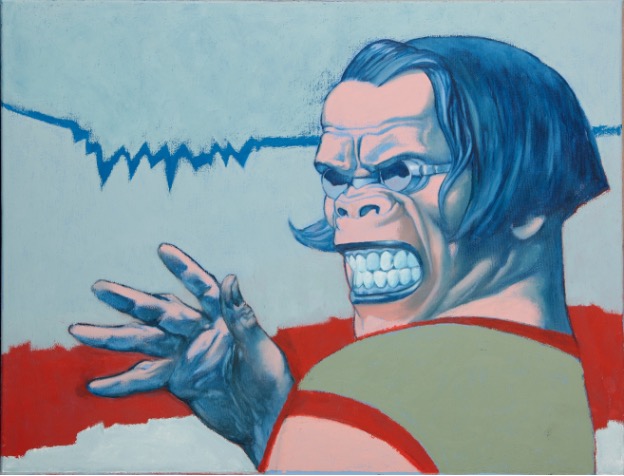 Cartoonist Nate Doyle visits an NYC showing of Tanino Liberatore's work at the Philippe Labaune Gallery, and reports back that yes, there's more to the artist of RanXerox than extremely big muscles being used in extremely violent fashions.
Łukasz Kowalczuk returned to making comics as an adult, fueled by memories of slime, a love of 80s licensed properties and role playing games. Since then, he's translated Prison Pit, organized conventions and increased the world supply of neon-colored Polish comics by a healthy margin!
Nobody is ever going to fix my roof; water is just going to keep dripping in until the rainy season passes. Luckily, the supply chain has not disrupted the delivery of these links – digital insulation to warm your soul.
Robert K. Elder uncovers the little known story behind the model and muse behind some of Jeffrey Catherine Jones' iconic painting and illustration work.
Brian Hibbs of Comix Experience speaks to creators Pornsak Pichetshote and Alexandre Tefengki about The Good Asian, their much-admired period crime series from Image.
Greg Hunter takes an extended look at Dash Shaw's Cosplayers in this excerpt from Hunter's upcoming book,
New Realities: The Comics of Dash Shaw.
In this conversation between Dash Shaw and Greg Hunter which took place earlier this month via Brooklyn's Community Bookstore, Shaw discusses the background to his latest graphic novel Discipline, how his own Quaker upbringing informed its depictions of silence, and the real world Civil War letters that birthed the project.
The wind is threatening to blow the walls off my building right now, but nothing stops the news! Join us in our affront to nature by clicking these links.
Eszter reports back from Beirut, with a look at the variety of comics, aesthetic concerns, philosophical questions and political grapplings that took place at The Beirut Comic Art Festival, which took place earlier this month.
An examination of Ted McKeever's final narrative comic, a kiss-off to the comic book industry, with comparisons to other famous Fuck You features.
In this sprawling conversation, we catch up with Steve Lafler's time making music in Mexico, raising children in houses laden with autobiographical comics, his return to the States and his most recent work, powered by Kickstarter support.
"I can't think of a hotter set of links than this." -Scott Hott, World's Hottest
Check out this extended look at Dash Shaw's latest graphic novel, Discipline, courtesy of NYRC!