Ian Thomas chats up the creator of Dynamite Diva – among the new generation of young artists drawing from the grand sweep of comics history, daily strips to undergrounds.
"Hey everybody! Are you ready to talk about comics this week?!" The festival crowd masses forward and launches an enormous wooden plank directly at my head. I see Iron Man inside the sky.
In this 1983 interview, Justin Green talks about God, the Vietnam war, underground comics and Superboy.
Remembering one of the giants of mainstream comics: among the most influential superhero stylists of the 1970s, and a committed agitator for creators' rights.
Tiffany Babb speaks with artist Sara Alfageeh and writer Nadia Shammas on their shared backgrounds, fantasy worlds, and the role of storytelling when it comes to empire building – and how all of this came to inform the creation of their graphic novel Squire.
Remembering the underground comix great – a pioneer in autobiographical comics and minicomics, and a private, dedicated artist.
The other week I learned my four-year old nephew has begun making little zines… laughing in genetic destiny.
An examination of the particular traits Chris Ware brings to graphic novels – or should we say "story drawings"?
In this extensive interview, cartoonist, creator and innovator Liam Sharp discusses his sprawling career drawing superheroes, creating businesses, writing novels, supporting a family, embracing the struggle, representing his hometown, and much, much more. Yes, more than that.
Atop a hill enveloped in a blazing sunset, the children play.
Life is renewed, and the blank slate awaits.
Bill Kartalopoulos visited the 49th Angoulême International Comics Festival, and there are dozens of photos to peruse in this big trip report!
On staring into black glass in a room of new silence.
While "Animal Man" may be the first title you think of when his name comes up, Chaz Truog's career has gone much further than one fondly remembered DC comic. In this conversation, he talks about time spent in the monthly trenches with Coyote, his groundbreaking work on Leonardo Da Vinci in Chiaroscuro and his latest, the violent medieval epic, The Passion of Sergius & Bacchus.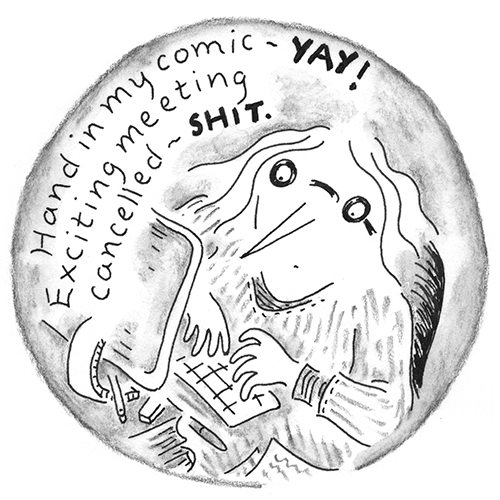 A drive to Princeton, a whale of a surprise, and books, books, books: today's Cartoonist's Diary has it all. Deadlines are in the rearview for Jennifer Hayden!
A little bit of progress counts as progress: don't let anybody put your success on a scale! Jennifer Hayden gets it, in today's Cartoonist's Diary!
There's probably no more Cartoonist's Diary then a Diary that includes good food, deadlines, dreams, frustrating emails and good bookstores: Jennifer Hayden, starting it off correctly!
David Roach takes a look at the work of Garry Leach, one of the most influential British comics artists of the last 50 years, who passed away in March of 2022.
I can't believe I have to set foot in a church this weekend after looking at those Squeak the Mouse pages… but I have faith. Faith that these links will purify this fallen world!